What you need on your CBD labels and packaging
More articles you might like:
Labeling CBD products can be an incredibly confusing process with the lack of specific regulations surrounding the product's booming popularity. This problem impacts established companies and entrepreneurs starting new businesses selling CBD products. Unfortunately, the lack of strict CBD label requirements is leading to mislabeled CBD products, violations, and a trend of lawsuits being filed against companies dues to mislabeled CBD packaging or misleading marketing. Whether it's the amount of THC contained in products or false claims about product "benefits", some manufacturers are pushing the envelope on their CBD product labels.
The Food and Drug Administration (FDA) reported to Congress on rampant mislabeling in the CBD industry in 2020. According to the law firm Akin Gump, the FDA sent a report to Congress on the excessive mislabeling of CBD products. The report outlined the testing of 200 hemp products being sold online.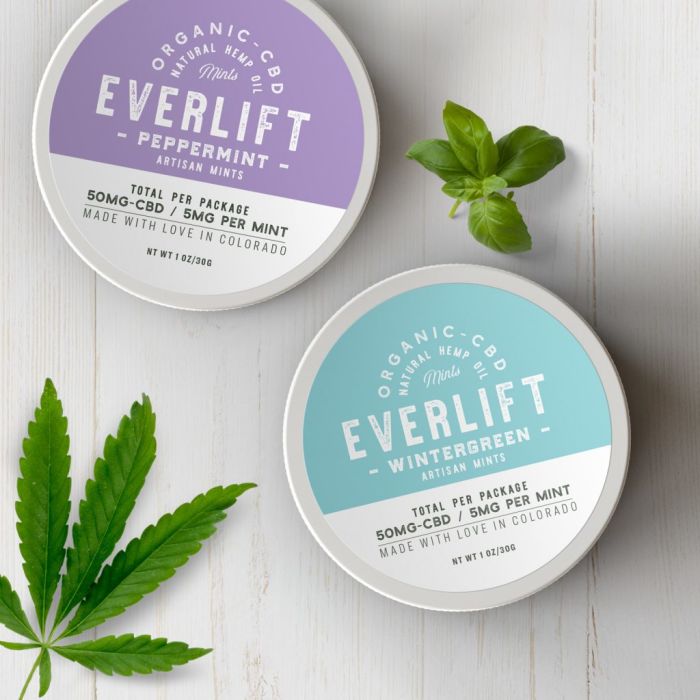 Akin Gump stated that "Of the products tested thus far that indicated a specific amount of CBD, almost 55 percent contained a CBD level that differed from the labeling by more than 20 percent. Just under half of the products tested contained THC or a related compound. Hemp products must contain no more than 0.3 percent THC to avoid potentially facing scrutiny for containing marijuana, which remains an illegal substance under federal law."
The testing was put on hold due to the pandemic, however, the FDA plans a more comprehensive study in the near future.
FDA sends out warnings
One example of the warnings the FDA is sending to CBD manufacturers is a letter sent to The Dragon Tree Apothecary. The warning letter stated the CBD company was in violation for using false claims on their product labels and website.
"Based on the inspection and a review of your product labels and your websites, we have identified serious violations of the Federal Food, Drug, and Cosmetic Act (the Act) and applicable regulations," the FDA said in the letter.
It goes on to say, "…the claims on your company's product labels and websites establish that your products are drugs under section 201(g)(1) of the Act [21 U.S.C. § 321(g)(1)] because they are intended for use in the diagnosis, cure, mitigation, treatment, or prevention of disease and/or intended to affect the structure or function of the body."
The letter contains a laundry list of violations the company committed in its product labeling and website claims by calling their products dietary supplements or stating they are intended for use as a drug, such as "relief of cold and flu symptoms" and "anxiety relief." The company appears to no longer be selling CBD products.
What you need to know
Since the FDA doesn't currently allow the sale of CBD ingestible products, it's important to note the labeling requirements on a state-by-state basis. Some states permit the sale of CBD in foods and dietary supplements but require specific label information and warning requirements. To help you understand where your product fits, the FDA has put together a list of the 26 most common questions about cannabis products and their regulations.
We've put together some important things every CBD seller should include on their CBD product labels. We've also included some common mistakes you should avoid.
At a minimum, you should follow the FDA regulations for cosmetic product labeling for your CBD-infused products below. If you're selling in a state that allows edible CBD products, then make sure to check state regulations for CBD label requirements.
Do not make any false or misleading claims about treating or preventing disease. The FDA has already sent warning letters to companies selling CBD products that have made these false claims.
Properly display your label information (See 6 items below) and make sure it's legible.
Do not violate the Poison Prevention Packaging Act of 1970.
CBD Labeling Guidelines
Basic requirements you should include on your CBD product labels: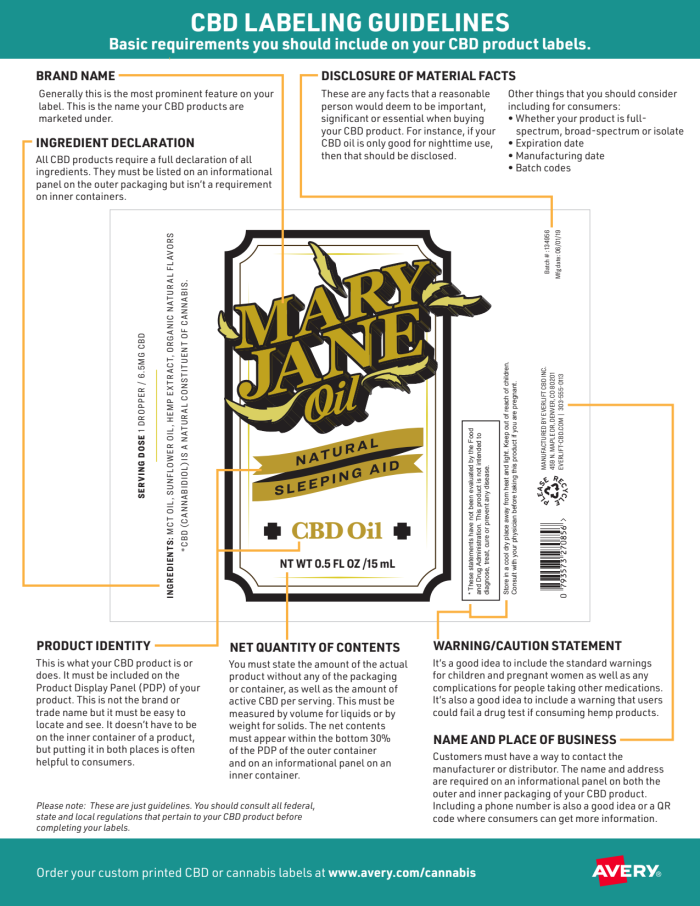 1. Product identity
This is what your CBD product is or does. You must include it on the Product Display Panel (PDP) of your container. This is not the brand or trade name but it must be easy to locate and see. It doesn't have to be on the inner container of a product, but putting it in both places is often helpful to consumers.
2. Net quantity of contents
You must state the amount of the actual product without any of the packaging or container, as well as the amount of active CBD per serving. This must be a measure of volume for liquids or weight for solids. The net contents must appear within the bottom 30% of the PDP of the outer container and on an informational panel on an inner container.
3. Name and place of business
Customers must have a way to contact the manufacturer or distributor. You must include the name and address on an informational panel on both the outer and inner packaging of your CBD product. Including a phone number is also a good idea or a QR code where consumers can get more information.
4. Ingredient declaration
All CBD products require a full declaration of all ingredients. List all ingredients on an informational panel on the outer packaging. It isn't a requirement on inner containers if it's on the outer packaging. If no outer packaging, it must be on the product container itself.
5. Warning or caution statements
It's a good idea to include the standard warnings for children and pregnant women on your labels. As well as warnings for any complications people taking other medications might have. It's also a good idea to include a warning that users could fail a drug test if consuming hemp products.
6. Disclosure of material facts
These are any facts that a reasonable person would deem to be important, significant, or essential when buying your product. For instance, if your CBD oil is only good for nighttime use, then you should disclose that.
Other things that you should consider including for consumers:
Whether your product is full-spectrum, broad-spectrum, or isolate
Expiration date
Manufacturing date
Batch codes
Please note: The suggestions above are just guidelines. You should consult all federal, state, and local regulations that pertain to your CBD product before completing your labels.
What CBD labels are right for you?
Avery offers a huge catalog of CBD labels that are easy to order online. You can simply personalize and order professionally printed CBD labels by the roll or by the sheet. Or you can order blank CBD labels by the sheet that you can print from a laser or inkjet printer.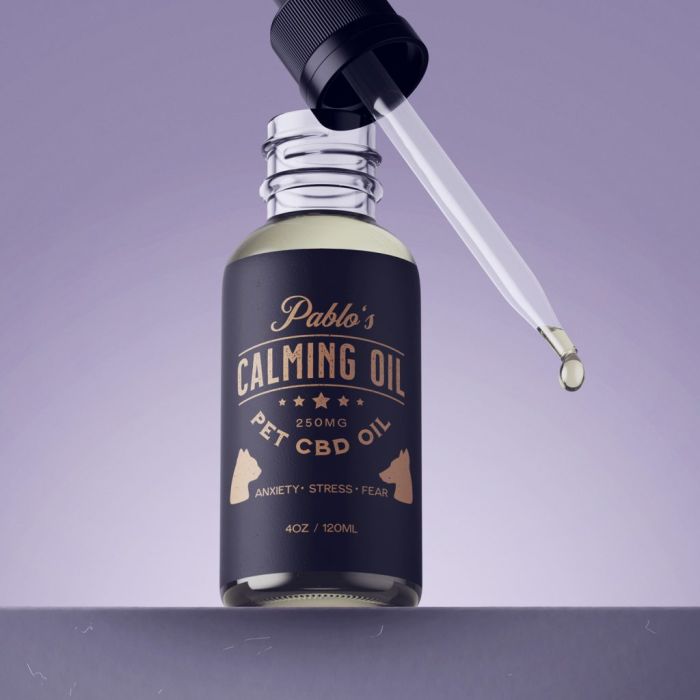 Find the right material for your CBD including waterproof and CBD oil-resistant films, metallics, glossy, clear, and many more. Also, Avery offers thermal transfer roll labels that are available in white, chrome, and metallic film.
You can easily create and order your CBD labels to your exact specifications, all online. You can also generate barcodes and QR codes or custom compliance labels for your specific state. Just customize with your compliance needs and order.
If you need help choosing the right labels, please call our California-based Customer Care Center at (800) 942-8379.