Certain claims on your essential oil labels can get you into trouble
The U.S. Food and Drug Administration (FDA) regulates essential oils by determining whether they're a cosmetic, drug, household item, or something else. Accordingly, they base their determinations on the product's intended use. We've put together these essential oil label guidelines to help you ensure your labels are compliant before you order or print your labels.
One way the FDA determines your intended use is by the claims you make on your essential oil labels. For example, if your label states or implies that your product can cure, treat or prevent illness the FDA will treat your product as a drug, which requires a development and approval process.
You must follow FDA regulations for your product's intended use or face FDA non-compliance penalties that can be catastrophic for a small business. These penalties can include the following:
– Warning letters (which are public record and can damage your business's reputation)
– Seizure of your product
– Injunction (a court order to do or stop doing a specific action)
– Criminal prosecution
– Fines up to $500,000
Make sure the intended use is clear
Product labels are crucial for communicating the intended use of your essential oils. The FDA can also take into consideration your packaging, website copy, and marketing materials such as social media posts, blog articles, and ads.
From a logistics standpoint, your labels and packaging are the most important thing to get right the first time. For example, let's say you make a drug claim about your cosmetic essential oils and you receive an FDA warning letter. As a result, you have to change your entire line of product labels. This can be expensive and time-consuming. Whereas digital content can be changed quickly and easily. So it's a good idea to focus on your labels and packaging first.
FDA essential oil categories
Essential oil products fall into three basic categories based on their intended use according to the FDA: cosmetics, drugs, and household items/something else. It's possible for products to be categorized as both cosmetic and drug. So this means they must follow both sets of FDA rules.
Cosmetic- Essential oils or essential oil products applied topically with any of the following goals are considered cosmetic: 1) temporarily changing and/or improving the appearance of the face, skin, nails, or hair, 2) cleansing the body, and 3) perfuming the body.
Drug- Essential oils or essential oil products claiming to 1) treat, cure, or prevent a condition, illness, or disease, 2) permanently alter the state of the body, and/or 3) affect a function of the body. It can be applied topically, ingested, or inhaled.
"Claims that a product will relieve colic, ease pain, relax muscles, treat depression or anxiety, or help you sleep are drug claims."

-Food and Drug Administration
Household item/other- Household items include essential oils or essential oil products that are used for cleaning surfaces and/or sprayed or diffused in the air for fragrance. "Other" uses include diffusing or inhaling for spiritual and/or mental well-being.
Spiritual benefits of essential oils include things like enhancing meditation practices or helping set intentions. Similarly, using essential oils to regulate moods and emotions, such as inspiring positive thoughts, falls under use for mental well-being.
If your small business isn't prepared to follow FDA drug development and approval procedures, it's important that your product messaging clearly focuses on cosmetic, spiritual, or mental uses.
Examples of messaging for FDA classification
| Messaging Examples | FDA Category |
| --- | --- |
| Hydrating essential oil face serum temporarily reduces the appearance of fine lines & wrinkles. | Cosmetic |
| Anti-aging essential oil face serum smooths wrinkles. | Cosmetic & Drug |
| Put yourself in the mood to relax with our lavender essential oil bath soak. Woody and floral, this lavender essential oil bath soak is perfect for use at bedtime. | Household/Other |
| Our tea tree oil shampoo reduces dandruff-causing bacteria on your scalp. | Cosmetic |
| Our tea tree oil shampoo eliminates dandruff. (Dandruff is a form of seborrheic dermatitis, which is a disease.) | Drug |
| Eucalyptus essential oil in your diffuser can freshen the air in your home by reducing airborne bacteria that may cause unpleasant odors. | Household/Other |
| Eucalyptus essential oil in your diffuser purifies the air for allergy, asthma, and cold relief. Breathe easier with eucalyptus essential oil in your diffuser. | Drug |
| | |
Label requirements for essential oils by FDA category
This section will help you determine the information you will need on your essential oil labels.
Essential oil label information required by the Fair Packaging and Labeling Act regardless of usage:
Product identity (name of the item)
Net quantity of contents (including metric measurements)
Name and place of business (manufacturer or distributor)
Information required for cosmetic essential oils or essential oil products:
Declaration of ingredients (in descending order of predominance)
Warning/caution statements
Additional requirements for essential oil products deemed a drug by the FDA:
Alternative ingredients list order
Specific ways to deal with blended ingredients
Recommended best practices for essential oil labels:
Brand name
Recommended use/benefits*
Extraction method
Disclosure of material facts (anything a reasonable person might consider significant such as expiration date, manufacturing date, or batch codes)
*Including the recommended use/benefits on your essential oil labels can benefit your business in two key ways: 1) moving customers through the consideration phase towards a purchase and 2) making usage clear for FDA classification.
Essential oil label design requirements and best practices
Now we will help you determine what your essential oil labels should look like and where information should be placed. Firstly, any product should include a company logo and a consistent design theme. Basically, consistent use of your logo and design elements will help you expand your brand and make your small business more memorable.
Essential oil products with cosmetic and/or drug uses have additional rules that apply to the principal display panel (PDP) of your packaging/label. The PDP is the part of the label that is most likely shown for retail and must take up a significant portion of the label.
The FDA provides a Cosmetic Labeling Guide with full regulations for cosmetic labels and a very useful compliance guide for labeling over-the-counter (OTC) drugs.
Here is a good example of an essential oil label used for spiritual practice and mental well-being by enjoying aromatically in a diffuser or applying topically as a personal fragrance (cosmetic):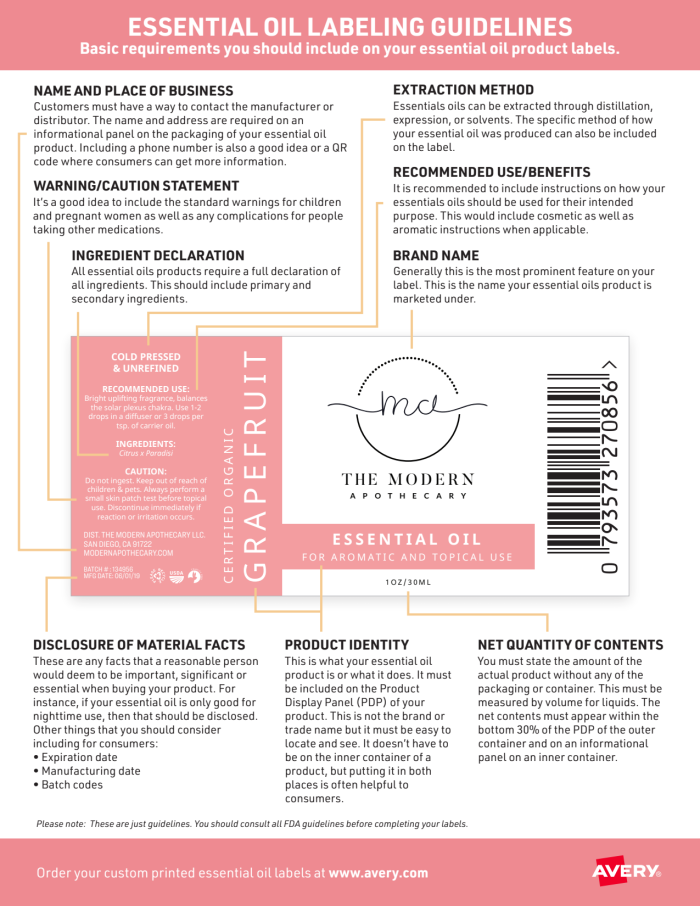 What essential oil labels are right for you?
Designing the perfect essential oil label means nothing if the label gets damaged or falls off. For example, standard paper labels are inexpensive but can easily be ruined by oil drips or wet hands. While labels made from waterproof film are oil-resistant and necessary to ensure your product looks fantastic and your labels remain intact.
Avery offers a variety of ways to purchase labels and design them online. For instance, Avery WePrint custom labels come on rolls or sheets, and custom sizes are available at no extra cost. Plus, there are no setup fees or plate charges, a big bonus if you have a growing business.
If you aren't ready for professional printing, you can order blank labels sold online by the sheet from Avery. These are great if you don't need a large number of labels and prefer to do it yourself. Also, there are no minimum orders and more than 3,000 size, shape, and material combinations you can choose from. However, if you want to use Avery labels that are sold in retail packs, we recommend our 2″ x 2″ waterproof square labels for small bottles or our 9-3/4″ x 1-1/4″ waterproof labels for packaging larger essential oil products, like bath soaks and lotions.
If you have any questions or need help choosing the right labels, please feel free to call our California-based Customer Care Center at (800) 942-8379. Or let us know in the comments below and we'll respond within 24-48 hours.
Please note, the contents of this article and related articles on avery.com/blog are for informational purposes only, are general in nature, and are not intended to and should not be relied upon or construed as a legal opinion or legal advice regarding any specific issue or factual circumstance.