How to Create a Game-Changing Presentation
Ideas require change. And change doesn't come easy. So when you're faced with making a presentation to convince others why change is good, it can seem particularly challenging.
Well, welcome to the big leagues. Because when you're putting together a formal presentation, passing out pages of stapled paper isn't going to cut it. We're talking about making an impression that'll bring fist pumps from your audience. It's about creating a polished, professional look that reflects you and your organization. And you're about to find out how to turn your presentation portfolio into a complete game changer.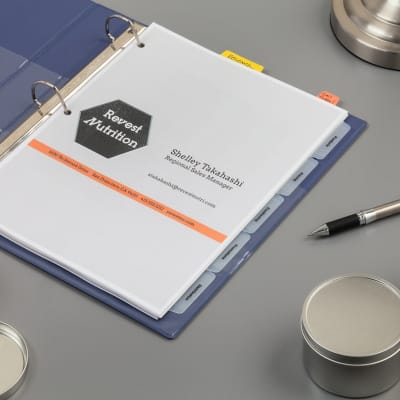 Put your best foot forward
With Avery Index Maker® Dividers, your portfolio makes an impact on your audience from the first page. Inside the presentation binders, they'll find clean, white divider pages organizing the contents inside. The paperwork looks neat and buttoned-up—an image that'll represent you well. They'll notice the professionally printed divider tabs. But only you'll know you made these custom tabs yourself using free templates on Avery Design & Print. And as they turn the divider page, they'll be impressed with how durable and sturdy it is. With reinforced tabs and holes, your dividers will resist tearing and stand up to frequent use, because your idea is going to go far.
Make every detail count
What does a polished, meticulous presentation say about you? It shows the care and thought you put into your work. Index Maker Dividers help you build those details into your presentation. Things like labeling both the front and back of tabs so it's easy to look up and flip to pages in the binder. Or having clean and legible labels on your tabs—with Index Maker Dividers, your tabs are smudge free. And even perfectly aligning the labels on your divider tabs—using the Easy Apply™ strip, all you do is stick and peel.
See how easy it is to create your Index Maker Dividers
Grab attention with colorful call outs
When time is short and attention spans are shorter, call out your most thought-provoking information with Avery Ultra Tabs™. Simply jot quick notes on the smudge-free tabs and attach. These durable tabs are repositionable, and add a burst of color to reference your most important documents.
Captivate your audience with a professional presentation that's packaged to perfection. With Index Maker Dividers and Ultra Tabs presented in a durable binder, you can make a great impression your big idea deserves.