Although you can go to the post office to send occasional packages, using an online postage service can make your life much easier. Unlike brick and mortar locations, online postage services are open twenty-four hours a day and aren't bogged down by long lines. Also, online postage options provide unique mailing solutions for offices and businesses including cheaper rates, bulk printing and even customized labels with a logo.
However, there isn't a single "best" option for postage services and a little legwork will be required to look through each service's features to find the one that works best for you. But whether you're looking to ship a gift to a friend, send important documents overnight or streamline a growing business, this list of the best online postage options will help expedite the process.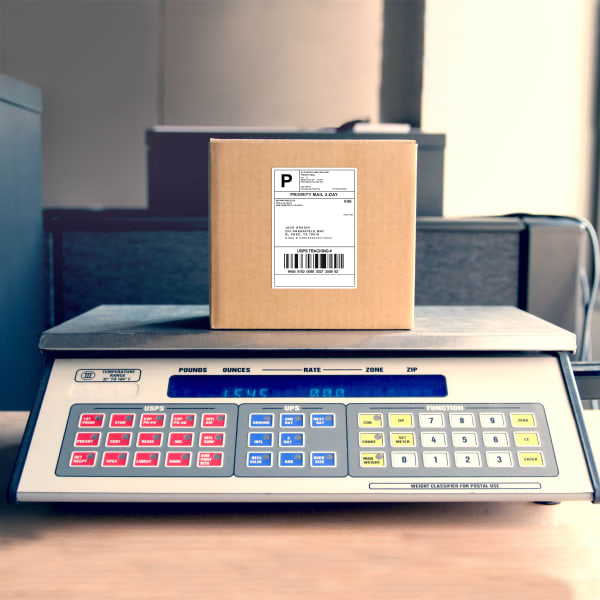 USPS®
A time-tested and familiar choice, USPS offers an easy browser-based system to print stamps online and print shipping labels from your home or office printer. USPS also offers scheduled pickups, a price calculator and free flat-rate shipping supplies. Learn more about USPS shipping services here.
PayPal®
If you have an eBay® storefront on the side then PayPal® can be a great option since they provide lower rates for top-rated sellers. Tracking numbers are saved in your PayPal account to provide seller protection, there are no monthly fees and discounts are provided for both USPS and UPS® shipping. Find out more by visiting the PayPal shipping center.
Stamps.com®
Stamps.com offers discounted rates for USPS as well as a free postal scale (excluding shipping and handling) with every new account. Stamps.com also provides options for full-color stamps, the ability to print your own postage stamps with images and detailed records of printed postage. Visit their site to learn more about their monthly pricing and features.
ShipStation®
ShipStation offers the ability to import order information from an incredible number of sources and makes it easy to shop around for rates to get the best prices from various carriers. They also provide resources for advanced tracking updates, custom portals for returns, inventory tracking and detailed analytics. Learn more about their features and monthly pricing here.
ShipWorks®
Designed for larger businesses, ShipWorks software offers tools that can import custom data from multiple sources, purchase shipping from any carrier, schedule tasks to occur automatically and instantly populate weights and dimensions for multiple orders. There is a monthly fee but it will be worth it if your business is moving mass quantities of products. Read more about their features and pricing here.
Pitney Bowes®
Along with their SendPro® Online software, Pitney Bowes is unique from many online postage services in that they also provide their own hardware options as well. While many online postage printing services require you to have your own home printer, Pitney Bowes sells their own postage meters, printers and tablets. Find out more about what they can offer your business by visiting their site here.
USPS®, PayPal®, eBay®, UPS®, Stamps.com®, ShipStation®, ShipWorks® and Pitney Bowes® are registered trademarks of their respective owners.
For more mailing and shipping solutions, check out our Mailing and Shipping Resource Center.