A kind gesture goes a long way, especially now
Thanking your coworkers and customers is always a valuable investment in employee and client relationships. Firstly, appreciation gifts have long been a staple of building customer loyalty because they make clients feel like their business means something to you (which of course it does).
Showing your appreciation also has plenty of benefits for the team, including lower stress, fewer sick days, increased productivity and "gratitude spillover" that leads to increased trust and collaboration. In fact, Business News Daily outlines why gratitude may be the best employee retention strategy.
Thoughtful gifts that show you put in extra time and care are more meaningful than pre-made gift sets off the shelf. Here's how you can turn clever gift ideas into stand-out gift sets that show employees and clients how much you appreciate them.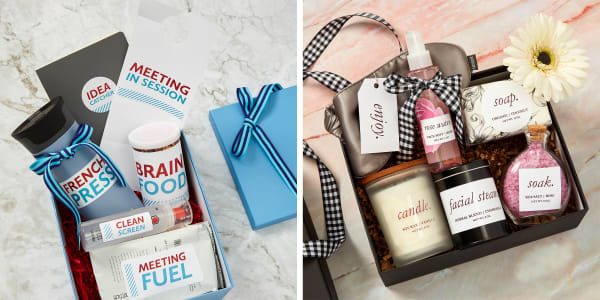 A conference call kit is a thoughtful gift idea for your team. With so many people working from home, conference calls have become a huge part of corporate culture. On the other hand, spa gifts are a timeless classic that you can elevate with personalized details.
Brainstorm gift ideas that people can connect with
Gift ideas that speak to current challenges in office culture show employees and clients that you're not just grateful for their support, you also understand them. Some cool gifts along these lines could be a conference call kit, a work-from-home gift idea or a travel kit with all the small stuff you need (but usually forget) when traveling.
You can also brainstorm gift ideas by thinking about universal desires— things everyone wants more of. A personalized spa gift for relaxation or a self-care kit with items like immune boosters, tea, honey sticks and relaxing sprays are two thoughtful gift ideas anyone would be happy to receive.
Collect the items that will fill out your gift set
Travel and sample sizes are great options for gift sets and gift baskets, especially if you'd like to include a couple high-end luxury products but are on a budget. However, not everything has to be name brand. Dollar stores can also be great resources for small items that are easy to dress up with themed labels.
Buy small items in bulk when you can. Including small necessities that people tend to forget or misplace feels extra thoughtful. For example, phone chargers, USB drives, gum, travel-sized tissues and lotion are classics that people always need. Buying in bulk for these types of items can help you save money.
Think about the gift idea as a whole and how you can tie all the items together. Are you creating a travel kit? A candle doesn't really make sense because it would be a pain to travel with, try something useful like an extra charger instead. If your gift idea is all about relaxation make sure your items are soothing, not energizing.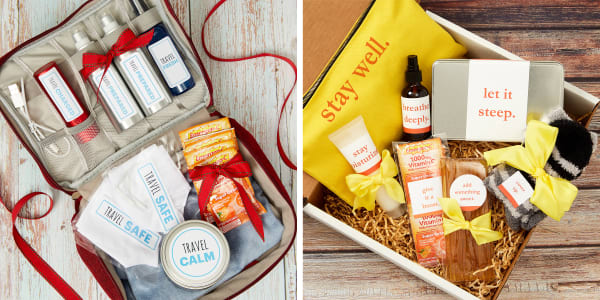 A cohesive theme pulls everything together and makes your gift ideas look expensive. The key is choosing labels that work with the shape and size of your items, how the items will be used and what's inside the containers.
Create visual impact with labels that pull your gift ideas together
In general, round and square shaped labels both look great on bottles and jars, round labels are ideal for candle lids, and rectangle labels can be used for wrapping around items. Unique label shapes like arched, scalloped or starburst labels create visual interest that makes holiday gift ideas really pop.
When it comes to label material, it's important to think about how the item will be used. For example, a paper label on a bottle of olive oil will likely get ruined when the oil is opened and used. A bath salt mix will likely get held with wet hands. A film label that withstands water and oil is a better choice.
If you're not sure about what size or shapes will fit your gift idea best, we can help you choose the correct label size with printable guides for measuring and testing out different shapes. You can also learn more about different types of label materials for different looks and when to use a film or paper label.
How to create custom labels for your gift ideas
Even if you don't have access to a professional graphic designer, you can create labels that look professional and polished with our free online design software, Avery Design & Print Online (ADPO). In ADPO you have access to thousands of free professionally designed templates.
Elevate your gift ideas by adding your own text, images or company logo to our festive holiday templates. You can also create your own label designs from scratch using ADPO font, shapes and color tools as well as graphics and images from our image gallery or upload a design from your computer.
Once you've created your design in ADPO (whether you uploaded your own design, modified a design template or designed something from scratch within the software) you can apply it to different Avery products in 3 different ways.
In the "Customize" tab, click the "Change Template" button at the top right
In the "Preview & Print" tab, click "Apply Design to Another Product"
Click on a project saved to your account, then click: "Apply Design to Another Product"
From there use the "Quick Search" bar to find a new product using a template number or description and move or resize design elements if necessary. You can then proceed to preview and print steps, or save the project for later use.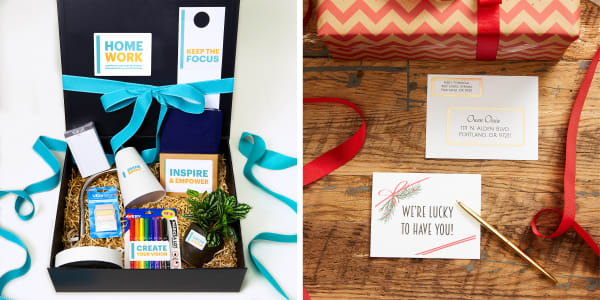 Small details, like the door hanger in our work-from-home gift idea, really show you put thought into a gift. Print your own greeting cards, post cards, tags and more with personalized messages that make your gift idea stand out.
Bring your gift ideas to life with personalized details
There are many more ways to customize your gift ideas with printable tags, door hangers, fabric transfers and note cards. Here's some ideas for details you can add to any gift idea (or use to recreate our gift ideas as pictured).
Door hangers. We used printable door hangers to complement our work-from-home gift idea and conference call kit but you can customize them to fit other gift ideas too.
Gift tags. Printable gift tags are very versatile for adding a personal touch to holiday gift ideas. They can be used on the outside of a gift box, on items you don't want adhesives on, gift basket handles and more.
Fabric transfers. Printable fabric transfers are an amazing tool for personalizing gifting staples such as small pouches and tote bags. All you need is a printer and ironing supplies to get started.
Note cards. Custom note cards are the perfect way to send a personalized holiday greeting to employees and clients. Adding a hand-written message inside makes your holiday cards stand out even more. Our no-hassle custom-printing service makes it easy to create custom cards in quantities that cover your entire client and employee mailing list.
Address labels and envelope seals. If you're mailing holiday cards, remember that the envelope is the first thing your recipient will see. Try address labels, return labels and envelope seals with a metallic gold border to really set your holiday cards apart from the crowd.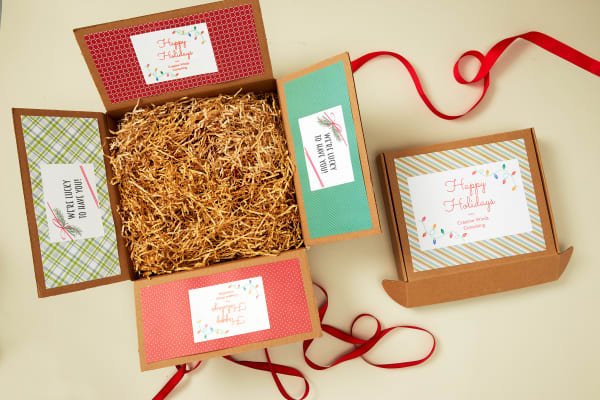 Elevate any gift idea with memorable unboxing experiences for employees and clients by using decorated box flaps and festive shipping labels.
Packaging tips for shipping gifts to employees and clients
You may be used to shipping client gifts during the holidays, but this year most of us will be shipping employee gifts too. Containers you might have used for employee gift ideas, such as treat boxes, gift baskets and gift bags all need to be packed in cardboard boxes to be shipped.
You can make your gift ideas standout by elevating the packaging in one of two ways. One, you can decorate the box flaps with wrapping paper and custom labels to make them look special— which is a great method if you're shipping on a budget. Or you can skip the baskets and bags and use mailer boxes.
Mailer boxes are the type of shipping boxes used for fancy subscription boxes. They're fantastic for assembling your gift ideas because they're made from corrugated cardboard so they're tough enough to be shipped on their own and come in a variety of styles.
Finish off your employee and client gift packages with full-coverage shipping labels that contain block-out material for completely covering patterns, text, and everything underneath. Not only will the shipping labels will look super crisp and clean, but the barcodes will be easier to scan too.
Explore more gift ideas for employees and clients
When you're brainstorming, you can never have enough good ideas. Explore more gift ideas for customer appreciation and easy-to-make gifts for co-workers and employees with free templates and cute themes. You can also learn more about corporate gifting etiquette on our blog.
If your company doesn't have the capacity for a DIY corporate gifting approach, don't panic! Consider choosing professional customized gift sets and including personalized note cards with a handwritten message inside.
Here's how you can recreate the gift ideas pictured in this article
Conference Kit Idea Catcher / Round Labels, 2″ Diameter (22807 / 94501)
Conference Kit Meeting in Session / Door Hangers, 4-1/4″ x 11″ (16150)
Conference Kit French Press / DIY Decals Sheets 8-1/2″ x 11″ (61512)
Conference Kit Brain Food / TrueBlock® Shipping Labels 3-1/2″ x 5″ (5168 / 94256)
Conference Kit Clean Screen / Address Labels 1″ x 2-5/8″ (5160 / 94200)
Conference Kit Meeting Fuel / TrueBlock Shipping Labels 2″ x 4″ (8163 / 94207)
Spa Gift Enjoy Tag / Printable Tags 2″ x 3-1/2″ (22802)
Spa Gift Rose Water / Removable Rectangle Labels 1-1/4″ x 1-3/4″ (22828 / 94226)
Spa Gift Soap / Round Labels 2-1/2″ Diameter (22830 / 94502)
Spa Gift Candle / Glossy Clear Rectangle Labels 2″ x 3″ (22822 / 94237)
Spa Gift Facial Steam / Glossy Shipping Labels 2″ x 4″ (6528 / 94207)
Spa Gift Soak / Waterproof Square Labels 2″ x 2″ (64503 / 94107)
Travel Charged & Travel Prepared / TrueBlock Shipping Labels 2″ x 4″ (8163 / 94207)
Travel Fresh / Removable Rectangle Labels 1″ x 2-5/8″ (16460 / 94200)
Travel Safe / Address Labels 1″ x 4″ (8161 / 94202)
Travel Calm / Round Labels 2-1/2″ Diameter (22830 / 94502)
Self-Care Stay Well / T-Shirt Fabric Transfers 8-1/2″ x 11″ (3271)
Self-Care Stay Moisturized & Self-Care Breathe Deeply / Waterproof Rectangle Labels 2″ x 3-3/4″ (64504 / 94240)
Self-Care Let it Steep / Durable Rectangle Labels 3-1/4″ x 7-3/4″ (22835 / 94260)
Self-Care Give it a Boost / Square Labels 2″ x 2″ (22806 / 94107)
Self-Care Add Something Sweet / Round Labels, 2″ Diameter (22807 / 94501)
Self-Care Cover Up / Square Labels 1-1/2″ x 1-1/2″ (22805 / 94106)
WFH Home – Work / Shipping Labels 3-1/2" x 5" (95935 / 94256)
WFH Keep the Focus / Door Hangers, 4-1/4″ x 11″ (16150)
WFH Shine Bright / Removable Rectangle Labels 1″ x 2-5/8″ (16460 / 94200)
WFH Inspire & Empower / Durable ID Labels 2″ x 2-5/8″ (6793 / 94235)
WFH Create Your Vision / TrueBlock Shipping Labels 2″ x 4″ (5163 / 94207)
WFH Grow & Bloom / Removable Rectangle Labels 1-1/4″ x 1-3/4″ (22828 / 94226)
We're Lucky to Have You Card / Printable Note Cards 4-1/4″ x 5-1/2″ (8315)
We're Lucky to Have You Box Flap Labels / TrueBlock Shipping Label 5-1/2″ x 8-1/2″ (18126 / 94229)
Holiday Lights Box Flap Label / TrueBlock Shipping Label 5-1/2″ x 8-1/2″ (18126 / 94229)
Holiday Lights Shipping Label / TrueBlock Shipping Labels 8-1/2″ x 11″ (5165 / 94268)