Get the party rolling with this fun icebreaker. Each guest is assigned a secret identity of a fictional character or celebrity that's printed on an adhesive name tag. The name tag is placed on each of their backs where they can't see. The object is for each guest to figure out who they are based on how other guests interact with them. Having an identity crisis has never been this much fun!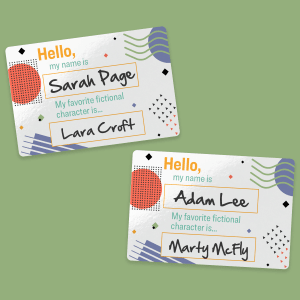 Step 1: Go to Avery Design & Print Online
Open the free Avery Design & Print Online software at avery.com/print. To start a new project, enter your Avery product number for adhesive name badges and click GO.
Step 2: Choose your design
Select from a variety of design themes from the menu on the left, and view the design(s) on the right. Want to start from scratch? Choose the blank template which is the first option displayed.
Step 3: Customize the design
Starting with the pre-designed template, you can personalize the content. You can also add a personal photo or graphic of your choice.
To change the existing graphic, click on the design to select it, and use the menu on the left to select another image from the Avery Gallery or from your own computer file.
Step 4: Add text
To add text, add the text box from the menu on the left. Then click to select the text area and type in your text. Use the menu on the left to choose a different typeface, type size or color.
Include information such as your names, the occasion (such as a wedding, renewal of vows, or anniversary party), the date, time and location.
Step 5: Preview & print
Click Preview & Print to review your design. To make adjustments, just click the Customize button at the bottom of your screen to go back to the previous screen. When your design is ready to go, just click Print.
Step 6: Save
To save your design, click the Save button. In the pop-up window, create a file name and save to either "MyAccount" or your computer.
Step 7: Distribute the name badges
As soon as your guests arrive, attach a name badge to their back. When everyone's arrived, let the fun begin!