Personalized name badges add unique flare to your event, encourage mingling among guests and help you make a great first impression. Use branded name tag stickers to stand out at conferences and expos. Give your own event a polished, elevated feel with beautiful custom name tags.
You can do all this and more with classic, iconic and versatile Avery® Adhesive Name Badges. Order name tags online with Avery for fully customizable designs you can print at home or have printed for you. With hundreds of free name badge template designs, you're sure to find the right one for your occasion.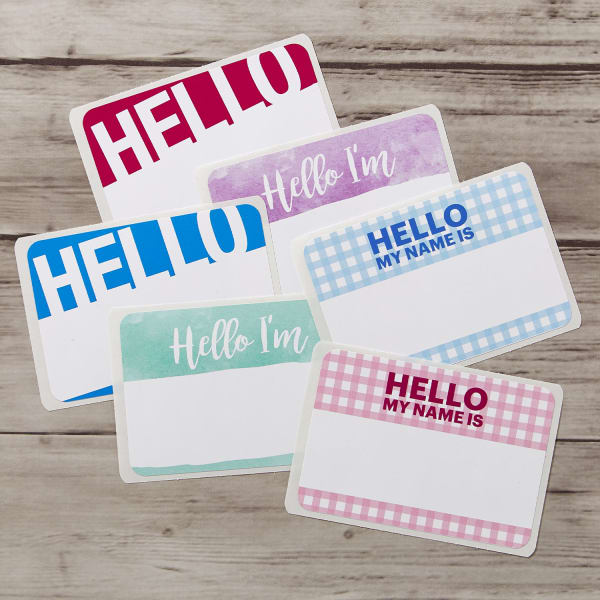 New twists on the iconic Hello My Name Is custom name tag, Avery 8395.
Iconic Hello My Name Is Nametags with a Twist
When it comes to paper name tags, the original Hello My Name Is design from Avery is instantly recognizable. Capture that same iconic feel with fresh new Hello My Name Is templates you can print with names or leave blank for guests to fill in by hand.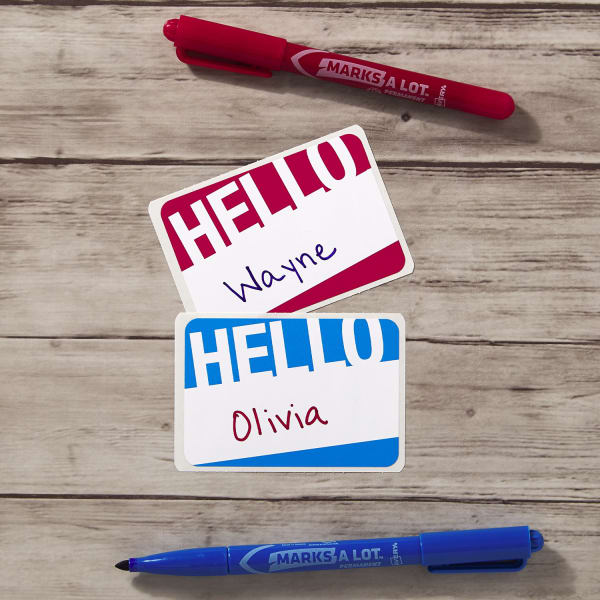 Be bold with modern contemporary HELLO name tags on the diagonal. Try printed custom name badges with a festive gingham check design for your company picnic. Keep it casual with distressed pastel name tag templates and plenty of colorful permanent markers for guests to use for writing.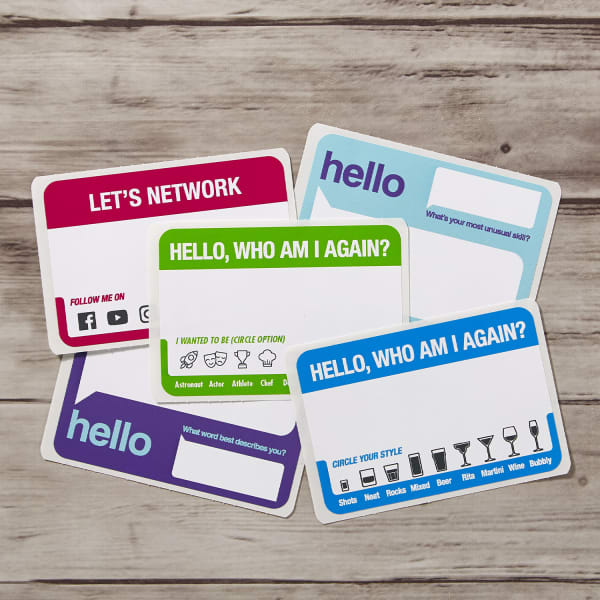 Make an impression that sticks with custom name tags for professionals and networking.
Professional Name Tags for Networking Events
Help attendees break the ice and make a good first impression with professional name tag design templates. Leave blank for participants to fill in or print custom name tags with logo and company for each guest.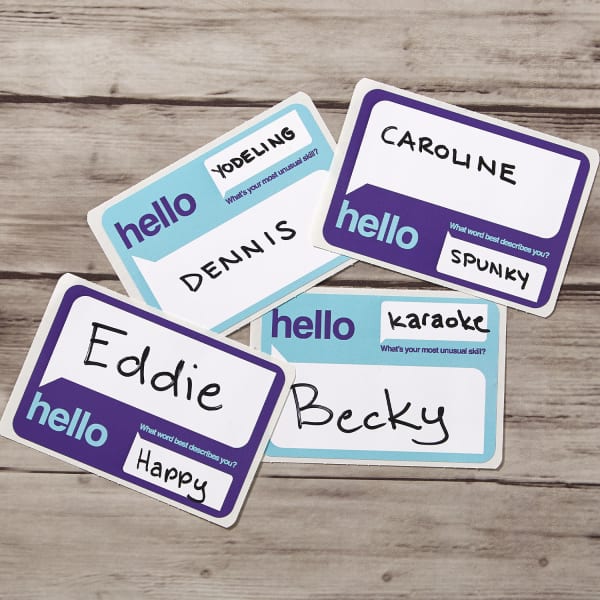 Avery Let's Network name badge design gets right to the business of encouraging guests to swap social contact information. Playful, yet professional free customizable design templates make for great conversation starters. Who Am I name tags and hello bubbles with fun questions are great options.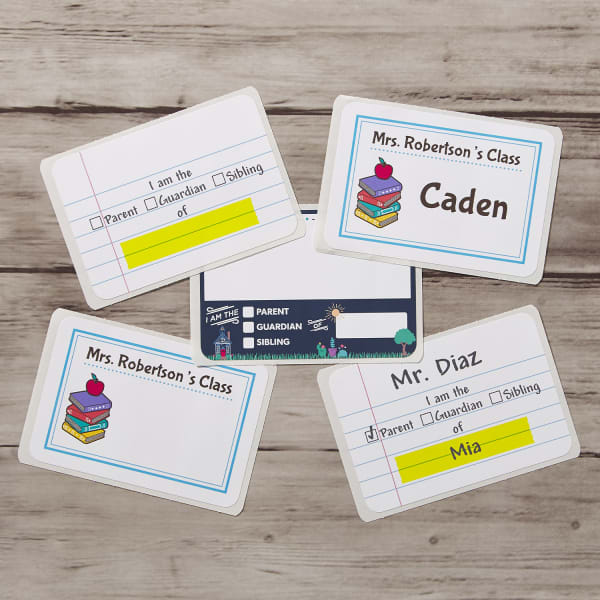 Design custom name tags for your next school event.
A+ Name Tags for School Events
Create your own custom name tags for kids and parents on back-to-school night, first days, field trips and other school events. Avery Adhesive Name Badges are quality inexpensive name tags that stick perfectly to clothing and fit your budget.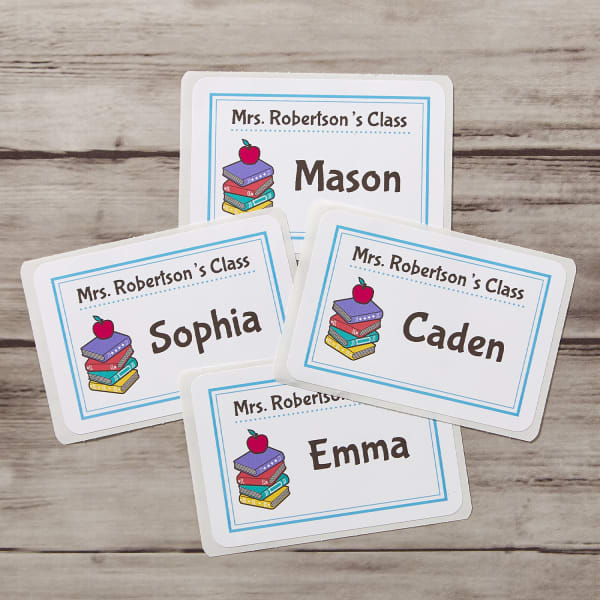 Use a cute design with books and an apple to print name badges for learning names on the first day of the school year. For back-to-school night and field trips create custom name tags to match students attending parents and other family members. Try a fun ruled paper theme or classic school house design.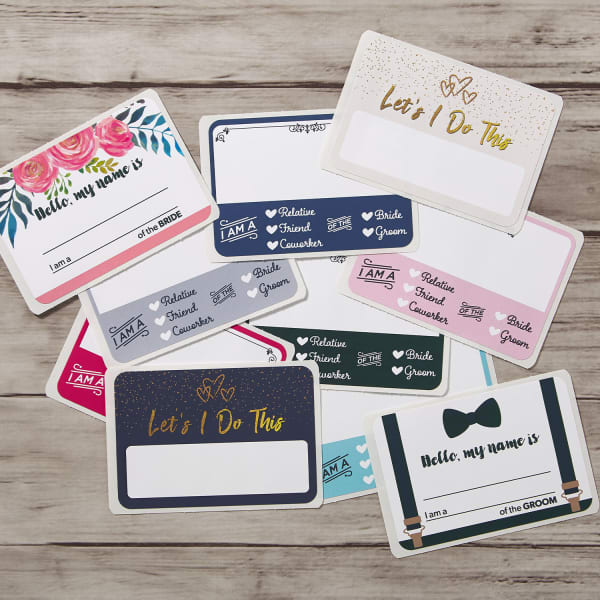 Inexpensive wedding guest name tags
DIY Wedding Name Tags Template
Impress your wedding guests with nice name tags to help with introductions and mingling. When you order name tags from Avery you have one less thing to stress about on your big day. Simply design your custom name tags online, print at home or let Avery do it for you with WePrint custom name tag printing services.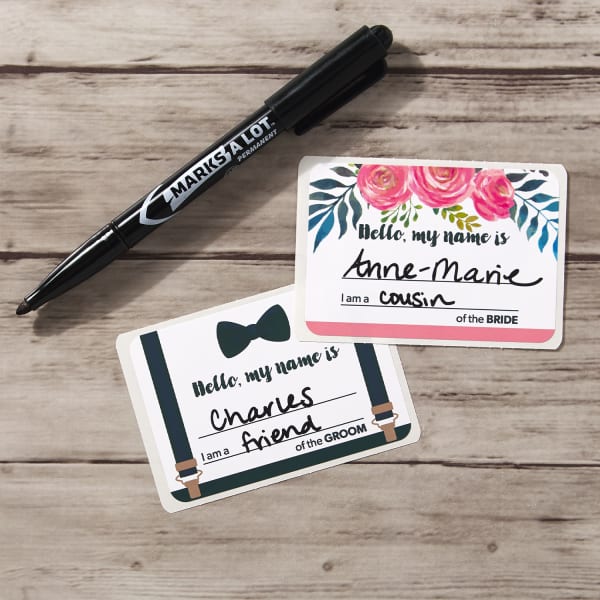 Use your guest list to make custom name tags printed with your wedding guests' names and leave some blank name badges for plus ones to fill in by hand. "His and Hers" floral print and tuxedo fill-in-the-blank name badges are a fun way to denote which guests are in attendance of the bride and which represent the groom.
Try name tags with a colorful border you can customize with your wedding colors and use for guests to display their relation to the bride and groom. Let's I Do This designs are simple and chic and can also be customized with your wedding colors, printed with your guests' names or left blank for guests to fill in by hand.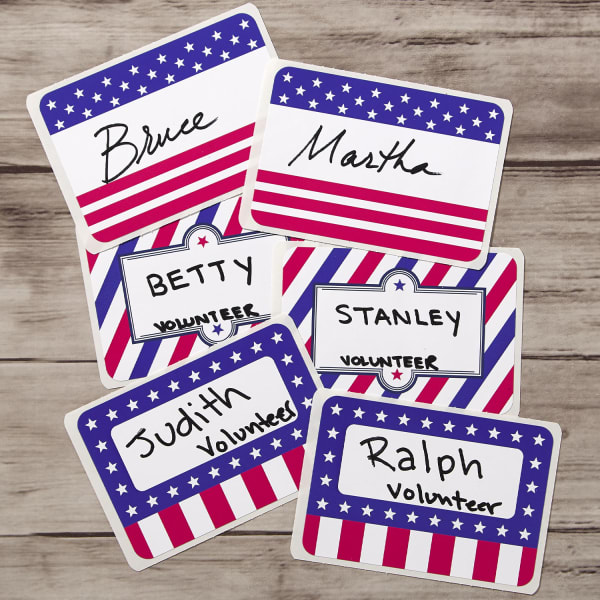 Custom patriotic name tags you can print at home.
Make Your Own Patriotic Blank Name Tags
Red, white and blue custom patriotic name tags are the perfect finishing touch for your 4th of July, Memorial Day and Veterans Day celebrations. Add extra patriotic flare to a campaign fundraiser or for polling place volunteers on Election Day. With Avery, you can print custom name tags, no minimum, directly from your home printer.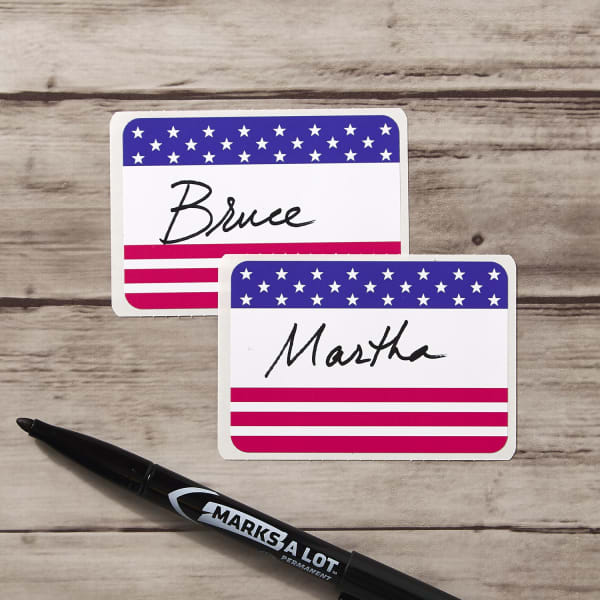 To complement an Americana theme, try a custom name tag design with contemporary stars and stripes or a retro-inspired stars and stripes design template. Try diagonal red, white and blue striped name tags to add a fresh energetic feel to your next patriotic event.
Products Used in This Article