Holiday organizing tips to help you declutter now and get ahead this year
While the holidays are the most wonderful time of the year, the cleanup afterward is not. Make sure you have the right organizational ideas from the start so that you know exactly where everything goes and get a head start this year.
Quick holiday organizing checklist
Here are the top clutter-causing culprits. These are the four main types of holiday clutter that we will need to tame in order to be ahead for next year:
Decorations
Gifts
Gifting Supplies & Cards
Food

Organize your Christmas lights and ornaments the easy way with printable labels (Avery 15513)
How to organize holiday decorations
Once the holiday season winds down, it can be very tempting to take all of your holiday decorations and shove them out of sight for a year. Although it might make your cleanup easier this year, you'll just be postponing a headache that you will need to deal with later.
Instead, take some time to clearly identify your lights, tree ornaments, and other items and pack them away neatly. It will only take an extra moment now, but the right holiday organization will make your decorating process so much easier for future festivities.
We have all had the experience of picking up a ball of tangled Christmas lights and not knowing where to start. You can avoid this unnecessary puzzle by wrapping your lights around a piece of cardboard instead so that they unwind effortlessly. A label that clearly identifies the staging location and length will allow you to quickly see where each string of lights will be set up the following year.
Tree ornaments and holiday décor can be stored in clear plastic bins with itemized contents. This lets you easily stack multiple boxes and view the contents without needing to dig through every box. Organize by room or location for easier and quicker unpacking the following year.
Pro Tip: Take a picture of your holiday décor setups to include in the matching storage bin for reference next year.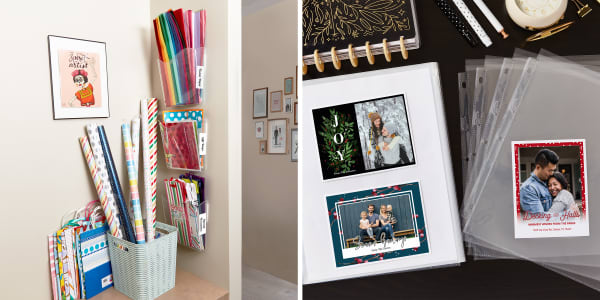 Turn your extra space into an efficient storage area for gifting supplies and use sheet protectors (Avery 76000) to turn binders into albums for Christmas cards.
The best holiday organizing tips for gifting supplies & cards
Giftwrapping supplies and cards are tricky holiday supplies to store. The wrong storage or a rushed layout can leave you with wrinkled gift wrap or damage precious holiday memories.
Try to take advantage of the vertical space in your closet, behind a door, or in a corner to keep your wrapping paper upright but also out of the way. A few common supplies like wall file organizers and plastic bins let you turn your unused space into an intuitive organization station.
A gift-wrapping storage area will help you save money next year by making it easier to see what supplies you already have. Dedicated storage space will also make sure that the edges of paper goods won't get wrinkled or torn from being jostled around. If you have the space or wrap gifts often, you might even want to consider setting up a DIY gift-wrapping station.
Now, what should you do with the stack of cherished Christmas cards that you've been admiring on your mantle for the past month? Christmas cards are beautiful time capsules that instantly bring us back to some of our warmest holiday memories and they shouldn't just disappear into a storage bin.
Creating a Christmas card album of family and friends is a wonderful way to archive Christmas cards safely while still letting you reference and flip through them from time to time. Keep the album out on the coffee table or a nearby shelf when you need a good pick-me-up. An album also doubles as a memory aid to help small kids remember distant relatives.
Holiday organizing tips for the kitchen
Holiday goodies and gifted foods have a way of piling up during the holidays. Make sure to give your kitchen a once-over to clear up your more perishable holiday clutter. Here are a few simple holiday organization tips to handle your leftovers:
Toss out those stale holiday treats
Clean out popcorn and cookie tins and use them to store extra holiday bakeware, molds, and cookie cutters
Gather up any unused ingredients like cans of pumpkin puree or cranberry sauce and donate them to your local food bank
Once you clear out your holiday food clutter, take a deep dive and organize your pantry. It will give you a fresh start for the year and make sure you can find your holiday supplies easier next year.
The number one holiday organizing tip: do your best and don't stress
Every one of us wants to create the best holiday memories for our families, but don't be disappointed if you can't be perfect. Just try your best to do as much as you can and stay organized so that you can give yourself a break next year.
The small imperfections will get washed out next to the brighter moments and you shouldn't let your mistakes outweigh the beautiful memories you create for your family. You can turn those less-than-perfect decisions into lessons instead and learn new organizational habits. Whether you begin with just one of our post-holiday organization tips or all of them, you will already be making your next year even brighter.
Supplies to recreate our post-holiday organizing ideas
Use this template: Holiday Lights Template
On these labels for laser printers: 2″ x 4″ Waterproof Labels (by the package 15513)
On these labels for inkjet printers: 2″ x 4″ Waterproof Labels (by the sheet 94207)
Use this template: Red Snowflake Template
On these labels for laser printers: 2″ x 4″ Waterproof Labels (by the package 15513)
On these labels for inkjet printers: 2″ x 4″ Waterproof Labels (by the sheet 94207)
More useful supplies:
Lay Flat Report Covers (47781)
Diamond Clear Secure Top™ Sheet Protectors (76000)
2″ x 4″ Glossy Clear Shipping Labels (6522 / 94207)
2″ x 4″ Waterproof Labels (15513 / 94207)
5-1/2″ x 8-1/2″ Waterproof Labels (15516 / 94229)
Marks-A-Lot™ Ultra Fine Tip Permanent Markers, 3 Black Markers (9230)
Marks-A-Lot™ Ultra Fine Tip Permanent Markers, 8 Assorted Colors (9231)