Order custom food labels online or print your own
Other articles you might like:
A very important part of marketing food and beverage products is the label. Labels communicate valuable information regarding your products as well as being used to catch the eyes of consumers. Food labels offer the first impression of your merchandise. Before the consumer can try your product, they see the packaging so it is important to make a strong first impression. In this article, we'll show you how to edit labels for your food and beverage products correctly. From branding labels to nutrition facts labels, we're here to help you get your food labels right.
FDA regulations & industry standards
Before beginning to design your label, it is important to research the U.S. Food and Drug Administration (FDA) regulations and market standards for your specific product. It is every business owner's responsibility to make sure their labels meet the industry standard. Not only is this required for some regulations, but it can also elevate the authenticity of your product and grow a sense of trust with consumers. FDA regulations and industry standards will vary by product but there are some basic requirements most food labels need.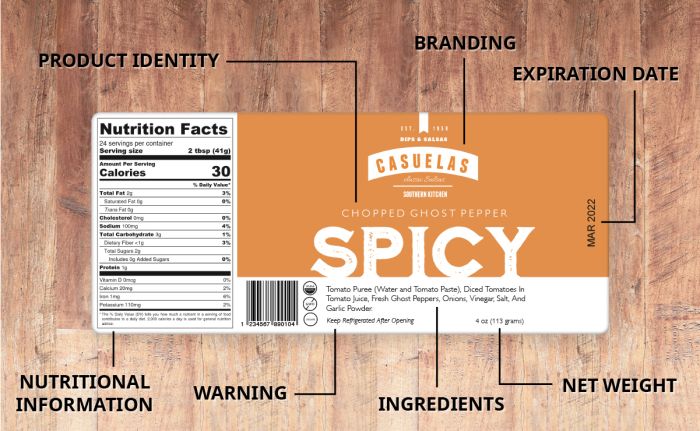 Brand
A well-designed label will always include your personal branding. This can be represented by a unique logo or your brand name.
Product identity
Every label should clearly identify what the product is, so a consumer can immediately know what they are buying.
Weight/amount
It is expected that the net weight or number of goods will be clearly marked on the label.
Expiration date
All food items must have an expiration or best by date clearly marked. This is for the safety of the consumer and to guarantee quality control
Ingredients
Ingredients should be included somewhere on the label. This is especially important for people with dietary restrictions.
Warnings
If your product contains any common allergens (such as dairy or nuts) or has specific risks, it must be listed.
Free online design tools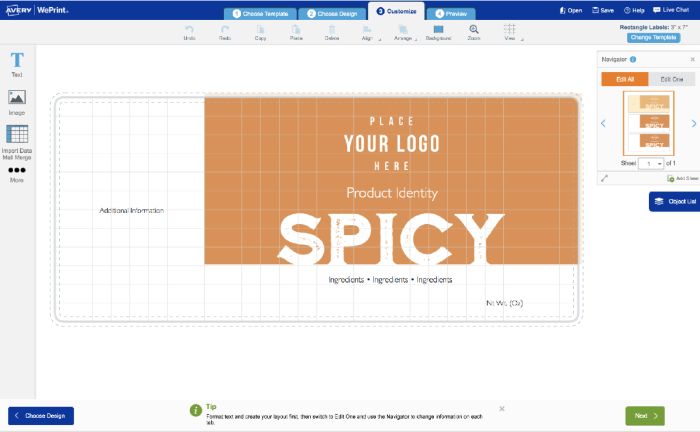 Avery offers a multitude of free designs for food and beverage products online. Consumers are free to use any of our professional designs for their labeling needs or they can use a blank template and upload their own artwork and designs.
Our predesigned templates provide a suggested layout for the most important information you should include on your labels. These features are mostly editable so you can add, remove, or shift whatever they need.
Easy text fill
Our Easy Text Fill tool makes it simple to fill out your labels with the proper information. Easy Text Fill lines up all the suggested text in one area so it can be easily edited with new information. Once you are done editing your food label information, click Apply and your changes will be added. After that, it's easy to move and adjust text boxes as needed so that everything looks the way you want it.
Adding text boxes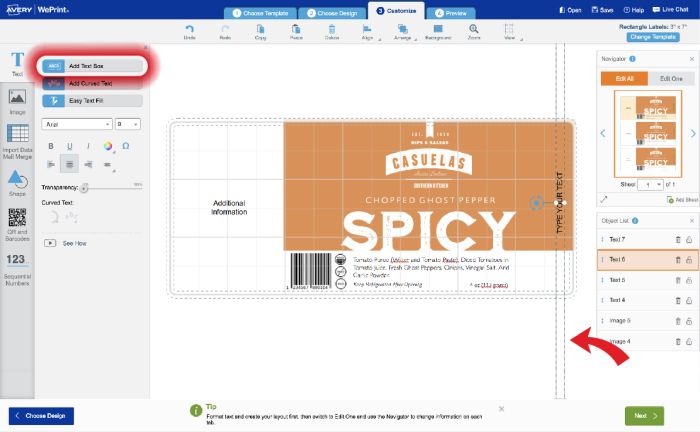 Avery templates offer preset copy as a suggestion of what consumers should include on their labels. We know that consumers will occasionally need to add more specific information. It is easy to add a Text Box and edit it to your specifications. Simply select the Text panel and choose to Add Text Box. Once your Text Box is added you can simply use the handles to move and rotate your new text box wherever you need it to be.
Creating nutrition labels

An important part of a food and beverage label is the nutritional information. The FDA has updated the Nutrition Facts label on packaged foods and drinks and is requiring changes based on updated scientific information, new nutrition research, and input from the public. This is the first major update to the nutrition label in more than 20 years.
A brand can add this in paragraph form on the label as long as it can be clearly read. It needs to include important dietary information such as caloric value and recommended serving size and total servings per package.
You can also choose to include more detailed nutritional information by uploading your own nutritional label. If you are unsure of how to create one, there are numerous free generators online. Our partner, ReciPal is a convenient nutrition label generator that's easy to use. Simply create an account, choose to create a new recipe and the site walks you through adding all your ingredients to generate the nutritional information for you.
Once completed, simply save your label to your computer before uploading it to Avery Design & Print where you can add it to existing labels or order standalone nutrition labels. Once you've completed your label, it's ready for you to review and order custom printed labels or labels you can print yourself.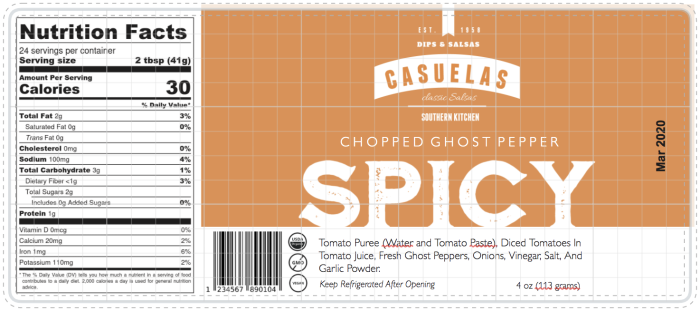 If you're just starting out labeling products, it might be a good idea to try our blank printable labels that you can buy online by the sheet or in our in-store retail packs. Just order your labels and then customize them online and print from an inkjet or laser printer.
For a more premium look or if you need a large number of labels, try our professional printing service, Avery WePrint. Our custom printed labels are printed on industry-leading digital presses and are great when you're ready to take your business to the next level. They're available on rolls or sheets in a huge catalog of materials, shapes, sizes, and finishes. And if you need a custom size, we offer that too at no extra charge.
Do you still need help?
If you're still having a hard time creating your labels or deciding what products and materials are best for your items, please reach out to our top-rated Customer Care Team at (800) 942-8379. They are ready to help you create the perfect labels for all your food and beverage products.