How to Make Beer Labels
Other articles you might like:
It's essential for beer brewers, whether big brands or craft brews to meet the mandatory labeling information required by the Alcohol and Tobacco Tax and Trade Bureau (TTB). But it can be a tedious task to make sure you've complied with everything you need. So we've put together a quick list of the nine things you should include on your custom beer labels.
Once you're ready to order your beer bottle labels, Avery offers you several options to customize and order premium labels. You can buy printable beer labels online by the sheet or order custom beer labels professionally printed by Avery WePrint, our custom printing service. You can also use our popular retail packs featuring set quantities of printable labels.
Also, you can find free templates for beer labels and mandatory health warning labels that you can customize and order professionally printed or print yourself.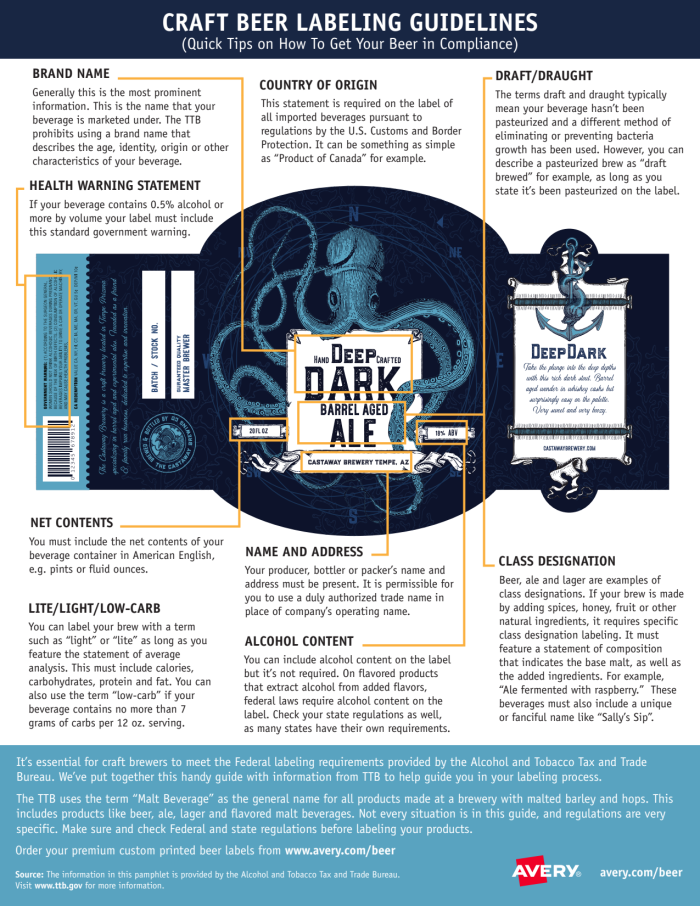 Download this quick tip sheet that shows what you need on your beer labels for easy reference at any time. 
What is a malt beverage?
The TTB uses "Malt Beverage" as the general name for all products made at a brewery with malted barley and hops. This includes products like beer, ale, lager, and flavored malt beverages. Not every labeling situation is covered in this article, and Federal Regulations are very specific. So please check federal, state, and local regulations before labeling any beer product for sale or distribution.
What you should have on beer bottle labels
1. Brand name
The most prominent information is featured on your beer bottle label. It's the name you market your beverages under. Your brand name cannot describe the age, identity, origin, or other characteristics of your beverages.
2. Country of origin
On any imported beverages, pursuant to regulations by U.S. Customs and Border Protection, you must put the country of origin somewhere on your label. It can be as simple as "Product of Canada", but if it's imported, it must be on your label.
3. Draft or draught
The terms draft and draught generally mean your beverages haven't been pasteurized and that a different method of eliminating and preventing bacteria growth has been used. However, if your brew has been pasteurized, you can still describe it as "draft brewed" for example, as long as you mention it's been pasteurized somewhere on your label.
4. Class designation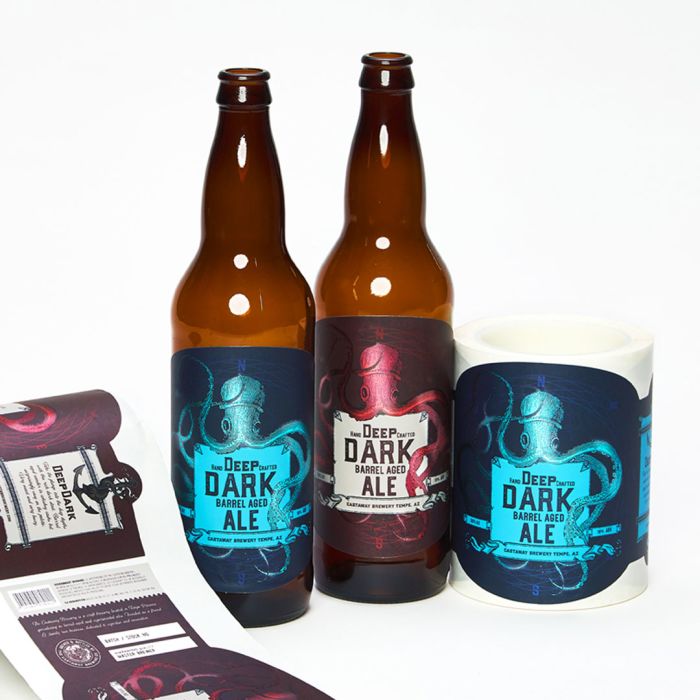 Beer, ale, and lager are all examples of class designations. If you brew your beer with added spices, honey, fruit, or other natural ingredients, you are required to use special class designation labeling. You must include a statement of compositions that states the base malt, as well as the added ingredients. For example, if you brew your beer with raspberries you must include a statement such as "Ale fermented with raspberry." These beers must also include a unique or fanciful name such as "Bart's Brew."
5. Alcohol content
You can include alcohol content on your labels, but it's not required. However, on flavored products that extract alcohol from added flavors, federal laws require alcohol content on the labels. Make sure to check your state regulations as many states have their own specific labeling requirements.
6. Name & address
The producer, bottler, or packer's name and address must appear on your labels. You may use an authorized trade name in place of the company's operating name if desired.
7. Net contents
All labels must feature the net contents of your beer container in American English, such as pints or fluid ounces.
8. Lite / light / low carb
If you want to include terms such as "light" or "lite", you must feature the statement of average analysis. This must include calories, carbohydrates, protein, and fat. You can use the term "low carb" if your brew contains no more than 7 grams of carbs per 12 oz. serving.
9. Mandatory health warning labels
Per the TTB, any alcoholic beverage for sale or distribution in the U.S. that contains not less than 0.5% alcohol by volume, is intended for human consumption and was bottled on or after November 18, 1989, must contain the following government warning statement:
GOVERNMENT WARNING: (1) According to the Surgeon General, women should not drink alcoholic beverages during pregnancy because of the risk of birth defects. (2) Consumption of alcoholic beverages impairs your ability to drive a car or operate machinery and may cause health problems.
If you don't want the government warning directly on your branding label, we've created three beer warning label templates that you can apply as separate labels. Visit our Beer Label Design Gallery where you'll find free warning label templates, as well as beer label designs that you can customize your way.

Need more help?
Do you need assistance finding the right materials for your beer bottle labels? For any chilled beverage or product that might get damp or wet, we recommend using Avery blank or custom printed waterproof labels. But if you have any other questions or need any help, please call the top-rated Avery Customer Care Center at (800) 462-8379. They'll be happy to help you with any questions you have about your beer bottle labels or any labeling project.