Baby on the way? Celebrate in a big way! Avery can help you put together an unforgettable baby shower with personalized party décor you can make yourself. Start with a theme, or get inspired with our free design templates. Then customize and print Avery labels and tags to decorate all your party essentials. It's easier than a midnight diaper change! Take a peek-a-boo at these time-saving ideas guaranteed to get you showered with compliments.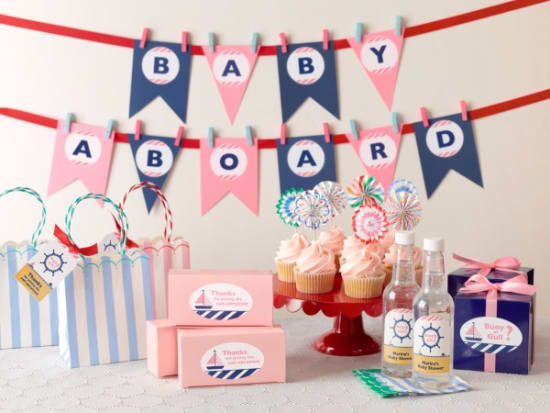 Make Decorating as Easy as Onesie™, Two, Three
A festive welcome banner greets your guests and sets the mood for fun times ahead. It's simple to make—choose a design template, create your message and print on Avery Round Labels. Attach the labels to pennants cut from card stock or fabric, and clip onto string with mini clothespins.
Personalize Bottled Beverages (Burping Optional)
Give bottled beverages an adorable makeover with customized Avery Arched Labels featuring the theme of your baby shower bash and the event name, such as "Marina's Baby Shower." You can also personalize labels with the name of each guest.
Swaddle the Sweet Treats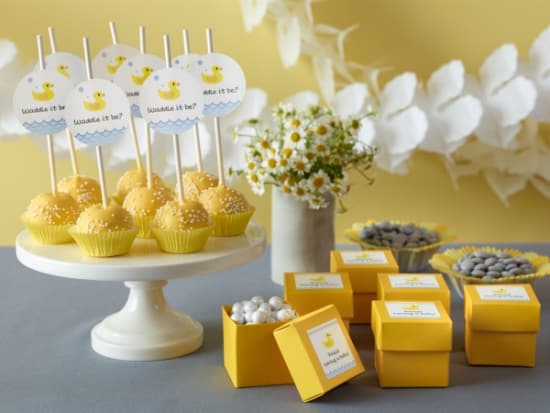 Whether you're throwing a gender-reveal party or a traditional baby shower shindig, you can easily decorate your treats to fit the theme with our free design templates. Guests will coo over customized treat cups, cupcake and cake pops toppers. Just customize Avery labels and tags using Avery Design & Print Online, decorate your desserts and you're done!
Create the Cutest Favors
Shower your guests with delightful favors to thank them for coming to the party. For a thoughtful touch, include a personalized message for each guest right on the label or tag. Attach to little boxed gifts or bags and pass out these charming takeaways.
Make your baby shower unique with Avery and your own creative style! It's the thoughtful little details that make will make the baby shower celebration a bundle of joy. With Avery products and Avery Design & Print Online, adding decorative touches to your shower is a snap.