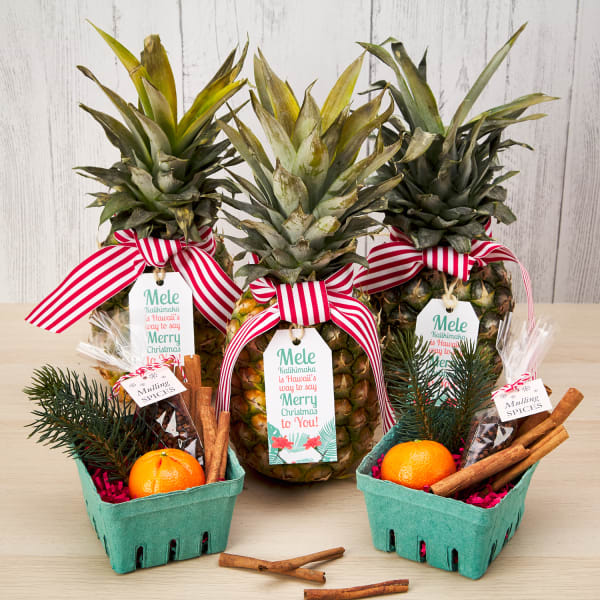 Trying to find just the right gift for friends, family and more? Use labels, tags and fabric transfers to create thoughtful DIY Christmas gifts that won't break the bank. We've thought of twelve easy DIY Christmas gift ideas including a couple of creative Christmas gift sets and kits for those teachers and neighbors that deserve something a little extra.
Mulling Spices Kit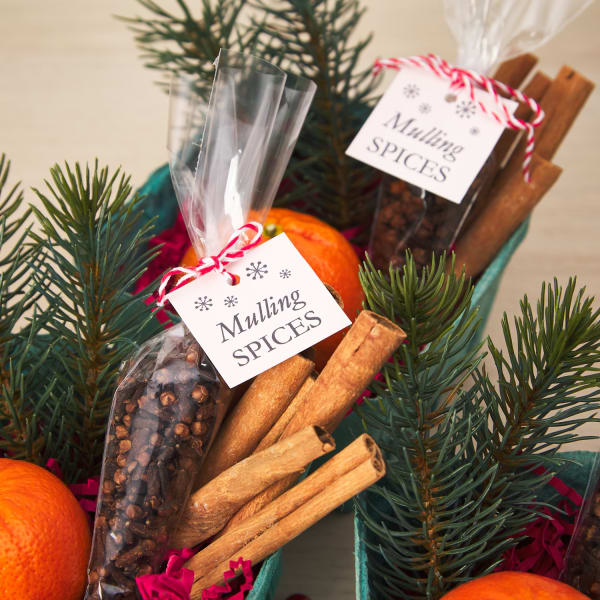 Top off your gift with a printable tag (22849)
Mulling spices like cinnamon, allspice and cloves are a fantastic way to kick up the flavor in wine and cider and are the perfect DIY Christmas gift for a hostess. You can make these Christmas gift tags using Avery's free design software and include a list of ingredients and instructions on the back of the tag.
Click here for the mulling spices tag template.
Cookie Cutters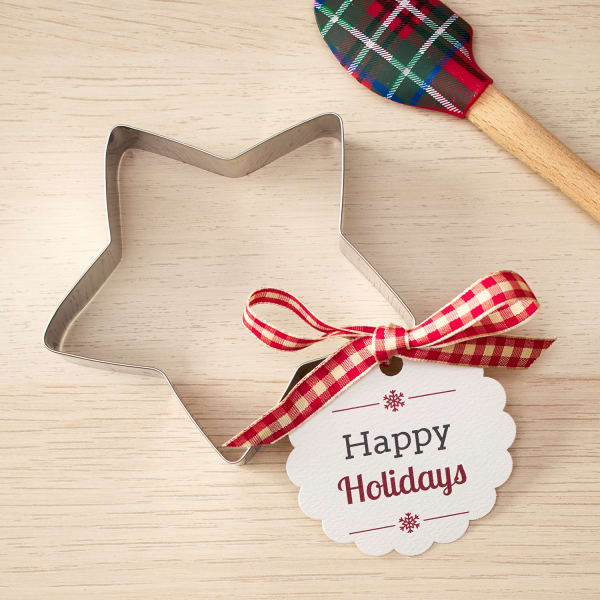 Leave a bright note with scallop tags (80503)
Cookie cutters are a quick and festive gift idea that won't break the bank. Whether you use cookie cutters as a party favor at a cookie exchange or as a gift for the baker in your life, just add a personalized festive tag for a quick gift.
Click here for the cookie cutter tag template.
Cinnamon Rolls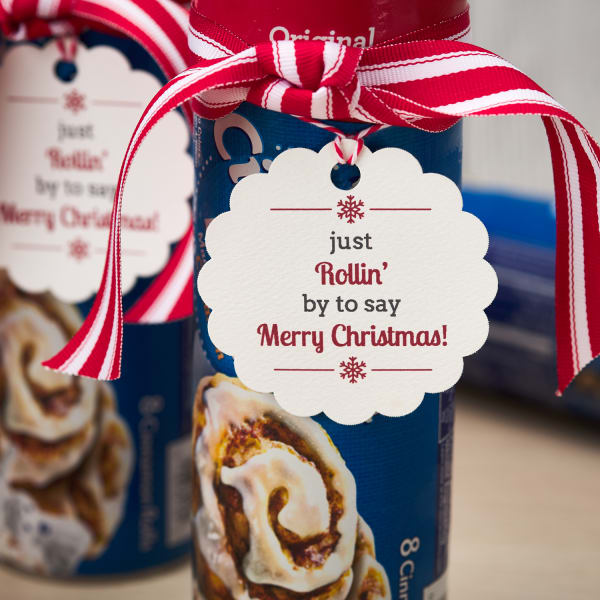 Tag on a sweet message with scallop tags (80503)
Whether you have your own recipe or buy a tin from the store, cinnamon rolls are a delicious treat that everyone can enjoy during the holidays. Complete the package with a custom-printed Christmas gift tag with one of our free holiday templates.
Click here for the cinnamon roll tag template.
Pineapples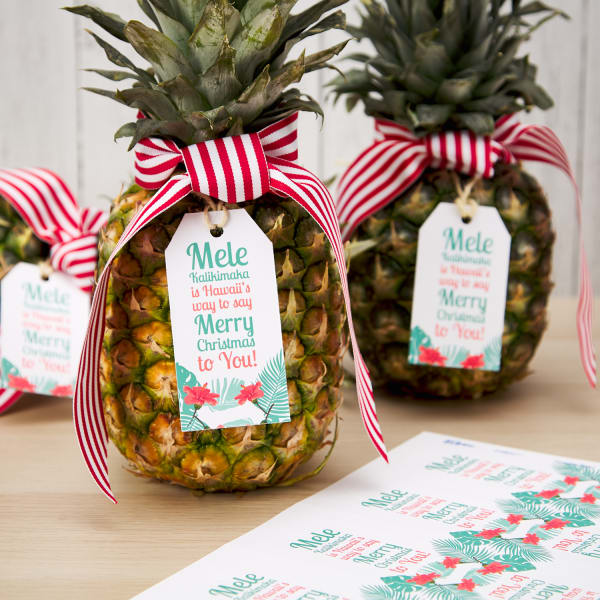 Make a unique gift even more special with custom tags (22802)
Pineapples are a symbol of warm welcomes and hospitality and make the perfect hostess gift. Just add a festive Hawaiian holiday tag and some ribbon for a great gift.
Click here for the pineapple tag template.
Cookie Dough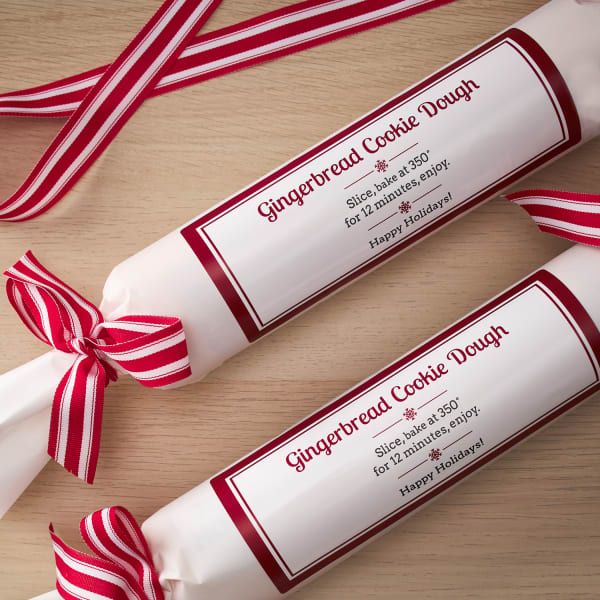 Wrap everything up with a personalized rectangle label (94250)
Is it even Christmas without cookies? Give everyone the gift of sugar with a roll of your very own, homemade cookie dough. If you have an age-old family recipe, make sure to label it onto each roll for people to share along with the baking instructions.
Click here for the cookie dough label template.
Chex™ Mix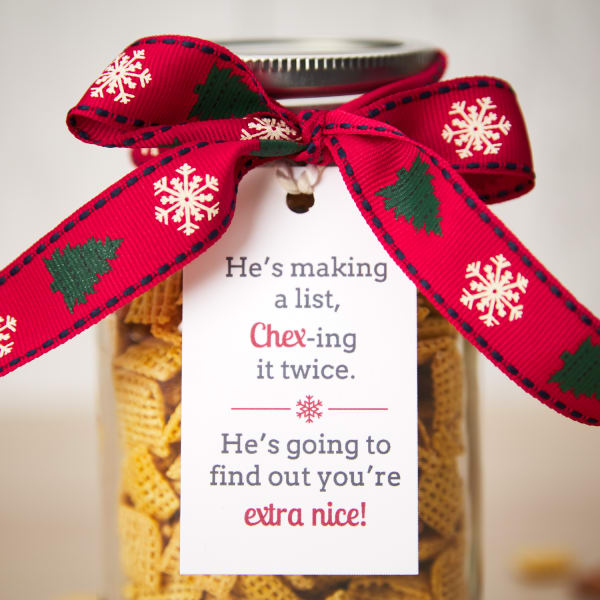 Add even more flavor with a customized tag (22802)
Try as we might, we can't survive on cookies alone. That's why jars of Chex Mix can be the perfect Christmas gifts for coworkers, teachers or kids to give them that extra handful of energy when they need it.
Click here for the Chex Mix tag template.
Homemade Jam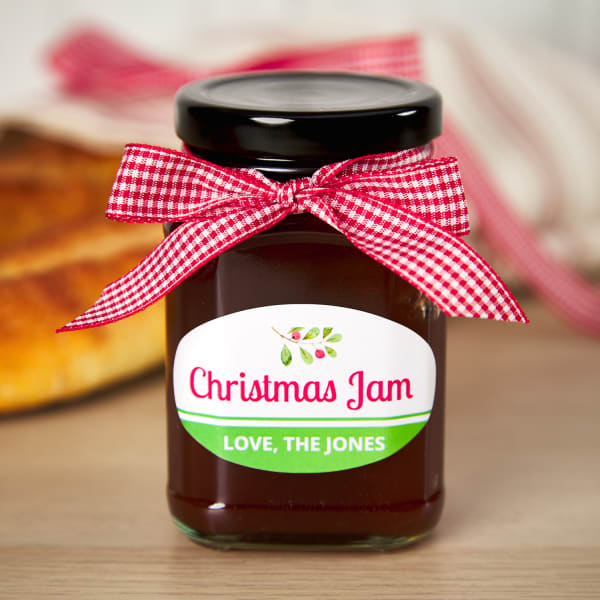 Give your homemade goods a professional look with oval labels (94051)
Homemade jams and preserves hold a lot of love and people will appreciate the care that goes into each jar. They're also ideal with toast on Christmas morning or to make homemade jam-filled cookies.
Click here for the jam jar label template.
Pancake Mix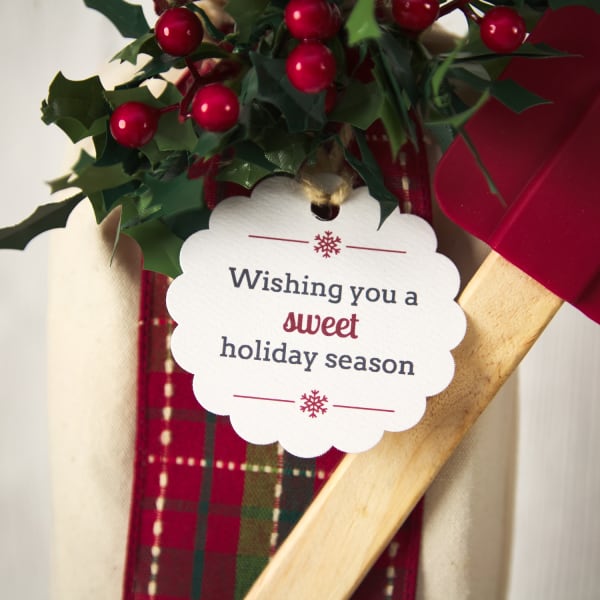 Stand out with scallop round tags (80503)
Wrap up the dry ingredients for a pancake mix (such as all-purpose flour, sugar, baking powder and baking soda) along with a spatula for a tidy and quick pancake starter kit.
Click here for the pancake mix tag template.
Homemade Seasoning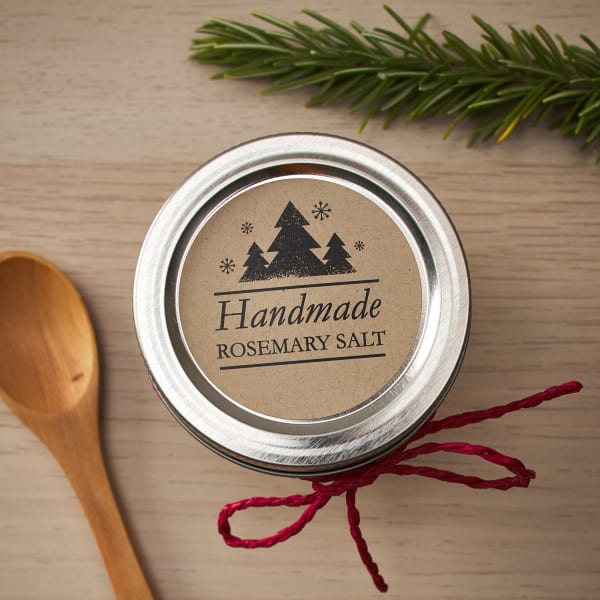 Print out customized jar lids with kraft brown round labels (94501)
Homemade seasoning salts and spices are ideal for the holidays and are an amazing DIY Christmas gift for friends. This is the perfect time of year to test out different recipes in the kitchen and a few extra flavors are always appreciated in the pantry.
Click here for the seasoning jar lid label template.
Cookie Decoration Kit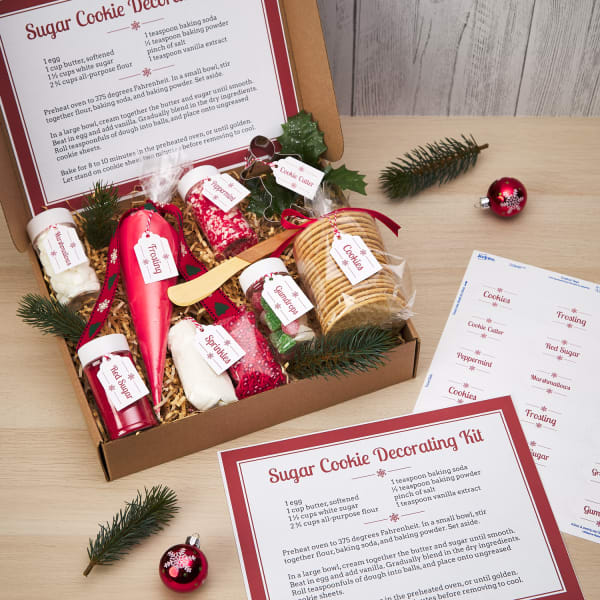 Craft beautiful box art with full-sheet labels (5165)
Combine these various gifts together to create themed gift sets that will delight everyone. For example, a cookie decoration kit immediately looks fun as soon as you open the box and is a great DIY Christmas gift for kids. The array of frosting, sprinkles, gumdrops and more are certain to capture their attention and spur their imagination.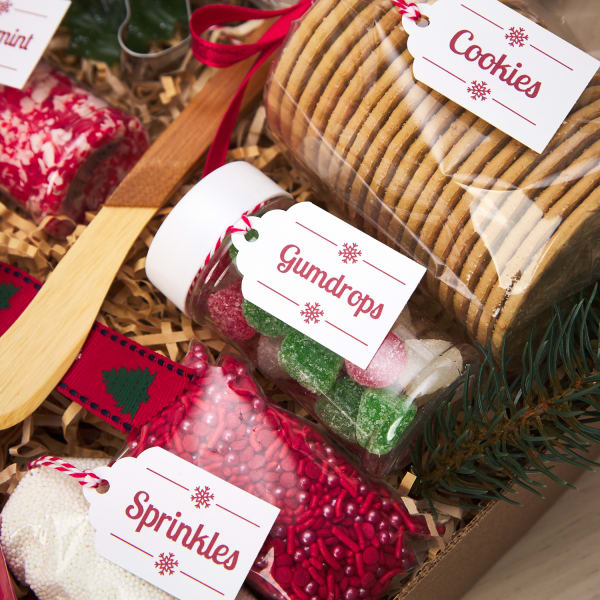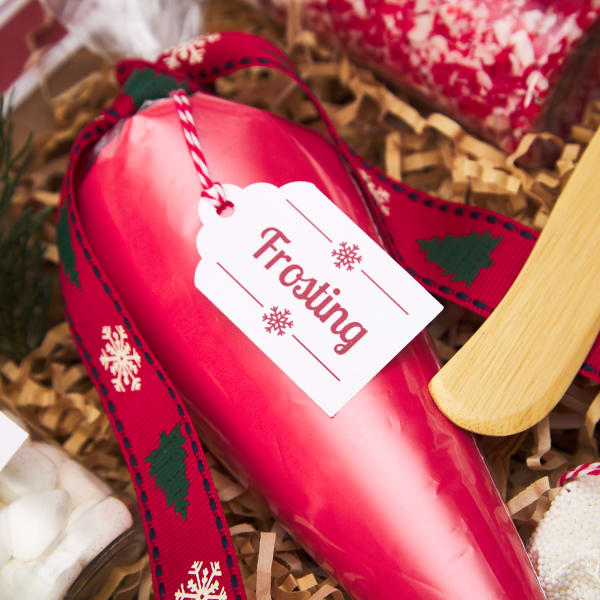 Create a unified theme with scalloped tags (22848)
For a cohesive theme, make sure that the color of your wrapping paper, templates and packaging work together. This helps create a more visually appealing look and speaks to the thought that was put into the kit's preparation.
Click here for the cookie decoration kit tag template.
Cookie Baking Kit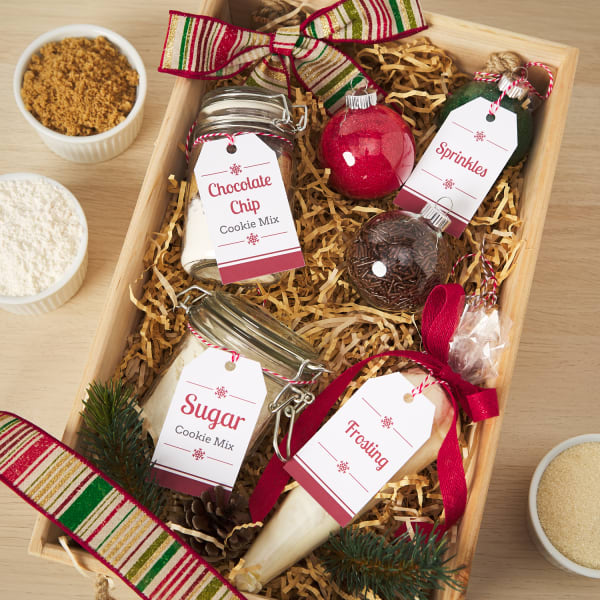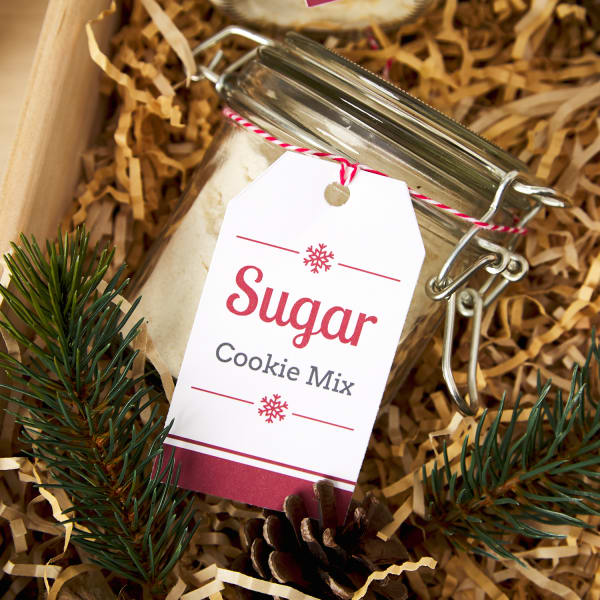 Make sure each gift pops by using printable tags (22802)
Add more to a gift of cookie dough with a wider variety of flavors and toppings to create a gorgeous cookie baking kit. These sets are fun for everyone and can potentially be the start of a beautiful holiday memory.
Click here for the cookie baking kit tag template.
Holiday Ingredient Kit
Expand on the gift of a custom seasoning or spice with an entire starter kit of ingredients. Although experienced cooks can appreciate this kit as well, beginners in the kitchen will love the chance to sample an entire palette of flavors and discover what seasonings speak to them.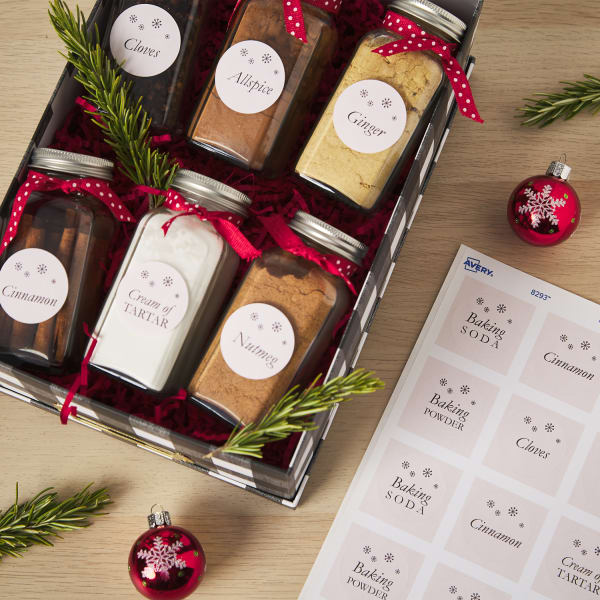 Print your own custom spice labels with round labels (94506)
Get people into a festive mood with a set of the most-used holiday spices. A fun exercise to help you prepare is to try to imagine what Christmas tastes like. Are you imagining peppermint? Cinnamon? Nutmeg? Package all of them into your kit for the complete holiday flavor profile.
Click here for the spice jar label template.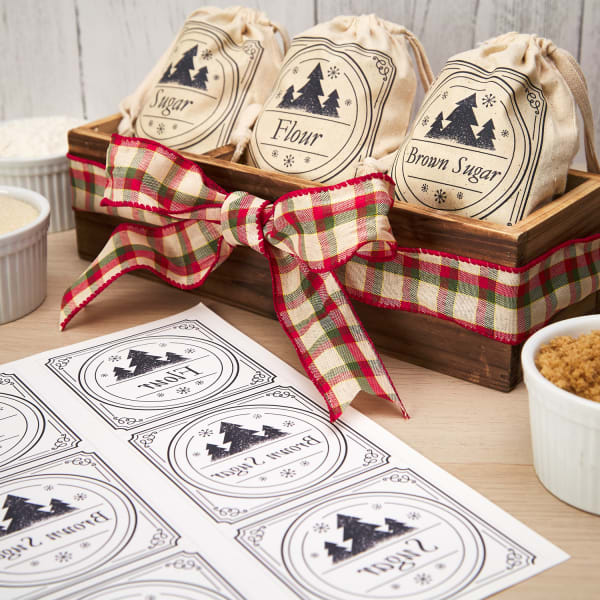 Iron onto canvas bags with fabric transfers (8938)
Also, although we have been mostly using labels and tags, there's a vast number of other products available to help customize your kits. Fabric transfers are great for shirts but you can also iron them onto small canvas bags to give your ingredients a rustic, homemade feel.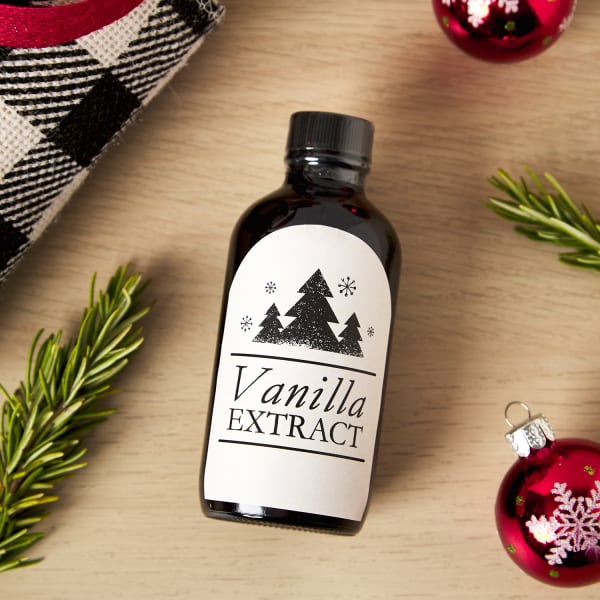 One of the best labels for bottles are arched labels (22809)
If you're gifting to a large number of people then our WePrint printing service could be just what you need. Our talented team can print your labels, cards and tags for you so that you can focus on planning and packaging your presents.
Products used in this article:
1-1/2″ x 1-1/2″ Square Tags (22849)
2-1/2″ Scallop Round Tags (80503)
2″ x 3-1/2″ Tags (22802)
3″ x 7″ Blank Rectangle Labels (94250)
1-1/2″ x 2-1/2″ Glossy Oval Labels (22804 / 94501)
2″ x 1-1/4″ Scallop Edge Tags (22848)
8-1/2″ x 11″ Full-sheet Labels (5165 / 94268)
1-1/2″ Round Labels (8293 / 94506)
2-1/4″ x 3″ Arched Labels (22809)
8-1/2″ x 11″ Light Fabric Transfers (8938)
Chex™ is a registered trademark of General Mills