Back-to-School Checklists for All Ages
Make sure your child is ready for an exciting new school year with these handy back-to-school shopping lists. We've done the work of organizing some essential supplies that are sure to help your child succeed. Whether they're getting ready for kindergarten, middle school or high school, your child will be ahead of the curve with these A-list supplies.
Kindergarten School Supplies Checklist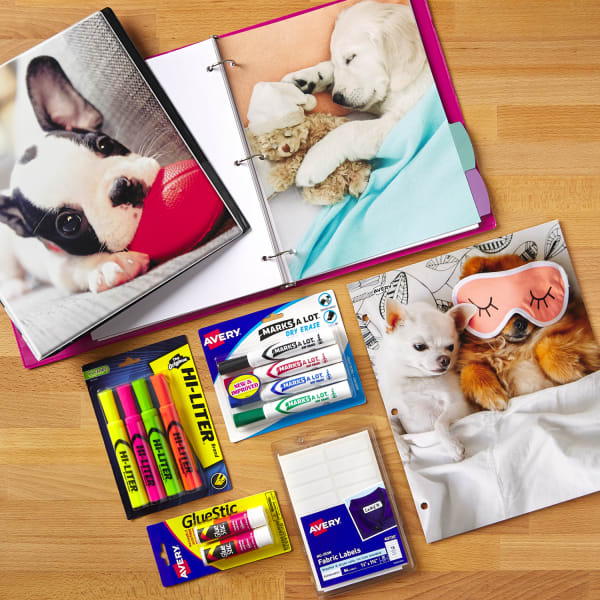 Is this your kid's first year in kindergarten? It's important that they feel comfortable in a new environment and these adorable binders with puppy dog designs can be a charming way to make them feel at ease. These cute designs are also available on folders and dividers so that they can be greeted with a heartwarming pup at any time.
But also make sure their backpack is filled with more classic supplies like Glue Stics and Hi-Liters. Although your kid won't be highlighting passages in textbooks for a while, Hi-Liters can be a great way to color in word searches as well as for an extra neon pop in coloring books. Glue Stics are also a necessity for craft projects and dry erase markers are a perfect gift for their teacher on the first day.
You can also use no-iron fabric labels to write their name onto their clothing, lunchbox, backpack and more. School can be a hectic time, especially for young kids, and it can be easy for their belongings to get lost in the shuffle.
Middle School Supplies Checklist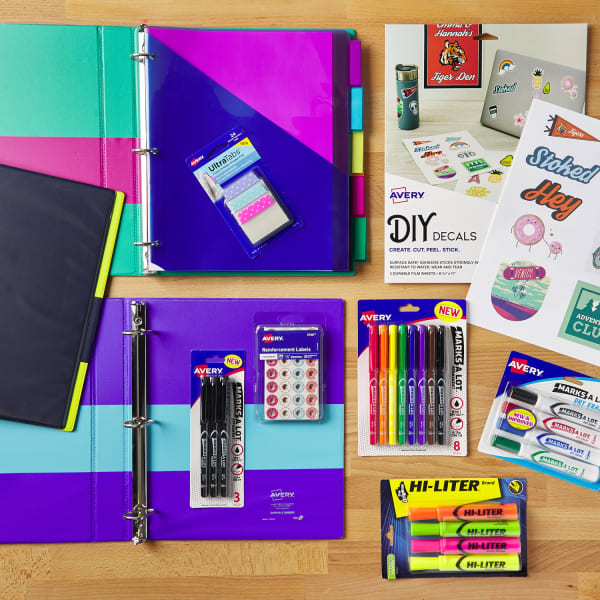 Make it easy for your middle schooler to express themselves with these customizable supplies. These two-tone view binders and dividers feature pockets they can use to insert custom covers. They can draw their own illustrations and lettering with Marks-A-Lot ultra fine tip markers or they can use our free Avery software to print out their own designs.
They can also add their own flair to textbooks and worksheets with fashionable reinforcement labels and Ultra Tabs. These round labels with donut designs can be placed around binder holes to help give their homework a little more personality and to keep sheets from tearing. These trendy Ultra Tabs can also bring some much-needed color to textbooks and planners.
But the ultimate crafting material for any situation is DIY decals. These custom sticker sheets are the perfect way for your kid to decorate their tablet, laptop and locker exactly the way they want it. These removable stickers use a unique adhesive that sticks firmly but removes cleanly without residue.
High School Supplies Checklist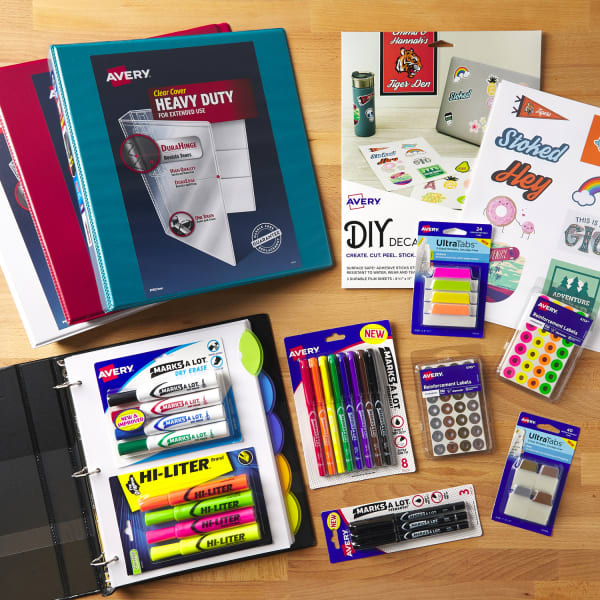 If your child is in high school, they might be looking for supplies that are a little tougher. These supplies improve on the durability and function of the supplies listed in the middle school set without sacrificing any room for customization. These heavy-duty view binders and plastic dividers are made with a longer-lasting material that can survive multiple trips between classes.
These Ultra Tabs, reinforcement labels and Hi-Liters also use matching colors to make it easier to color-code notes. Or if your child prefers a more subdued and mature appearance, they can use matching metallic Ultra Tabs and reinforcement labels instead.
However, the beauty of these supplies is that they can be whatever your child needs them to be. Whether they need to be loud or quiet, practical or creative, funny or serious, these school supplies will match your child's personality.