The yearly holiday party is an important part of your company culture
Bringing your team together can be hard when your team is remote. But that doesn't mean you can't find ways to socialize and celebrate. Even if you can't gather in person, you can still find creative ways to hold a virtual holiday party. We've gathered a few fun ideas to help bring your team together even while they're apart.
Improving company culture and engagement
A holiday party can improve your company culture by providing a fun event where everybody has an opportunity to socialize with others as people and not just as coworkers and bosses. A holiday party is also a great time to recognize people's accomplishments, raffle off gifts and boost morale.
Improving company culture and uniting your team helps workers avoid retreating into cliques and developing their own subcultures. Of course, there's nothing wrong with finding a group of like-minded coworkers to confide in. However, when your team feels united they are better able to engage with each other (and their work) in a healthy, collaborative manner.
More resources you might like:
1) Start planning your virtual office holiday party the same as a regular party
Even with a virtual holiday party, some of the core aspects of party planning will remain the same as planning a party in real life. You will still need to organize a guest list, determine a budget and create a theme.
Confirming a headcount is an important first step. Once you know how many people you are hosting you can start making decisions on how much you can spend on gifts and what activities will work best for your group. You can then determine a fun holiday party theme to tie everything together perfectly.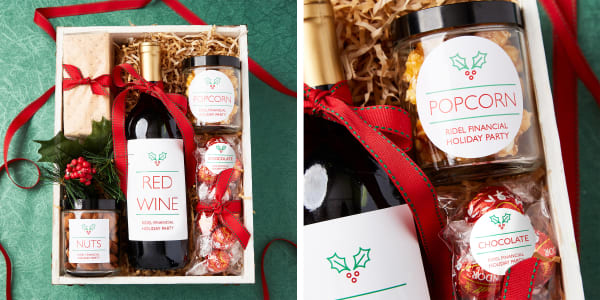 2) Keep in mind online options while planning your holiday party
Hosting a virtual holiday party will require thoughtful planning if you want to make sure everything goes off without a hitch. Here are a few things to keep in mind while you're in the planning stages.
Choose the right video chat app
If your team already uses a chat app then try to stick to that app if you can. Various chat apps such as Slack, Zoom and Discord provide different benefits such as a more modern look, easier accessibility and higher quality video but very few will beat the ease-of-use of the app that everybody already has at work.
Make it easy to join the party
Make sure to send out clear instructions so that everyone knows how to sign in or create an account and attend. A holiday party is your team's chance to display its inclusivity and efficiency and it will be a bad look if people can't even get into the party.
Share festive treats even without catering
Sadly you won't be able to host a holiday buffet but you can still send festive treat packs. Consider sending wine & snack boxes to everyone that can be enjoyed together over the video call. You can also print your own custom labels with your company branding to make each gift a little more personal.
Reserve a portion of your budget for holiday gifts
Along with festive treats, you can also show your appreciation by setting aside some of your budget for holiday gifts. Services such as our sister company pc/nametag let you create personalized gift packages. While homemade gifts are always appreciated, professionally engraved and customized products are a great way to go the extra mile.
Don't rule out live entertainment!
There are many performers taking their gigs virtual including musicians, escape room organizers, motivational speakers, magicians and more. Hiring a performer can be a great way to let a professional handle some of the entertainment for your party.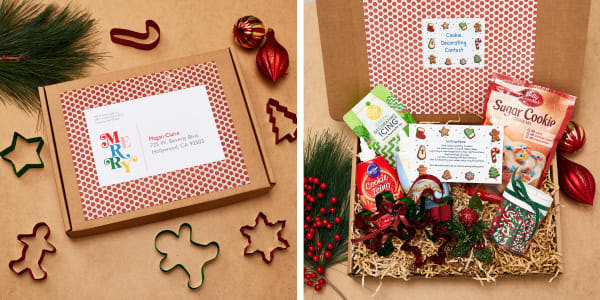 3) Don't forget team-building activities for your virtual holiday party
Nothing brings a team together like some good group activities, especially around the holidays. Here are some fun ideas that can be done virtually that will get your team laughing together.
Cookie decorating contest
Hold a cookie decoration contest and have everyone vote for their favorites during the party. You can package cookie decorating kits with custom shipping labels, a festive design for the inside and instructional cards. Make sure to ship them with enough time ahead of the party so that everyone has a chance to think of some fun ideas and bake their cookies.
Ugly sweater party
Have everyone dig out some of their favorite ugly holiday sweaters and hold a virtual fashion show to vote for some of the best (or the worst) designs.
Karaoke holiday classics
Host a virtual karaoke session with cheerful holiday songs to lift people's sprits.
Raffle a prize for a good cause
Choose a charity and have participants earn one raffle ticket for every $5 they donate. At the end of the evening you can have a drawing for a fabulous prize!
4) Put seasonal twists on quick & easy team-building activities
You can also build on other remote team-building activities by adding some seasonal flair. Here are three ideas that you can use as inspiration.
Video chat bingo
Create bingo cards with video chat snafus, holiday snacks or festive traditions and send them out to your team. After the party, you can use self-laminating sheets and notary seal labels to send out game winner certificates for the winners.
Share online puzzles
Send your team a weekly link to an online puzzle. Use a free online puzzle site that lets you upload your company logo, photos from past holiday parties, seasonal memes and more.
Have a GIF battle
Ask participants to submit GIFs on a theme such as "Type your name in a GIF search engine and post the first result" or "Describe how your holiday is going with a GIF" or "Search for a GIF from your favorite holiday movie."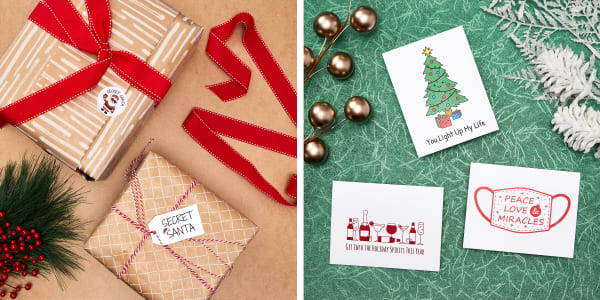 5) Incorporate holiday gift and card exchanges into your virtual holiday party
It wouldn't be the holidays without presents and there are many wonderful ways to make sure you keep the gift-giving spirit alive during your virtual holiday party.
Save "Secret Santa" gifts to open during your virtual holiday party
Secret Santa gifts are a familiar concept to most and incredibly easy to do while social distancing. Just pick names randomly through an app or online gift exchange generator and have everyone send their gifts to the person they're matched with ahead of time. During the party everyone can open their gifts together on camera and try to guess who sent it to them.
Plan a card exchange and share highlights during the holiday party
Encourage your team to create and send holidays cards to each other with their own designs and images. During the holiday party you can host a competition for various categories such as "Funniest Design" and "Most Creative Concept" and more. Try to choose a good range of categories such as drawing, writing and photography to encourage people with different skills to participate.
Virtual white elephant gift exchange
Adapt your white elephant gift exchange for remote employees by having participants bring a wrapped gift to the video chat. Everyone is still assigned a number and play the game in the traditional way, but when a person's gift is chosen they will unwrap it and show it off on camera to the group.
When it's another person's turn to choose, everyone shows their gifts up to the camera again to make it easier for the chooser to see all of the options. After all of the gifts are sorted and the holiday party is over, ship the gifts out to each person or drop them off at their desks at the office.
More resources for encouraging employee engagement online and in person
Even after your holiday party ends, there are always more ways you can continue encouraging a fun and welcoming work environment. Here are a few more articles with our tips and ideas to help promote a more distinctive company culture.
Make it easier to welcome new employees during remote onboarding with our best practices. Our efficient tips will help your new hires feel like they're part of your team in no time.
Practice a healthier work-life balance by being more mindful of how much of your time is divided between your personal life and work. A better work-life balance will make for a happier team and better results.
Connect with us on Facebook and LinkedIn for more ideas to engage your team.