Virtual conferences and events are likely to keep growing in 2021
As much as we all would have loved a reset button for 2020, the world didn't snap back to pre-pandemic settings when the clock ticked over into January 1, 2021. The question on everyone's mind now is: "Will we have in-person events and conferences?"
The short answer: maybe. It's far more likely that if you attend a conference or event in 2021, especially in the first half of the year, it will be virtual. According to Forbes, there are a few reasons for this including: event technology, crowd anxiety and decreased budgets.
If you've been interested in hosting your own virtual conference or event, there's never been a better time to jump in. Here's everything you need to know to start planning your first virtual conference.

A virtual conference is an excellent way to showcase your brand and safely connect with people from across the globe.
Benefits of hosting your own virtual conference
Conferences are fantastic opportunities to bring your team into the spotlight and help give your business more personality. Events are also great ways to increase brand awareness, launch products, generate sales and collect data through live polls and Q&A sessions.
Even if you're not able to shake hands in-person, virtual conferences can still replicate the experience of attending an in-person conference and can even be more effective in some respects. For example, a virtual conference will allow you to have a larger reach across the globe without having to worry about the costs of accommodating a huge number of attendees in a single space.
Step 1: Assemble your virtual event team and plan ahead
While you won't have to worry about a venue, virtual conferences still require careful planning to make sure that your event doesn't stumble into any glitches. Start planning at least 2-3 months before the event and make sure that you include all of the right people on your team.
Depending on your virtual event, you may need to have people who can manage video editing, tech support, social media, PR and more. Surrounding yourself with the right people will help you understand your priorities and will provide realistic expectations for your budget and resources.
In the process of planning your team and gathering their input, you might even realize that a conference is more than you need. A 2-hour webinar could be enough, depending on your needs, and is much easier to handle with a smaller team.
Step 2: Technology or bust! Choose the right virtual event platform & tech
Talk to your tech support and have them help you compare different platforms and services so that you can understand the pros and cons of each option. Now that many teams have had a chance to set up their own events, this can be a good time to phone a friend and ask colleagues about what platforms they used (or what they wish they had used).
Have you attended any virtual conferences? Don't be shy about reaching out to the event organizers of any virtual conferences you have attended to see what tech and platforms they recommend. A few platforms to get started include Accelevents, SpotMe and vFairs.
Step 3: Determine your virtual conference budget
Utilize your team's expertise so that they can provide realistic projections for the costs for your event. Start with necessary tech like the virtual platform and accompanying software since they will be the most important and front-facing aspects of your event.
Here's a checklist you can start with:
Virtual platform
Video production gear
Speakers
Promotional assets
Swag
Step 4: Determine your virtual conference target audience
Tailor your message and aesthetic by determining your target audience. Are these new potential customers that are just getting introduced to your brand? Are they industry insiders searching for scoops on the fresh new thing? Are they brand loyalists looking to spend? Knowing your audience will help you strike the right tone as you organize every level of your event.
The priorities of your audience can help you shape what tools and features to include in your virtual event. For example, most people will go to conferences to network, so make sure to create a social space like a chat room or a message board to encourage casual conversation.
Step 5: Define goals and KPIs for your virtual conference
What are you trying to achieve? While an established virtual conference might try to hit a variety of benefits, first-timers might want to pick one of two goals such as brand awareness of data collection.
Focusing on the metrics that matter most will decide how to measure the success of your event. For your first virtual conference, you can be happy to reach a certain number of attendees or by getting press coverage. Or if your brand is well-established, leads and sales might be your KPIs.
Step 6: Planning for virtual conference speakers
Set your social media and PR people into motion to reach out to industry leaders, experts, influencers, authors and anyone else that your target audience would be interested in hearing from. Find people in the right fields by tapping into your LinkedIn network, reading industry publications and browsing the National Speakers Bureau.
Don't be afraid to ask for proposals and topic ideas at the outset. You will want to make sure the speakers you book (and what they present) will appeal to your target audience. One of the first things your attendees will do will be to scan the list of presenters and speakers, so make sure your event includes some eyecatching names.
Step 7: Create a clear agenda for your virtual conference or event
Just like an in-person event, your virtual conference should have a clear and intuitive schedule that lists dates, titles, summaries, speaker names, company names, titles, photos and the length of each presentation. Note if any events include an interactive portion like a Q&A so that your attendees can make sure to view it live instead of having to download it later. If your event has a keynote speaker, include a short bio that tells their story with a brief rundown of their accomplishments.
Don't forget that the number one reason that people attend conferences is to NETWORK. Here are a few fun ways to get people into the action:
Hold a raffle: People can earn entries into a grand prize drawing by attending sessions.
Online scavenger hunt: Hide your logo or mascot in various comment sections or sessions for attendees to find and screenshot.
Video chat sessions: Schedule chat sessions around certain topics or themes to get the conversation going.
Get Creative!: Tap the collective creativity of your event team and toss around a few ideas. This can also double as a subtle destressing session while planning your event.
Step 8: Prepare promotional assets for your virtual event
Coordinate with your social media and PR people to make sure that your promotional assets launch like clockwork as your virtual conference draws closer. Here are a few assets to keep in mind:
Micro-site or landing page
Emails
Blog articles
Social media graphics
Press release
Speaker announcements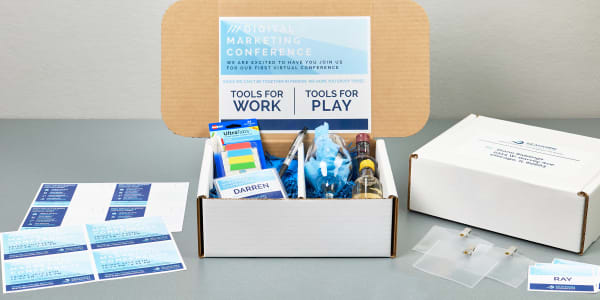 Ship out customized swag bags and boxes to give your virtual conference an extra layer of authenticity.
Step 9: Find small details that will make your virtual conference memorable
If you've been to a conference before, you probably know the experience of walking out of the convention hall with armfuls of branded USB sticks, phone stands and magnets. The best and most useful swag will end up as desk and office decorations for years, so make sure to choose something memorable.
Depending on the size of your event, you may be able to DIY your own gift bags but it will be much easier to go with a separate service to create your swag for you. PC Nametag is a fantastic resource for planning and ordering custom swag bags with professional quality so that you can have one less thing to worry about.
Apart from swag, sending out postcards is a simple but effective reminder that brings a personal touch. They're easy to post on bulletin boards, magnetic boards or fridges and also scale well for any event. Order professionally printed postcards by the hundreds or thousands with WePrint.
Supplies to recreate our printable virtual conference supplies
Virtual Conference Reminder Postcards
4.5″ x 5.5″ Postcards (8387)
Virtual Conference Swag Box Shipping Labels
5.5″ x 8.5″ Shipping Labels (By the package: 5126 / By the sheet: 94229)
Virtual Conference Swag Box Lid Labels
8.5″ x 11″ Full-Sheet Labels (By the package: 5165 / By the sheet: 94268)
Virtual Conference Name Badges
3″ x 4″ Clip-Style Name Badges (74541)
More useful supplies: