On one side, you've got your essential information: name, trade or company, email, twitter handle. But on the flip side? Make a big impact! Spotlight your business logo, photo, artwork or even a favorite quote or motto. With the two-sided business card, your networking tool can make an unforgettable impression.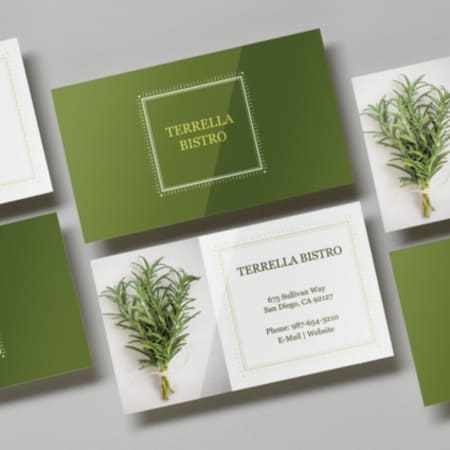 Enter the Product Number
Go to Avery Design & Print Online and start your project by entering the name badge product number. Locate your product format and select.
Choose a Design Template
Once you've selected your format, choose a design template. Use the menu on the left to browse the design categories.
Customize the Design
You can stick with the design in the template or create your own. To change the design, just click and delete the existing graphic or background you want to change. Click the Add Image box from the menu on the left, then browse to find the new image you wish to use.
Add Names and Other Text
To enter names you can add them one by one in the text box. Choose Edit One to enter names for individual name badges.
If you have a list of names, you can also import the data from a spreadsheet and do a name merge (aka mail merge).
Import Data
First, highlight the text box. You can also change the text font and size here if you wish. Next, select Import Data from the menu on the left. Browse to find your spreadsheet file on your computer.
Format
Check the boxes for fields you want to include on your name badges, such as first name, last name, company, etc.
Select from the available fields on the left and place them as you'd like them to appear in the area on the right. If you accidentally drop a field in the wrong place, simply delete then drag and drop again.
Start the Mail Merge
Review the online instructions for making changes to the format of your content. Then click Finish.
Preview & Print
Review your project. Make additional changes if necessary, then click Preview & Print.
Select Print It Yourself to print using your own printer. Choose Let Us Print for You to have Avery WePrint, our professional printing service, print your project for you and deliver it to your door in about three business days.
After selecting your print option, you will be able to save your design.