Simply open the template, customize and print for your Thanksgiving table
Ready to host your best Thanksgiving? Add the perfect finishing touch by creating your own beautiful, yet simple Thanksgiving table setting to welcome your guests. While everyone will surely be looking forward to the delicious food, even science backs up the old adage that we eat with our eyes first. So why not create a feast for the eyes with some simple, easy-to-make additions.
In fact, our free printable designs cover everything you need to compliment the meal you're going to prepare. From place cards and menus to conversation starters. Whether you're hosting a big Thanksgiving dinner or a cozy family meal, with these free designs you can add just the right dash of flavor to any party.
More resources to plan a warm and welcoming Thanksgiving: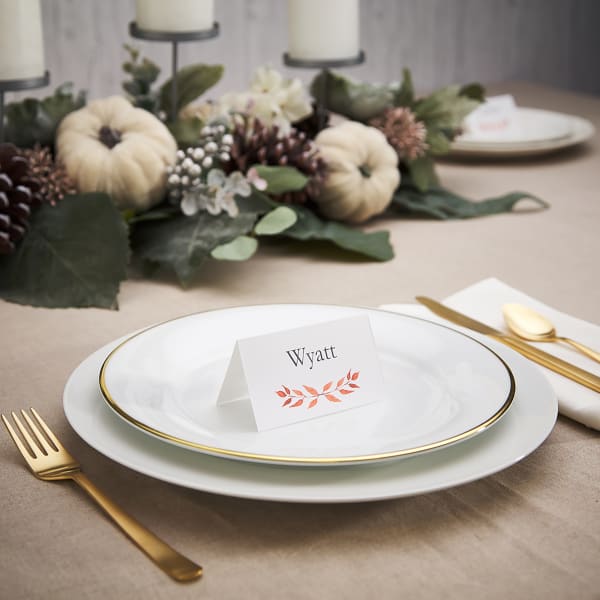 1) Personalized place cards for each guest
To put together a simple Thanksgiving table setting, always start with the place cards. Most importantly, personalized name cards draw in your guests and make them feel welcome. After all, you set a place just for them!
Start by clicking "Customize." This will open the free design template in Avery Design and Print Online (ADPO), which is our free online design software. Once in ADPO you will be able to use tools such as Image, Text, Shape, and more to edit the design and make it your own.
Once you're happy with the design, follow the instructions to print yourself on our printable place cards (Avery product number, 5302). Or choose the "Let Us Print for You" option to have your place cards professionally printed for you with our WePrint® service.
2) Simple Thanksgiving menu card designs
Menu cards are a great addition to a simple Thanksgiving table setting for a couple reasons. Firstly, if you have guests with allergies or special dietary needs, you're likely going to prepare some special dishes just for them. A menu card can be used to indicated dishes that are vegetarian, nut-free, etc. Secondly, if you're serving dinner buffet-style, a menu card will allow everyone to easily check out what you are serving.
Try our simple Thanksgiving menu card design that is customizable and makes it easy to add in your own courses. It also matches perfectly with all the template designs in this article for a cohesive look. We also love this simple pumpkin menu card design that coordinates with our simple Thanksgiving table theme, but isn't exactly matchy-matchy.
You can also upload your own images or photos to make your menu completely unique.
3) Custom pie cards for your table setting
Now it's time to talk about everyone's favorite subject: pie. Of course, the best kind of pie is nearly impossible for any group to agree on. For that reason alone, you're likely to be serving several kinds of pie at your Thanksgiving feast. Luckily, custom pie tags make it easy to spot pie flavors in one easy glance.
Why not include your pies as a delicious edible centerpiece and give everyone something to look forward to? It's an easy and cost-effective way to elevate a simple Thanksgiving table setting and custom pie tags help tie your table theme together.
To create your own custom pie tags start by clicking "Customize" to edit our template. Then print on business cards and glue them to wooden skewers cut to size.
4) Thanksgiving gratitude cards for sharing
Although food may be the first thing that comes to mind, Thanksgiving is also the time to reflect and share what you are grateful for. Accordingly, gratitude cards make it easy to go around the room and give everyone a chance to share what they're grateful for this year. You can create gratitude cards that match your simple Thanksgiving table setting theme and disperse among guests in several different ways.
The first suggestion we have is to include a gratitude card and pen or marker at each place setting on your Thanksgiving table. Another idea is to set up a "gratitude station" for guests. You can include gratitude cards and something to write with, gratitude prompts for journal entries, or a guest book for each person to make an entry. Lastly, fill a decorative container with gratitude cards and pens. After you meal pass around the bowl to distribute supplies.
5) Thanksgiving tags for wine glasses
Stemware is an elegant addition to any Thanksgiving table setting. This is true whether you're serving wine, sparkling cider, other festive beverages or just plain water. As your guests make their way from the table to other areas for conversation and hanging out, it's nice to have name tags for everyone's wine glasses.
The best part is that you can easily make your own so that the wine tags match your simple Thanksgiving table setting perfectly. Fortunately, no matter what project your working on, the Edit One/Edit All feature makes it super easy to add different names to individual tags, cards, or labels within a project. In a nutshell, you start by clicking Edit All to make edits to your overall design. Then you simply click Edit One to edit individual tags, cards, or labels. We also have step-by-step instructions with pictures to help you get the hang of it.
Pull off a simple Thanksgiving table setting with ease
We're here every step of the way to help you create a simple Thanksgiving table setting that's beautiful and inviting. Indeed, there are many Avery resources to help make all your Avery projects a success. Firstly, there is the Avery Help Center online. It is an extensive library of answers to the most frequently asked questions by Avery customers.
Secondly, we have a great playlist of how-to videos on our YouTube channel. There you will find helpful walkthroughs such as how to work with images, backgrounds and shapes in ADPO, how to add and edit text, printing tips, and so much more. And, finally, or Customer Care Team is an amazing resource for anything from quick questions to step-by-step help. Our knowledgeable team is available Monday through Friday, 6:00am to 5:00pm (PST) by phone or by chat.
Add a personal touch to free designs for a simple Thanksgiving table setting
Create a feast for the eyes with a simple Thanksgiving table setting to compliment your delicious meal. Personalizing place cards and wine glass tags printed with your guests names make them feel welcomed and special. Custom menu cards and pie tags tell guests something about the food being served, inviting them to dig in. And, gratitude cards pull it all together and remind us all what the holiday is really about.
With printable Avery products, our free design templates, and free online software, it's incredibly easy to make beautiful printed materials that add to your table décor. Most importantly, our help resources help smooth out any difficulties along the way, so you can focus on dishing up your perfect Thanksgiving dinner.
Follow us on Pinterest for inspiration for the holiday season, from Thanksgiving dinner through the winter holidays and all year long! And, don't forget to show off your holiday projects on Instagram using #averyproducts.