We all see shipping labels every day but most people don't understand how a shipping label transports a package from point A to point B. Each section of a shipping label is used to help mail carriers identify and sort packages so that they can be routed to the correct destinations. Some of these sections are more important than others but they all play a role in making sure that your packages arrive safely.
The basic anatomy of a shipping label includes a return address, a destination address, the date the package is shipped, the weight of the package, shipping priority, and a tracking number. There are more specific features included with labels generated by various delivery services but these are the core sections required for a shipping label to work. We'll go through every section with you to help you understand why the entire label is important and we'll also help you avoid some common mistakes.
The Parts of a Shipping Label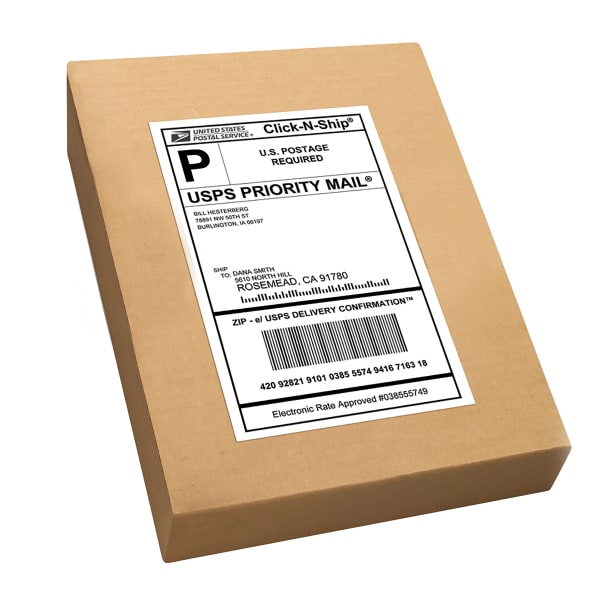 Return Address
The return address provides a way to return a package in the event that it cannot be delivered. In most cases, this will be the address of your business. However, if your business is outsourcing its shipping to a third party, you would use their address in this section.
Destination Address
The destination address lets the mail carrier know where the package should be delivered. The entire delivery address is important but having the full ZIP code is especially crucial to make sure that your package is routed properly. Also make sure that any apartment numbers, company names, and titles are included as well for smooth delivery.
Shipping Date
This is the date the package begins its travel through the delivery process. Although the address and tracking information is vital, the shipping date provides another source of data for delivery services to reference at a glance. Along with the shipping class, the shipping date helps mail carriers confirm that the package is traveling on time.
Package Weight
The weight of the package is used to calculate the total cost of shipping and is also factored into how packages are sorted. While being transported, packages are evenly distributed by weight and size to ensure that trucks and containers are balanced properly. Improperly weighed packages can result in damaged shipments and extra charges.
Shipping Class
The shipping priority for the package determines the shipping speed. The names of these classes can vary among delivery services but they almost always communicate the speed clearly. For example, UPS Next Day Air® is comparable to FedEx Standard Overnight®. Every delivery service offers multiple levels of shipping and it's helpful to look through all of the options they have available to see what works best.
Tracking Number and Barcode
A tracking number is used to track the movement of a package as it is being transported. When a tracking barcode is scanned by a delivery service, it connects with their tracking system to note that the package is moving as scheduled. However, there are unique tracking codes that are used by each delivery service. For instance, you wouldn't be able to use the FedEx® website to track a UPS® tracking number since those codes only pull information from their respective databases.
Optional and Miscellaneous Sections
Other pieces of information like shipping costs, proprietary barcodes, postal barcodes, and more can also be included on some shipping labels. This information varies among delivery services but it's always important that the entire shipping label is displayed clearly.
Shipping Label FAQs
Can shipping labels expire?
It's highly recommended that you ship packages by the "ship by" date used when the tracking information is created. There are some delivery services that may still accept your packages after this date but this can result in complications.
What can happen if I ship packages past the ship-by date?
When a shipping label is generated, it alerts the carrier that they should be expecting a package. Also, some delivery services like UPS alert their customers when a package is about to be sent to them based on when a shipping label is created with their destination address. When the package isn't shipped out on the "ship by" date this can result in carriers searching their warehouse for nonexistent packages or consumers being upset that their packages aren't being delivered by projected shipping dates.
Can shipping labels be any size?
The information for a shipping label will usually require a 4″ x 6″ space but the exact dimensions can vary depending on the delivery service you choose. Avery internet shipping labels are 5-1/2″ x 8-1/2″ to accommodate various templates and to provide some extra margin around the shipping information for safety.
Can shipping labels be printed in color ink?
Although most scanners will still be able to detect barcodes as long as the color is dark enough, it's safer to provide the highest contrast possible with black ink on white material.
Does it matter where a shipping label is placed?
Shipping labels should be placed on the largest and most visible flat surface of your package. Placing labels over seams or edges can cause the label to warp during transit and can potentially render it unreadable.
Can you put tape over barcodes?
It's not recommended for tape or any other material to be placed over the barcode on a shipping label. More modern scanners can detect the code but tape can cause problems with older model scanners.
What's the most common cause of lost packages?
Unreadable or missing addresses are the most common cause for lost mail. Make sure that your packages don't get lost in transit by using labels that print clearly and use the appropriate adhesive. Avery Sure Feed® label technology helps keep your print aligned and Ultrahold® adhesive makes sure that labels stick and stay through even the harshest conditions.
How can I purchase and create a shipping label?
USPS® and other major delivery services offer ways to order labels on their sites. However, third-party options like Stamps.com®, eBay, SendPro®, and pbSmartPostage® are great resources as well.
UPS Next Day Air®, FedEx Standard Overnight®, FedEx®, UPS®, USPS®, Stamps.com®, eBay®, SendPro®, and pbSmartPostage® are registered trademarks of their respective owners.