Keep supplies, schedules and paperwork from taking over your home
Homeschooling your kids can be very rewarding but it's also a lot of hard work. Before the school year gets started, it's a good idea to explore some homeschool organization tips that will help you prepare your space for learning.
While your kids' education is certainly important, so is the peace and well-being of your home life. Make sure that your home doesn't get lost under your school supplies with our homeschool organization tips.
More articles you might like: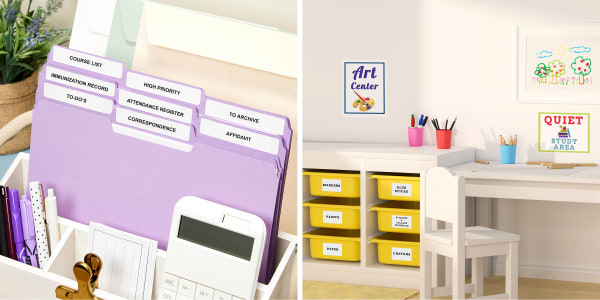 1) Homeschool organization tips for legal paperwork
Remember that you'll not only be the teacher but the office admin as well. It's up to you to keep track of incoming and outgoing legal forms and record your child's academic progress. Brush up on your state's requirements to confirm that you have all of the proper documentation.
You can start by thinking about which documents will be used frequently and which will be archived for long-term storage. If you ever have a substitute teacher in your homeschool, having transcripts easily within reach will make their jobs easier.
And for archival records, you should plan ahead for how much storage space you will need for the school year and beyond. Depending on you and your kids' plans, you can check with local schools and universities to see what documents will be required if your child ever decides to transfer.
2) How to organize a big space for homeschooling
With the right organizational magic, you can make your homeschool learning space look even bigger in the eyes of your kids. Creating zones for different subjects and supply storage can make it easier to organize and keep things tidy.
Shelves are an easy way to create boundaries between different zones but you can also use wall signage as well. Removable labels, such as Surface Safe sign labels, are great since you'll be able to cleanly swap them out as your kids grow.
You can also split your space vertically for different activities. For example, the floor or a coffee table can be marked off for arts & crafts while a desk can be zoned for math and language arts.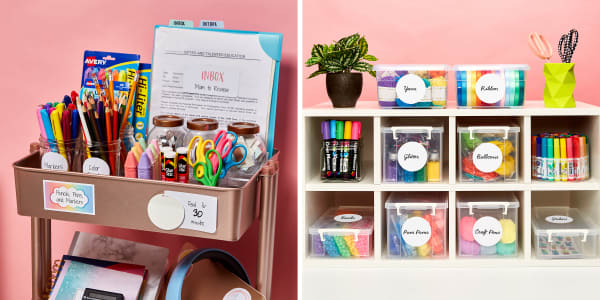 3) How to organize smaller spaces for homeschooling
Make full use of the space you have by dedicating a desk or a corner of a room to school work. Take a look at the vertical space above their desks as well to find spots for shelves, informative posters and signs.
Also, try to find ways to make it easier to quickly clear away and sort away their supplies. Especially for study areas that are serving double-duty, you'll want to make it easy to sweep everything away. After all, you need that kitchen table back at the end of the day.
A supply cart can be a clean and mobile way to sort things on the go. If your study areas span different parts of your home, you can travel between these zones easily and park the cart out of the way once class is over.
4) Homeschool organization tips for arts & crafts supplies
Arts and crafts are where your child gets to explore their imagination and unwind. However, that doesn't mean they can't also learn how to tidy up after themselves at the same time.
When your kids are in a creative mood, it can be frustrating for both of you to root through a cluttered bin to find the right marker. Make it easier for them to find what they need with organized storage containers like canvas cubes and clear plastic bins.
Also don't be afraid to kneel down to view things from their height. Will they have to get onto their tippy toes to grab a marker? Is your shelf layout going to have them try to lift a box over their heads? Try looking through their eyes to make sure your supplies are accessible and safe.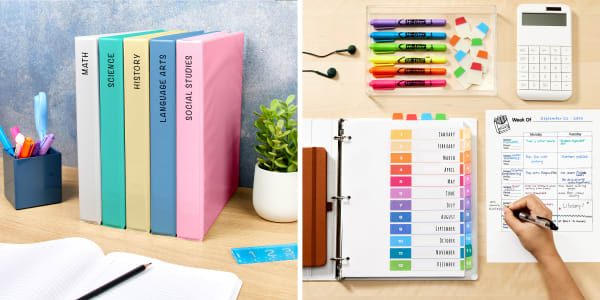 5) How to create a homeschool lesson plan binder
Ask any teacher and you'll find that writing out lesson plans is one of the more tedious parts of teaching. However, a physical lesson plan is important to keep your kids on track and also as a backup when someone needs to be the substitute for a day.
Binders are perfect for organizing homeschool lesson plans since they're easy to coordinate with different colors, spines and fun cover designs. Also it'll be much easier to flip through your documents in a binder than by shuffling through a stack of paper.
If you're looking for starting points, Liberty University, Abeka and Mater Amabilis provide resources for various ages. Although some of these curriculums are designed with certain religions in mind, you can also tailor them to fit your needs. Abeka also provides a few sample homeschool schedule templates as well.
6) Plan out the school year ahead of time
Although daily and weekly plans are what you'll be using most, it's also essential to chart out the school year. While homeschooling, it's extra important to plan trips and activities ahead of time so they can get some fresh air.
For example, if you're planning on covering the biology of a certain type of animal or plant, you might want to plan ahead for a trip to the zoo or an arboretum. Museums are also perfect for visualizing various time periods and to look at history up close.
Also, when you're teaching from week to week, it can be easy to lose sight of the larger picture. Creating a satisfying rotation of short term and long term goals will be better to keep your kids engaged.
Expert Tip: Looking for inspiration? Take a look at some of our tips for teacher planners to get started.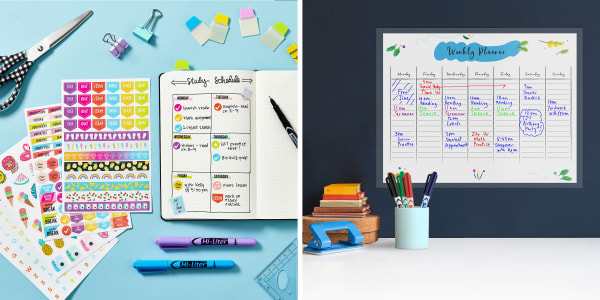 7) Use academic student planners to teach time management
While you're organizing your lessons, it's also a good idea to get your kids a planner of their own as well. After all, homeschool organization is not just about supplies but also organizing their ideas and information.
Start out by rewarding them with a weekly sticker in their planner for writing down their assignments and upcoming tests. As they flip through their perfect weeks of stickers for tracked assignments, it'll be easier for them to get into the habit.
Teaching your kids effective time management is a valuable lesson that will stay with them for the rest of their lives. A well-kept academic planner can keep them from feeling overwhelmed, increase their productivity and reduce ineffective study habits.
8) Create consistency with a family calendar
Especially for kids, consistency is key. Maintaining a calendar as a reliable resource helps give kids a sense of structure to see what's coming up next.
Pair the family calendar with their planners by starting every week with a schedule update. As you write in the activities for the week, they can write into their planners at the same time. Writing down each assignment, one by one will also help ease them into the plan for the week so they aren't overwhelmed.
Much like your lesson plan and their academic planner, reliably organizing your homeschool calendar also sets a good example. It'll be easier to instill the value of time management if the whole family practices it together.
Expert Tip: Create your own dry-erase board with just a sheet of paper and self-laminating sheets. This way you can print your own custom dry-erase calendars with fun themes.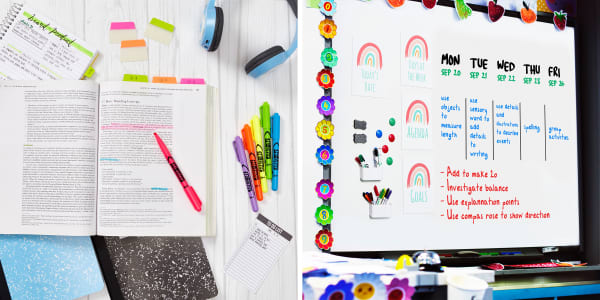 9) Homeschool organization tips for color-coding everything!
Color-coding is a time-tested (and kid-approved) system that helps us organize things visually. Whether you're scheduling, taking notes, or sorting school supplies, color-coding is an instant way to organize faster.
The easiest way to color-code is by having specific colors of binders for different school subjects. Color-coded markers are also great to mark different assignments, quizzes, and tests on a whiteboard or poster. Or keep it simple and just use tabs and stickers to highlight important dates and information.
If you have multiple kids, color-coded sets of supplies will also simplify switching between different curriculums. If your kid is a go-getter, you could even have each semester colored or patterned a certain way so they can see how quickly they're advancing.
Ready to go a step further? You can even create your own stickers in specific colors as well as patterns and icons. With Avery Design & Print Online, you can pick exact shades of colors and organize them with shapes and images as well.
10) Use big visuals to track progress and goals
There's no better way to keep your kids' progress and goals in mind than by making that progress visible every day. Having a big visual that tracks their progress will help them prepare for tests and look forward to events.
Like with the placement of their supplies, keep their perspective in mind when you make their academic tracker. It should be easily visible to them from multiple angles so that it stays in their vision.
Whether it's a poster or a dry-erase board, maintaining an academic tracker will go a long way to keep them focused. You're all in this together and it's nice to have a helpful reminder that you have their back.
Get organized for the new school year with our best homeschool organization tips
Teaching is one of the most difficult jobs in the world but it can be a little easier with the right planning. With some clean homeschool organization, guiding your kids through their studies can be a beautifully rewarding experience.
Want to share your homeschool organization tips and tricks? Join our community on Facebook and Instagram to let us know!