They lurk in your backpacks. They wait patiently in lockers. They're your everyday, trusty Avery Binders—and it's time we give these essential school supplies their big break. Sure, these tough, dependable binders are guaranteed to last. But who would have thought they'd be so much fun to personalize? Get ready to turn your binders from blah and boring to beautiful and even bombastic with these four amazing binder makeover ideas.
Idea #1: Personalize with Printable Binder Covers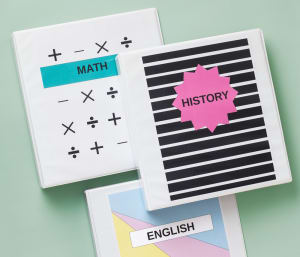 Psssst…your slipcover's showing. View binders with clear slipcovers are easy to spruce up in a snap. Find your favorite free design templates on Avery Design & Print, customize with your school subjects and print each cover out on a full sheet of paper. Not sure about settling down with one style? Don't fret. Covers are easy to change out with a simple swoosh.
Idea #2: Create a Collage of Your Favorite Photos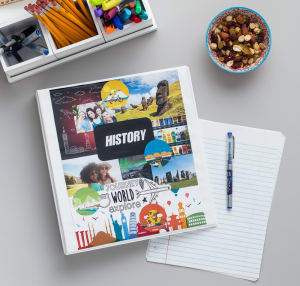 To you, it's not just an ordinary binder—it's a clean canvas to get creative! Gather your favorite pics, whether it's a summer full of selfies, fun postcards or inspirational magazine images. Attach them to a sheet of paper, patterned paper, wrapping paper or even a sheet protector (cut in half to get a clear sheet). Tuck it into the binder cover to frame your masterpiece.
Idea #3: Whip It Up with Washi Tape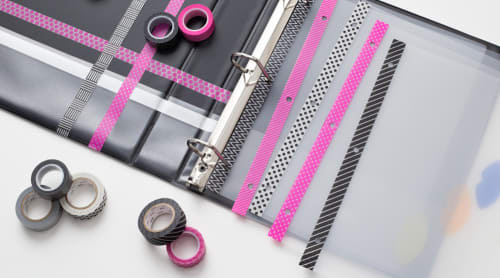 Have you caught washi tape fever yet? This paper masking tape with the quirky name has taken the crafting world by storm. And no wonder—with a wide variety of colors and patterns, washi tape can instantly brighten up what's ordinary, such as binders, with just a few strips. You can also use washi tape along the edge of your dividers, such as these Style-Edge Dividers, then use a three-hole punch to punch out your binder holes and add color to your paper organization.
Idea #4: Get Crafty with Cloth, Ribbons and Yarn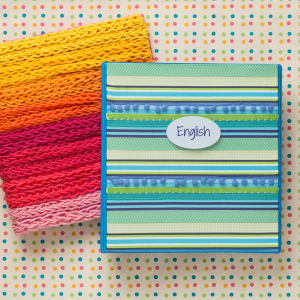 Your grandma makes the loveliest t-shirt quilts. Your mom knits a mean toilet paper cozy. And you—you've got that crafty gene too. Using bits of cloth, ribbon, yarn and other embellishments (buttons! patches! sushi grass?!) and a strong carpenter's glue, you can glue items directly onto your binder, or cut a sheet protector in half and use the clear sheet to attach decorative effects and tuck it neatly inside the binder cover.
There's no reason why you have to tote around the same old, boring binders. Use these ideas as a springboard for your own unique transformations using Avery Binders.