When it comes to organization, especially documents, it's hard to beat good ol' binders and dividers. Starting with this combo, you can add sheet protectors, pockets and repositionable tabs to create a customized system that works for you. Even as things become more digital, binder organization is a practical system that's tangible, portable and easy to make.
Here are some tips and ideas on how binders and dividers can help keep life organized.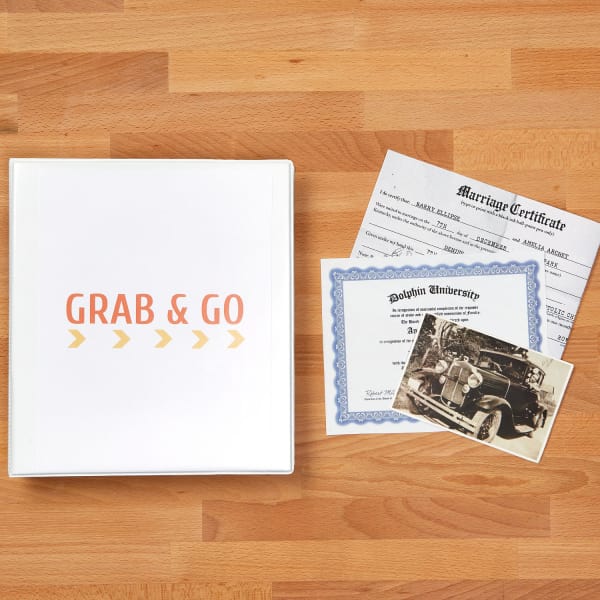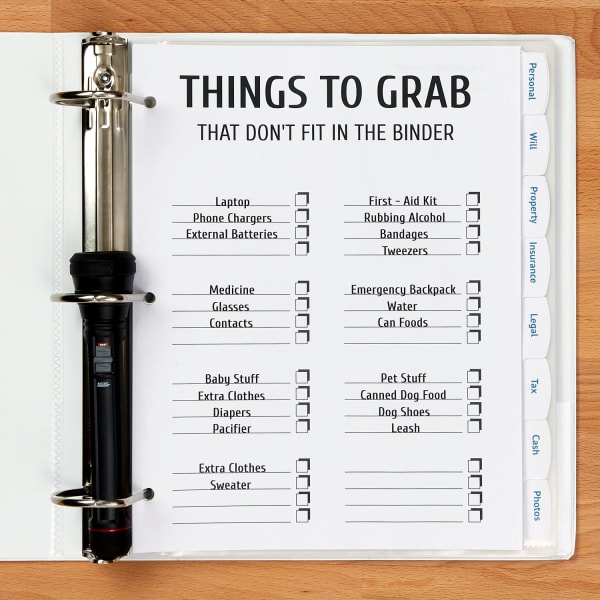 Create a handy emergency binder with a Heavy-duty View Binder (79192), Big Tab™ Printable Large Label Dividers (14439) and Sheet Protectors.
1) Grab & Go Emergency Binder
Here's something you don't want to be without, but hope you never have to use. When disaster strikes, a grab-and-go emergency binder makes it easy for you and your family members to evacuate your home quickly and take the essentials with you. Don't forget to include a small flashlight so you'll be able to read your checklist in case the lights go out!
Some basics on what to include:
Personal documents such as passports, copies of driver's licenses, social security cards, birth certificates, marriage certificate, medical records
Contact information for family members, friends, schools, day care centers, hospitals, doctors, insurance companies, utility companies and work contacts – just in case your cellphone runs out of juice and you can't access the contacts in your phone
Legal documents such as a will, living trust, testamentary trust, power of attorney form
Property documents such as the deed, titles, record of valuables, home inventory pictures (with serial numbers if applicable) and receipts
Financial documents such as tax returns, tax forms, stock certificates, financial account information for your banks and credit cards, as well as passwords to your online accounts
Essentials such as cash, checks and irreplaceable photos
Printable checklist of things to grab that aren't in the binder but can be packed in an emergency bag quickly, such as medications, phone chargers, laptops, small heirlooms, pet food and a few days' worth of clothes. Creating this list when you're calm and not in panic mode can help you zero in on the essentials you absolutely need.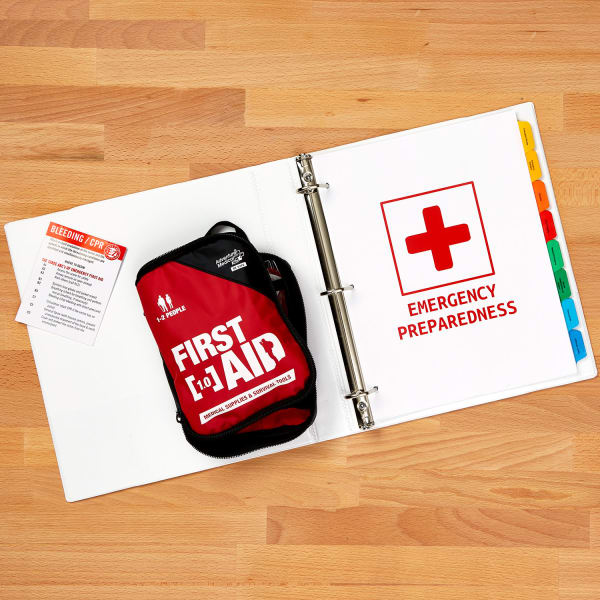 Make sure every employee has a copy of your company's emergency preparedness plan. These safety binders are easy to assemble with Durable View Binders (17012) and Print & Apply Dividers (11407).
2) Emergency Preparedness Binder
Do you and your co-workers know what to do in the event of an emergency at work? Having a crisis response plan in place can ensure everyone knows how to handle situations as smoothly as possible. It's a good idea for every employee to have one, and to continually review and update contents as needed.
Some items to include:
Emergency preparedness checklist (such as this one, from the American Red Cross)
Evacuation routes
Emergency numbers
Fire emergency procedures
Medical emergency procedures
Severe weather/natural disaster procedures
Training/drills
CPR instructions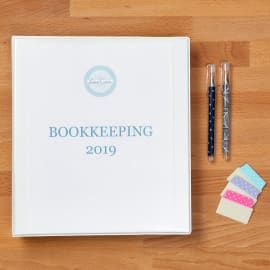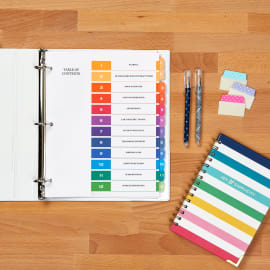 Organize the contents of your bookkeeping binder with a Heavy-duty Binder (79192), customizable Table of Contents Dividers (11141) and Ultra Tabs® repositionable tabs.
3) Bookkeeping Binder
Whether you're a business owner or self-employed freelancer, a bookkeeping or recordkeeping binder can help you keep track of your important paper documents and store them all in one place. Dividers can organize contents by category, sheet protectors can store invoices and receipts, and repositionable tabs can flag pages that need attention.
Here are some categories you might consider:
Payroll
Outside services/contract work
Office supplies
Cost of goods sold
Advertising
Car, delivery, travel
Accounting/legal
Telephone/internet
Shipping paid
Assets purchased
Subscriptions
Food/entertainment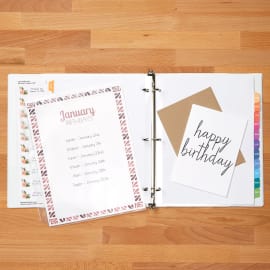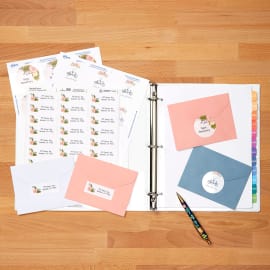 Assemble your card binder with a Heavy-duty Binder (79192) and Customizable Table of Contents Dividers with monthly tabs (11127). Tuck cards, preprinted Address Labels (5160), Seals (22817) and stamps into Sheet Protectors and turn your binder into a mailing center.
4) Special Occasion Card Binder
Tired of special occasions sneaking up on you and having to scramble for last-minute cards? Here's where the card binder comes to the rescue! Organize cards by month of the occasion with dividers, tuck the cards into sheet protectors and get your whole year covered (or as much as possible). Print out a list of monthly birthdays to help you stay on top of those dates. Include stamps and pre-printed address labels in the binder, and you've got yourself a mailing center!
Even taking little steps toward the goal of getting organized can make a big difference. A little planning and preparation can be one of the best ways to help make life run more smoothly. What will you achieve with a more organized life?
LIST OF PRODUCTS
Grab & Go Emergency Binder
Emergency Preparedness Binder
Bookkeeping Binder
Special Occasion Card Binder