Look, we're all going to be surrounded by sweet treats when the holidays roll around. Wouldn't it be nice to have something to save for later? To take care of all those sweet tooths on your gift list, behold—the cookies-in-a-jar gift. Each mason jar holds all the dry ingredients for a favorite cookie recipe, whatever it will be. The lucky recipients can store it until the urge strikes. Then all they need to do is add fresh butter, eggs and milk, and bake to bring back a bit of the holidays any time of year.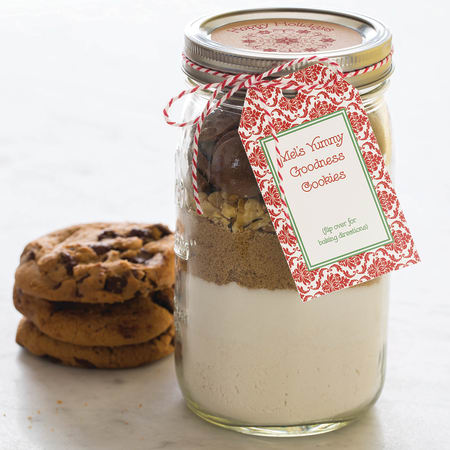 Start your project
Decorative touches such printable labels for the jar and lid, and a tag, can turn the jar into a thoughtful gift. To start, go to Avery Design and Print Online and enter the Avery product number of the label or tag you are designing. The tag featured on our cookie-in-a-jar-gift is product number 22802
Choose a design template
Use the design menu on the left to browse designs under "Holidays." Select a design, or choose the blank template to upload your own image.
Personalize your design
Enter your text. Here are some ideas for what to include on the label: the type of cookie, the recipient's name or a holiday message. And, for the tag: ingredients in the jar, the "to and from" or a holiday greeting.
The navigator on the right displays the entire sheet of labels or tags for your project. Choose Edit All to make changes to all your label or tags at once, such as changing the text style and size. Or, to apply a specific changes to individual labels and tags, choose Edit One and click on the label or tag you want to edit.
Preview your project, then print
Click the Preview & Print button in the lower-right of the screen. When you're ready to print, choose your print option on the right side of the screen. You can choose to print it yourself or use Avery WePrint™, our professional printing service, to print for you.
Find a cookie recipe
Select a cookie recipe that's a tried-and-true favorite. Chocolate chip? Oatmeal? Or how about a brownie mix? Or maybe you want something new. Look online, where you'll find a variety of recipes just for cookies-in-a-jar gifts.
Load the ingredients into the jar
Fill each glass jar with the recipe ingredients, then seal tight with the lid. Wipe up any spillage so the jar is clean.
Attach the labels and tag
Wrap a strip of festive wrapping paper or decorative ribbon around the jar, then attach a label over the loose ends and affix to the jar. Place a round label on the lid. Then attach the tag with baker's twine or ribbon around the neck of the jar.
Your cookie-in-a-jar gift is ready to go!
Get inspired with more holiday ideas here.