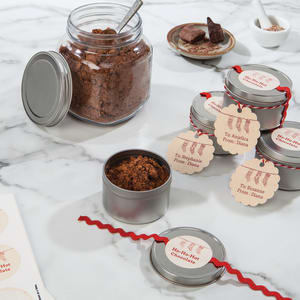 Right now, you might have a few people on your holiday gift list who have you completely stumped. So you think, "If I were them, what would I want when it's colder than a polar bear's toes outside?"
Bingo. A nice winter drink, that's what. Thoughtful, practical and bound to warm their tummies, here are three sippable gift ideas for everyone on your list.
Gift idea #1: Christmas morning coffee
"I know you don't like a lot of fuss, but thought you'd appreciate something practical."
A coffee-themed gift basket's got practically everything anyone would need to enjoy a brewed awakening on a chilly Christmas morning. Bundle up a coffee press, coffee, a couple tumblers and stirrers. And don't forget the personalized gift tag for the intended recipient, because this is one snatchable gift.
Gift idea #2: Merry mulled wine
"You might be a wine snob, but you can't go wrong if you're making it yourself."
This traditional drink is a mixologist's dream! Whether they like their drinks sweet, fruity or full of spice, a mulled wine kit makes it easy to customize the recipe to taste by adjusting the spices before boiling and simmering in red wine. Personalize the arched bottle label with matching spice bag tag to create a festive holiday gift.
Gift idea #3: Hot chocolate cheer
"It'd be awkward if I didn't get you anything, but totally weird if I went all out."
Have you ever forgotten a gift for someone and realized it too late? Save yourself the facepalm moment by having these mini cocoa kits on hand. Pack, label and tag, and you won't be caught giftless again. It's the little things that can mean so much—especially during the holidays.
The holiday gift list is done. The stress is over. And now you're all set to deliver some homemade holiday cheer they'll enjoy with every sip.