Did you know you can increase sales even when your shoppers don't know what to buy? By offering gift cards or gift certificates for your business, it makes it easier for people to find a suitable gift option—especially when they're pressed for time or not sure what their recipient wants. And, it also drives traffic by encouraging the gift card recipient to come in and redeem their card.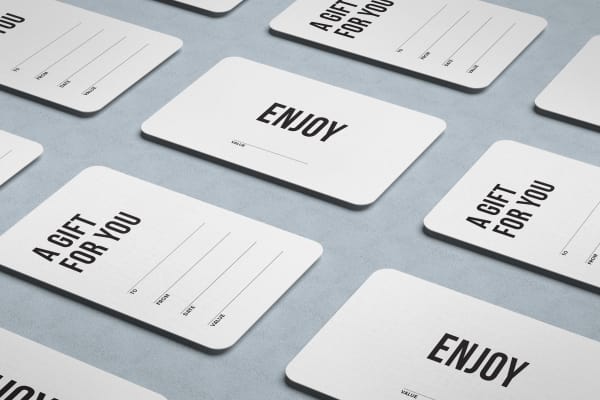 Give it a try with DIY gift cards
Most gift cards have gone digital, but they require time to set up and additional fees. If you want to test out using gift cards at your location, or want to give your shopper a tangible card they can present as a gift that links to an online gift card, you can easily make them yourself.
Design your cards with free templates
All you need to get started are Avery Business Cards, made with durable cardstock. Printable business cards are the perfect size for gift cards because they can be conveniently tucked into a wallet, so they're easy to carry and ready to use when people shop.
Once you have your printable cards, create your design online with free templates in Avery Design & Print. Enter your product number and access thousands of free designs, or create your own. The software is easy to use, and you can customize your cards by adding your company logo, store information and even sequential numbering.
Try these hacks to promote sales
When you design your own gift cards, you can create a unique look every time you print. Keep your branding consistent but change the rest of the design to fit any occasion, such as birthdays, holidays, weddings and other events.
If you're printing two-sided business cards, consider using one side to brand your cards with your logo, then using the flip side for your gift card information.
Your gift cards don't have to be restricted to a dollar amount. Consider offering cards that offer the recipient a free service at your location, such as a massage, or redeemable for a specific product in your store. The monetary value can be (slightly) discreet between you and the purchaser.
Advertise your gift cards
Once you've printed a batch of gift cards, let your shoppers know all about them. Set up a display on the counter or sign at the door, or mention it to them as they walk in the door.
For your gift card buyers, add a thoughtful touch to their shopping experience by providing complimentary note cards and envelopes so they can enclose their gift cards and get gifting.