Exactly how and where your kids are learning may look different this year, but you can still make it fun, organized and less stressful with the right back-to-school supplies.
You deserve a break after a semester of homeschooling your kids during the coronavirus shut down. We've done the work of organizing some essential back-to-school supplies for you, covering elementary, middle and high school students.
Help your kids tackle the school year whether they're doing full-time distance learning, a hybrid model or attending a school with modifications to promote social distancing. Your kids will be ready for anything with these A+ back-to-school supplies.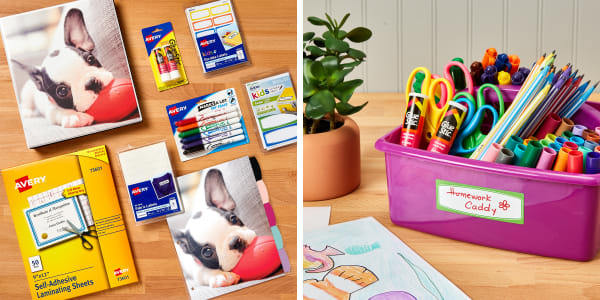 Elementary Back-to-School Supplies Checklist
Heading into elementary school classes in the fall is going to be all about preventing the spread of germs as much as possible. It will be incredibly important to manage your kids' personal , both in the classroom and at home.
From keeping your kids' back-to-school supplies separated from other students' supplies, to being able to wipe them down and disinfect as needed, durability will be key. Durable water-resistant labels that can be wiped with common cleaners will help you keep everything separate and clean.
If you will be creating a homeschooling schedule for full-time remote learning or a hybrid schedule, no-heat adhesive laminating sheets and dry erase markers are essential. Instantly create reusable activity sheets, checklists and schedules that are all easy to clean.
Starting a new grade is a big deal anytime, but especially in elementary school. It's important to help your kids feel comfortable in their new environment. Stock their backpack with classic back-to-school supplies like glue sticks and some fun items with adorable puppies to help ease the transition.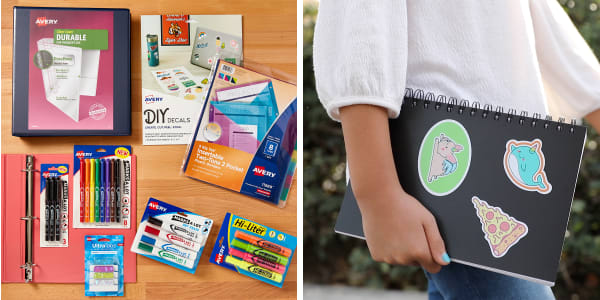 Middle School/Junior High Back-to-School Supplies Checklist
Whether they're in class or learning from home, self-expression is important for kids in those crucial middle school/junior high years. Make it easy for your tweens to express themselves with back-to-school supplies in fun colors and DIY sticker decals they can customize.
Custom sticker sheets are the perfect way for your kid to decorate their tablet, laptop or any other back-to-school supplies exactly the way they want them. Our DIY decal sheets are removable, leaving no residue behind, and can be cleaned with common household cleaners so you don't have to worry about disinfecting.
Back-to-school supplies don't have to be boring, you can mix fun with function to help engage your kids. Your tween will love mixing and matching trendy back-to-school supplies like splashy two-tone dividers, durable binders in trendy colors, reinforcement labels that look like donuts and glitzy holographic tabs.
Whether your tween is all about digital, or obsessed with analogue, help your kid personalize just about anything. Try our free online design software for making DIY decals or colorful fine-tip permanent markers to help them put their personal stamp on all their back-to-school supplies.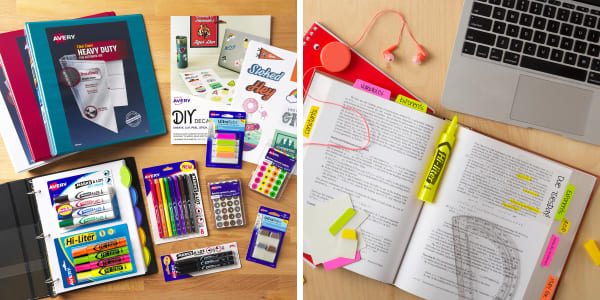 Back-to-School Supplies Checklist for High School Students
With tougher subjects, college preparation and everything else your high school student is taking on, they need back-to-school supplies that can stand up to a rigorous schedule. Build on the middle school list to include supplies that are meant to last without sacrificing room for self-expression.
Heavy-duty binders and plastic dividers are made with a longer-lasting material that can survive the hard work ahead for high school students. They can also be easily be wiped down with disinfectant and mild cleaners to keep germs at bay.
Permanent markers and DIY decals do double duty for middle and high school students allowing them to add their personal touch to back-to-school supplies. Removable DIY decals are also great for decorating lockers and study spaces at home.
Color-coding is crucial for helping your teen study at home and in the classroom. Help them stay organized on full-time and hybrid distance learning schedules by color coding back-to-school supplies. Give them highlighters and colorful tabs to organize notes and connect important ideas.
More Back-to-School Resources
As we all prepare for the 2020 school year, no one knows exactly what the "new normal" will look like. However, you can still be ready with back-to-school supplies that support your kids' educational journey no matter what. Help make learning fun, organized and less stressful for the whole family.
Get free templates for printing personalized back-to-school labels and shop back-to-school supplies for all ages, teaching at home and more.
Editor's note: This article was reviewed and updated July, 2020.