Easy-to-shop checklists from elementary to high school
Getting classroom-ready is the perfect time to make memories with your kids. But we all know that heading back to school can be a whirlwind. So we've done the work of organizing some essential back-to-school checklists that cover our most popular supplies for kids of all ages.
That is to say, we're breaking down school supply checklists by age groups. In this article you'll find tried and true back-to-school lists for elementary, middle/junior high and high school students.
You might also like: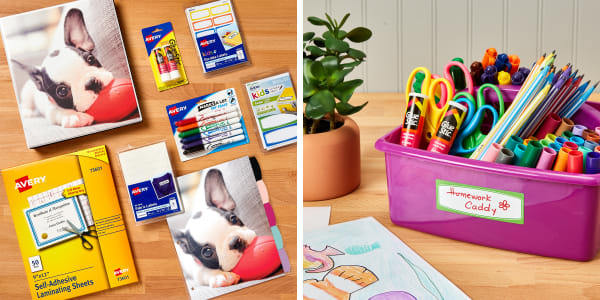 Elementary Back-to-School Checklist
Heading into elementary school classes means a lot of sticky little hands. So it's always a good idea to get on top of reducing germs as early as possible. Our back-to-school checklist for elementary-aged kids focuses on cleaning kids' school supplies both in the classroom and at home.
First things first, make sure your kids' school supplies are easy to wipe down and disinfect as needed. Then, think about keeping your kids' stuff separated from other students' supplies. In both cases, durability is key.
Of course, kids' labels you can actually clean are ideal for labeling elementary school supplies. Additionally, self-laminating sheets are great for creating reusable worksheets you can write on with dry-erase markers. Plus, you can instantly make activity sheets, checklists and schedules that are all easy to clean.
Aside from combating germs, it's important to include supplies on your back-to-school checklist that make it fun . Starting a new grade is a big deal anytime, but especially in elementary school. Accordingly, it's nice to also choose fun supplies that help your kids feel comfortable in their new environment.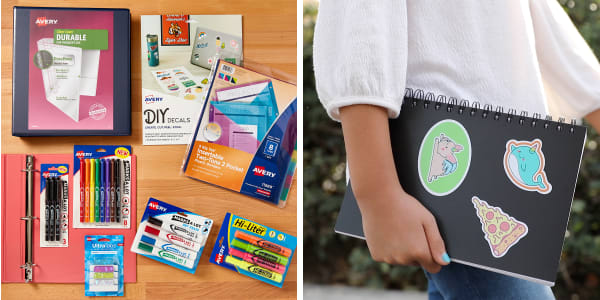 Middle School/Junior High Checklist
Self-expression is important for kids, especially in those crucial middle school/junior high years. For this reason, our back-to-school checklist for tweens is all about mixing basics with customization. For example, supplies in fun colors and personalized DIY sticker decals that makes it easy for kids to express themselves.
To begin with, school supplies don't have to be boring. Indeed, you can easily mix fun with function to help engage your kids. Your tween will love mixing and matching trendy fashion binders with colorful dividers and sparkly tabs.
Next, consider helping your kids make custom stickers. They're the perfect way for tweens to decorate their tablet, laptop, or school supplies. Not only are our DIY decal sheets safe for recommended surfaces, but they're also easy to personalize.
In fact, our top 10 sticker templates for making DIY decals are perfect for easily creating personalized stickers. If your tween is obsessed with analogue over digital go the permanent marker route. Colorful permanent markers are a time-tested favorite for adding a personal stamp to back-to-school supplies.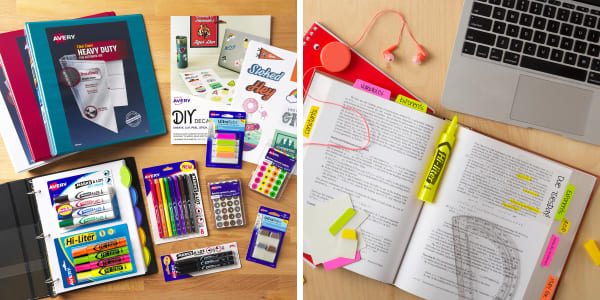 School List for High School Students
Much like middle school and junior high students, high school students also need school supplies they can personalize. However, the reasons are somewhat different. Personalized school supplies are only partly for self expression, they also support more sophisticated projects and study schedules.
For example, permanent markers and DIY decals do double duty for tween and teen back-to-school checklists. Both items allow students to add their stamp to back-to-school supplies. In contrast, highlighters, colorful tabs and planner supplies help your teen study at home and practice time management skills.
Not to mention tougher subjects, college prep, and everything else high school kids are taking on. They need tougher supplies that can get them through the whole school year. Particularly heavy-duty binders and plastic dividers that are made with a longer-lasting materials.
More back-to-school resources for parents
Is something missing off your back-to-school checklist? Visit our dedicated page for all things back-to-school and check out more articles just for parents. Or follow us on Pinterest for A+ back-to-school ideas and share your back-to-school prep on Instagram with #averyproducts.