Whether you're protecting your workers on the job, or protecting your kids, you take safety seriously. As a parent of kids with food allergies, you're the first and last line of defense against dangerous (even potentially fatal) food mix-ups.
Avery® Industrial products are the safety labels you trust to get the job done at work—so let them protect you at home too. Industrial safety label solutions ensure your kids' allergen information is visible and easily available when you need it most.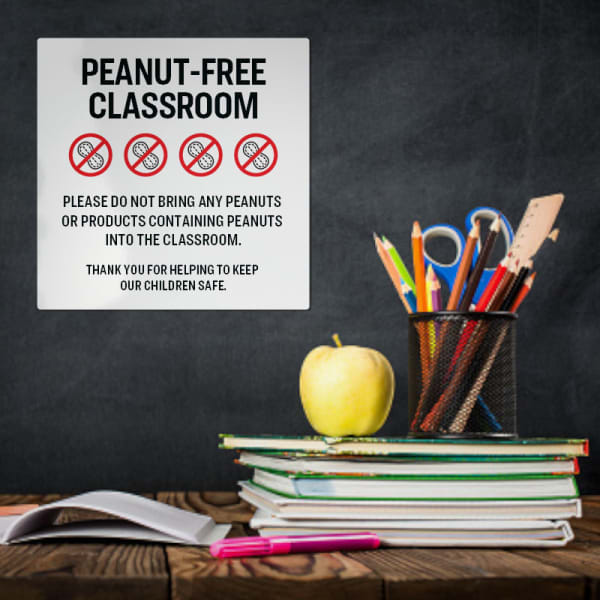 The Basics: Allergy Safety Labels for Teachers & Caregivers
Why is food allergy labeling important?
The adults you trust to take care of your children are generally trained to be on the lookout for potential hazards such as food allergies. Yet, the more children a teacher or caregiver looks after, the greater the likelihood of allergy information being misplaced or mixed up.
Consider the facts presented by Food and Allergy Research & Education (FARE): in the U.S., an estimated 5.6 million kids under 18 have food allergies, and 40 percent of those kids are also allergic to multiple foods. The number of kids with food allergies has tripled over the last 20 to 30 years, and the number continues to grow.
Relying on a caregiver's memory, or the ability of your kids to communicate crucial allergen information, leaves too much to chance. Safety labels can help identify allergy-safe food for your kids, remind caregivers of your kids' food allergies and be used to quickly access emergency information for dealing with allergic reactions.
Using Safety Labels for Food Containers
The most tried-and-true method for protecting your kids from accidentally ingesting allergens is to label your children's food containers. When it comes to your kids' health, substandard safety stickers that fall off, or are easily rendered illegible from damage isn't the safest choice.
Heavy-duty labels designed for demanding environments stand up to everyday wear and tear—and then some. Avery self-laminating safety labels are resistant to water, UV rays and tears, and can help ensure your kids' food allergy labels stay put and do their job.
Allergy Communication Safety Labels
You know your children's needs better than anyone else. Providing teachers and caregivers with custom safety labels preprinted with the specific allergy information for your kids helps reduce the margin for error.
Does your sister watch your kids on Tuesdays? Do they head over to Grandpa's house after school every day until you get home? Provide a safety label sign that can be placed anywhere with your kids' allergy information, what to do if they accidentally eat something they shouldn't and medical contact numbers to help caregivers react quickly in an emergency.
It's also a good idea to provide teachers with safety labels they can use to label your children's desks and cubbies at school. Substitutes, teacher aids and parent volunteers visiting the classroom may not be familiar with your children's allergies. Desk safety labels can prevent mix-ups if snacks are passed out to the whole class.
Durable polyester Surface Safe® labels from Avery are strong enough to endure whatever your kids can throw at them, ensuring the information remains legible. They also stick to a variety of materials (including drywall) but can be removed cleanly without damaging surfaces or leaving residue behind.
How to Use Allergy Safety Labels at Home
Protecting your kids from known food allergies begins at home. Start with a safety label on the fridge with quick access to allergy information for babysitters, friends and visiting family. Follow up by implementing a reliable system for your kids to easily identify which foods are safe to eat and which foods are not.
Food allergy labels for kids should be simple to read, easy to clean and tough enough to stand up to spills, heat, steam and other kitchen factors. Avery Surface Safe products are made from durable polyester that is ideal for heavy-duty kitchen use and won't damage your home or appliances.
First, separate all the food in the house into "Safe" and "Not Safe" foods. Designate specific cabinets and/or shelves for dry goods that fall into each category and specific refrigerator/freezer shelves for perishables.
Next, use Surface Safe removable safety labels to identify cabinet doors and shelves as "Safe" or "Not Safe." Surface Safe Sign Labels remove cleanly from doors and walls when you need to reorganize. Surface Safe Durable ID labels for metal, plastic and glass should be used to designate Safe/Not Safe shelves in your refrigerator and freezer.