Who says that keeping the house clean has to be a chore? All it takes are a few simple supplies to keep your home tidy and make your life easier. The right ideas can also make organization a fun way to reduce stress and keep calm during emergencies. Take a look at these nine ingenious yet simple life hacks to start streamlining your home.
Grab & Go Emergency Binder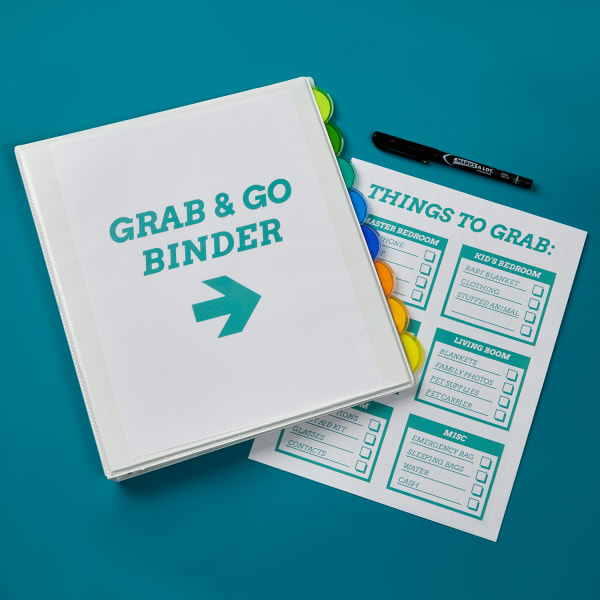 Plan ahead and prepare for emergencies by creating your own grab & go binder. Grab & go binders hold all of your important documents and evacuation plans so that you can quickly pick up everything you need in an instant.
Make sure to include extra cash, vital government documents, a list of contacts, and a storage drive of important digital files. You can also list out the important items in each room of your home so that you immediately know what needs to be saved when the time comes. Find out more with our article on preparing an emergency binder.
Click here for the grab & go binder cover template.
Click here for the grab & go binder checklist template.
Click here for the divider tab template.
DIY Organization Tags for Seasonal Clothes
It can be tough keeping track of everything you store away in your garment bags, especially when trying to find your coats and scarves for winter. Printable tags make it easy to clearly describe the contents of garment bags without having to open each bag.
Organize Bed Linens with No-Iron Fabric Labels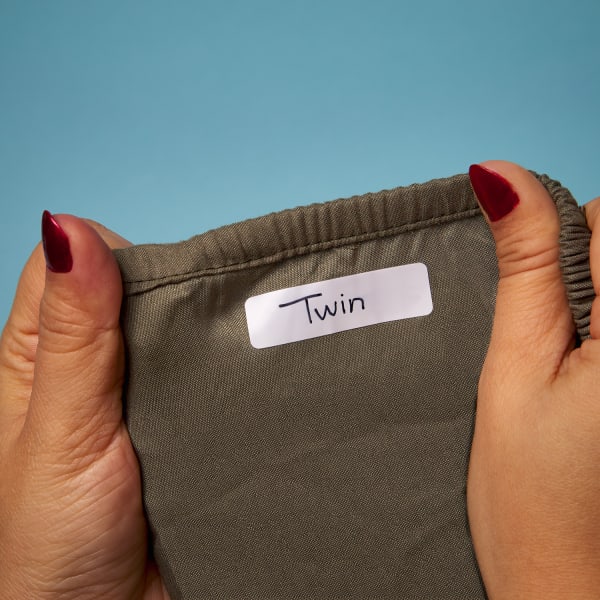 Make it easy to find the right sheet sizes in your linen closet by using fabric labels. These labels are washer and dryer-safe and will survive multiple washes. Just stick a fabric label on the corners of your sheets to instantly tell which one is which. No more unnecessary unfolding and refolding of those fitted sheets.
Organization Tips for Warranties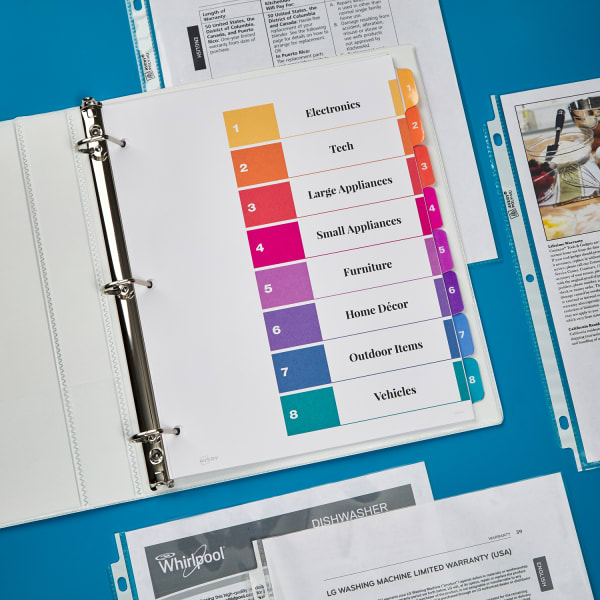 Warranties, receipts, and manuals can easily get lost over time and disappear into drawers. Keep all of these documents in a single binder and use table of contents dividers to quickly flip through color-coordinated categories. Sheet protectors make for simple pockets to avoid having to punch holes into each new warranty or manual.
DIY Organizers for Tablecloths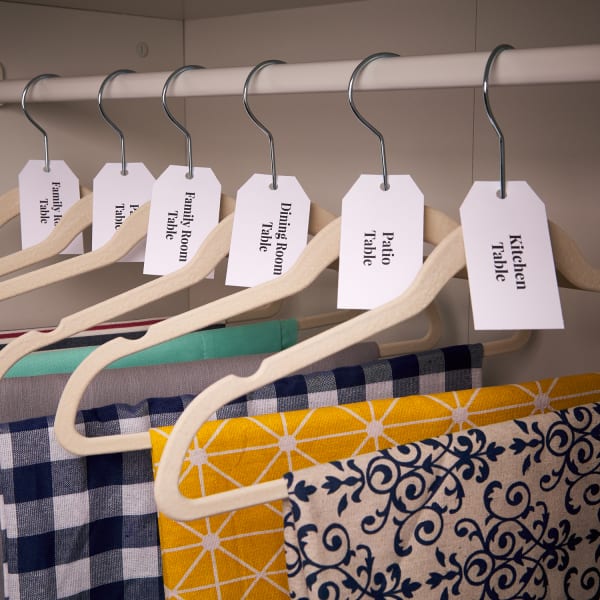 Much like bed sheets and other linens, trying to identify the right tablecloth size and shape can be tough when they're folded. Clothes hangers and descriptive prepunched Avery tags let you sort through all of your tablecloths on a rack without having to unfold each one.
How to Organize your Cords with Labels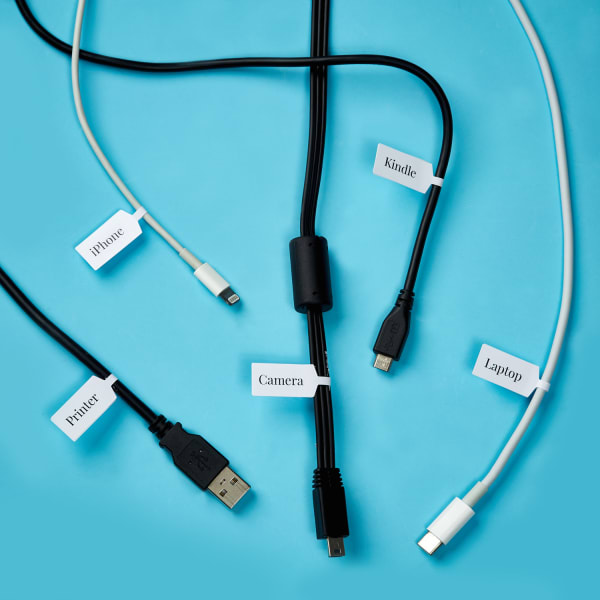 It can be very tricky trying to keep track of every cord you have, especially proprietary charging cables that use unique ports. Barbell labels are a perfect size and shape for printing out your own cord tags. These labels can also be ordered by the sheet in various colors and finishes as well.
DIY Room Organization Bags
Personalized laundry bags make it easy to organize bedsheets, blankets, and guest towels together in one place to instantly have guest rooms ready to go. These customized bags can also be used to help set up couches for visitors and keep track of sheets during laundry day.
Click here for the laundry bag fabric transfer template.
Personal History Boxes for the Family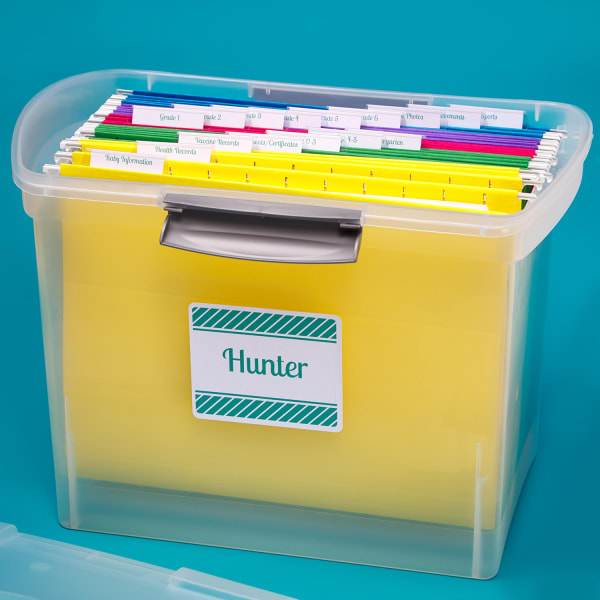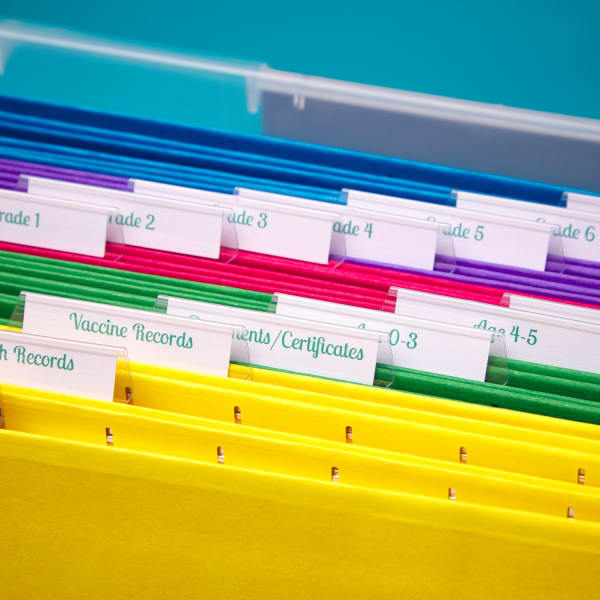 Life can move more quickly than you think and it's easy for details to get lost over time. A personal history box is a collection of important documents as well as mementos that help preserve the details of a person's life. These can be used to catalog vaccination records, awards, and certificates but this can also be the place to store school projects, family photos, and other keepsakes.
Click here for the file folder insert template.
Click here for the name label template.
Holiday Decoration Organizing Hacks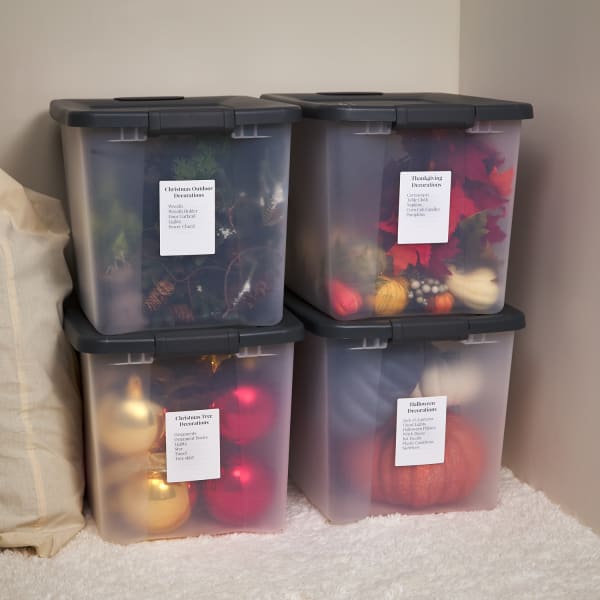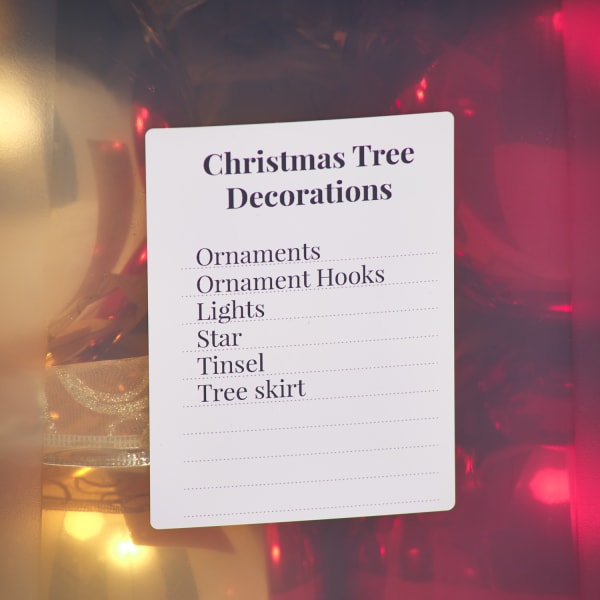 It's always fun to get the decorations out for the holidays but it's not so fun getting everything packed back up. Make it easier for yourself next year by marking your boxes with labels that clearly list all of the contents. This will help speed up the packing process as well as the setup process when the holidays roll back around.
Click here for the holiday decoration storage label template.
Want to make sure that your labels, cards and tags look perfect? Try out our WePrint custom printing service to have our team print your projects for you exactly aligned and with professional-grade color quality. If you'd like to print your labels yourself you can also order blank labels by the sheet to choose the precise shape, size, materials and quantity of printable labels you need.
Products used in this article:
8-Tab Style Edge Dividers with Pockets (11293)
1″ White Durable View Binder with DureHinge™ Technology (17012)
2″ x 3-1/2″ Printable Tags with Strings (22802)
½" x 1-3/4″ No-Iron Fabric Labels (40720)
8-Tab Ready Index® Multicolor Dividers (11133)
Standard Weight Sheet Protectors (75540)