Create signs for your office that look professional with Avery tools
A clean workplace is good for business. From making great first impressions and elevating your brand, to increasing employee happiness and productivity. Office signs should look as neat and clean as the rest of your workspace.
Consider that damp piece of paper taped above the sink in your office and barely hanging on. It's not making a great impression is it, and most importantly, is it even effective?
A good sign draws attention and is both easy to read and understand. Smudged, crumpled, torn or curling signs are often hard to read. Not to mention unsightly, which does the opposite of drawing attention.
No one wants to look at a damp paper "sign" that's been splashed with dishwater from a hundred lunch plates. It's gross.
In this article, we'll give you 5 easy tips for using Avery tools to create effective, professional office signs that look good and stay in place.
More articles you might like: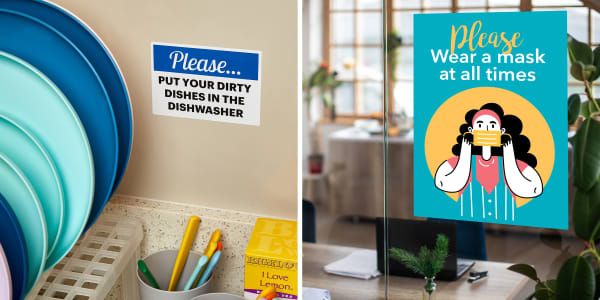 1) Make the switch from paper to film
On one hand, paper signs seem quick and easy, however, they're really only a temporary fix. On the other hand, custom metal or plastic signage is not practical (or cost-effective) for quickly posting messages in your office.
In contrast, self-adhesive signs that are made from a durable film are the ideal solution. We make our Surface Safe adhesive signs and wall decals with durable film and special adhesive designed to stick securely, yet remove cleanly. No sticky residue left behind or damaged surfaces.
Additionally, you can print our printable Surface Safe signs right from your desktop on regular laser or inkjet printers. Therefore, you get all the convenience of paper office signs, plus durability which helps them stay looking fresh and easy to read.
2) Create custom signs that fit your business
You may think that printing office signage on paper is the only way to create a custom message without help from a professional designer. But when you sign up for a free Avery account you have access to free tools that are ideal for creating custom messaging.
For one thing, Avery Design and Print Online (ADPO) is free to use for designing your own office signs without downloading or purchasing expensive software. With ADPO you can add custom text, graphics, logos and so much more.
Additionally, our free predesigned templates are designed by professional graphic artists and can be customized to meet your needs. Check out our list of 10 printable templates for every office, or browse more of our free office sign templates.
3) Review and update messaging as needed
Preprinted Surface Safe signs with common designs and free predesigned Avery templates make it easy to update messaging quickly. You can find any printable Avery template by using the template finder and your Avery product number.
First, enter the product number in the finder. Then click "Start Designing" to open ADPO. You will see blank templates and other designs to choose from and can scroll through to browse all designs.
Or you can use the navigation bar on the side to browse predesigned templates by category. For example, "Business & Occupation," "COVID-19," or "Holidays."
Click a design to choose it, then print as-is or modify the design. You can move or delete elements as well as change fonts, add your own text, or upload your company logo.
When you're satisfied with the design, simply follow the steps to preview and print your office sign. You can also save projects in ADPO to your Avery account for sharing with others on your team or quick access for later.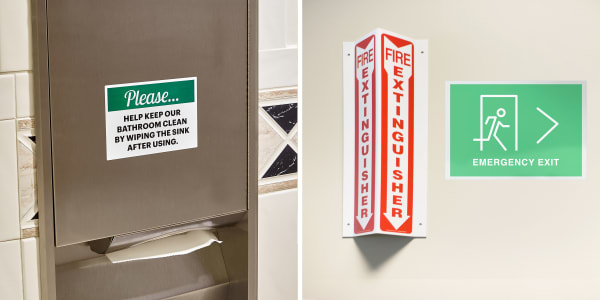 4) Consider sightlines when posting office sign
If no one sees your signs they can't be effective. Placing office signs where people's eyes naturally go at the moment the information is most useful is essential for getting your message across.
For example, a sign reminding employees to wash hands before returning to work would be most effective at eye level near the bathroom exit. The sign communicates the reminder before folks exit.
As opposed to a sign with handwashing tips for better hygiene, which would be better placed directly above or next to the sink. In this position, anyone washing their hands would naturally rest their eyes on the sign as they begin washing.
Fortunately, Surface Safe adhesive signs work on a variety of surfaces, giving you the freedom to choose sign locations based on the best sightlines. Surface Safe works on most hard smooth surfaces such as:
Glass
Stainless steel
Drywall
Painted walls
Doors
5) Regularly wipe down office kitchen and bathroom signs
Adhesive signs are made from film, not paper, so they are ideal for high traffic areas, (like kitchens and bathrooms) in part because they can be cleaned. As mentioned up top, no one wants to look at a dirty or gross sign.
Surface Safe polyester film resists chemicals, water, tearing, and scratching. You can wipe down Surface Safe signs with common cleaners and disinfectants to keep them clean and in good condition.
Create your own professional and effective office signs
Keep your office signs looking fresh and professional. Firstly, make the switch from paper to film. Surface Safe film is more durable than paper so your signs stay in good condition and are easy to read.
Create custom signs that fit your business for free with Avery Design and Print Online software. Saved projects can be shared via email or accessed as needed for future use.
Quickly and easily update messaging as needed. Our free predesigned office sign templates make it incredibly easy to create your own custom signage because you can modify them with your own text, logos, etc.
Consider where people's gaze naturally goes when posting office signs. Surface Safe signs stick securely, yet are removable and gentle on a variety of surfaces so you can focus on the best placement without worrying about damaging your office space.
Lastly, don't forget to regularly wipe down kitchen and bathroom signs in particular. Effective signs should attract attention, not encourage people to look away.
Shop printable Surface Safe adhesive signs for your office now, or try our custom printed Surface Safe signs.