Networking isn't going anywhere and business cards are still the #1 tool
Yes, the trend in working remotely is continuing to rise. Yes, most conferences, tradeshows, and other networking events have been moved online during the pandemic. But that doesn't mean in-person networking is gone forever, or not important.
In fact, face-to-face networking statistics show that nothing is more effective than interacting face-to-face with potential business contacts. For example, non-verbal cues in communication, such as inflection and facial expressions, greatly affect the perception of sincerity.
While of course, technology has made it extremely easy to connect online, the best places to network are still offline, because they give us a better chance to cultivate long-lasting business relationships. If you've benched your business cards you're going into the game without the right equipment, and here's why: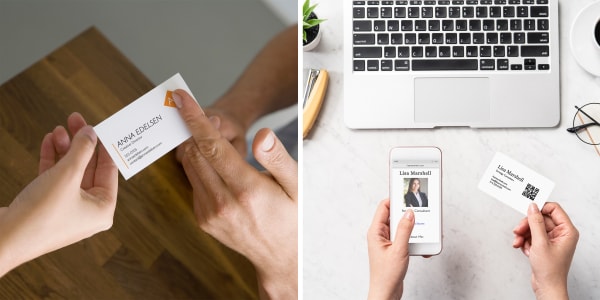 It's easy to always have business cards on hand when you can print your own. Design from scratch or try a clean modern design template you can modify and printable business cards with a professional clean edge.
1) Nothing is easier than handing someone a business card
Storing contacts in your devices is incredibly efficient for today's professionals. However, exchanging that information digitally can be tricky. Though some devices make it fairly easy to transfer info, for example, airdropping from smartphone to smartphone, the two devices generally must be compatible.
Enter business cards. There are so many ways to keep business cards easily accessible. From keeping a few cards in your wallet or purse pocket to using a card carrier or convenient business card book. Just pass the business card and enter it into your device later. No need to try and type or text on the fly.
2) Business cards can bridge the gap between analog and digital
Picture it, you're in a rush, no time to exchange contact info, you swap business cards and move on. When you have a moment, you pull out the card and manually enter an email or phone number on your device. But what if you could just scan a QR code on the business card and be done?
QR codes are a type of barcode that can be read with any smartphone or tablet. They're incredibly easy to add to your business card with the free barcode tool in Avery Design and Print. You simply choose QRCode as the barcode type and enter your email, phone number, URL, and more.
Learn more about how to create your own barcodes for business cards, labels, postcards, and other print materials using Avery Design and Print Online.
3) Face-to-face networking is still the gold standard in business
According to the Washington Post, the science of being in person is crucial for forming long-lasting and more effective business relationships. For example, face-to-face requests were 34 times more effective than emails and team performance went up the more the team spoke face-to-face.
Indeed, face-to-face communication literally synchronizes our brains. Networking is all about creating connections and forging relationships. As long as face-to-face communication is the most effective way to do that, in-person networking will remain the gold standard for business.
Business cards free you from being buried in your device and disrupting the flow of non-verbal communication that makes in-person networking successful. Transmitting and receiving non-verbal cues during the conversation (such as eye contact and attentive body language) creates more genuine bonds.
Be ready for business opportunities no matter where you are. Run into a client from Asia in the airport? Impress with proper two-handed business card etiquette, no WIFI required..
4) No WIFI, no problem— business cards are always accessible
Business cards are always ready to go, no charger, WIFI, or cell service is required. It's great to exchange information digitally when you can, but only relying on tech solutions can cause you to miss out on big opportunities. No matter what your digital plan is, you need to have business cards as a backup.
Airports, airplanes, and hospitals are well-known areas for possible dead spots. Not to mention unconventional networking places like health clubs, the dog park, etc. Even convention centers (where generally the entire purpose is networking) are infamous for spotty service and expensive WIFI.
5) Observing proper etiquette with traditional cultures/clients
If you're traveling abroad for business, first, see point #4 – you do not know what WIFI or cell service to expect. It's also important to plan and prepare for different business etiquette and cultural customs.
For example, in France, it's customary to leave a business card with the receptionist when you arrive for a meeting. In Russia, India, Brazil, Canada, and the United Arab Emirates, national language translations on your business cards are tokens of respect and eagerness to build relationships.
And if you're doing business closer to home? Be prepared for working with traditional clients. Making the right impression is everything, not having a business card or fiddling with your phone during a meeting (even if your intentions are pure) can seem extremely unprofessional for traditional business clients.
Without business cards, you're missing an opportunity to show respect and connect with clients in a meaningful way.
6) Business cards serve as a physical reminder of someone
In our fast-paced digital world, sometimes we forget that speed isn't everything. There is merit in taking time and creating a lasting impression. Handing over a business card isn't just about conveniently sharing information. It can also be a physical object that creates a stronger memory of meeting with you.
According to the Scientific American Journal, "The sense of touch generates surprisingly powerful and long-lasting memories" and "not only does touch generate memories that are highly detailed and precise, but those memories can endure over the long term."
Air dropping from your smartphone might only take a few seconds… but you don't want the impression you leave to be just as fleeting.
Even in a digital world, business cards are more relevant than ever
Humans are social creatures. It's wired into our brains to depend on face-to-face interaction with each other. Video chat, emails, and texting may keep us together across distance, but it all has to start with a human connection.
That's why in-person networking is so crucial for business and is not going away any time soon. Business cards are the most reliable way to make sure your new connections remember you and know where to find you. You can even use a QR code to make connecting online easier.
Be ready for any opportunities that come your way with business cards that stand out from the crowd. Whether that means simply adding a QR code to your current design, or refreshing your business cards with the hottest trends, such as a unique square shape or modern style.
Start now with business cards you can print yourself, or have printed for you and shipped right to your door.