Set yourself up for success with productive meetings your team (and boss) will value
Anyone can host a meeting. Not everyone can shine at conducting effective, productive meetings that bring value to the team. As with most things, planning and preparation are essential for success and will help you make a great impression with attendees.
Whether you've hosted a few meetings and want to elevate your game, or it's your first time in the boardroom, learning how to host better meetings is invaluable in the business world. This article will provide 11 pro tips you can use as a template for how to run a successful meeting.
1) Define the objective of the meeting
Why is this meeting needed and what do you hope will be achieved? Clearly defined goals and objectives for your meeting will keep the discussion focused and provide a built in KPI (key performance indicator) for measuring success.
2) Set a clear meeting agenda
Whether your meeting is informal, formal, prioritized and timed, a clear agenda will keep it on track if the discussion wanders off course. At the same time, it will also inform and set expectations with attendees.
3) Keep the meeting short
Meetings are not "one size fits all." A kick off meeting for a new product launch may take more than an hour, a quick check in to align with your team may only take 15 minutes. Schedule only as much time as necessary, reserving five minutes at the end to summarize and review next steps.
4) Be selective in your meeting invite
No one should walk away asking "why was I in that meeting?" While it's tempting to be inclusive, it's more productive to get the right people in the room, than fill the room with people. Be selective and choose the minimum number of people that you need to carry out the meeting objective.
5) Be prepared to accommodate varied locations
Will this meeting be held in person or virtually online? Perhaps a combination of the two? Be prepared so that everyone that is invited can participate in a quality way— if their presence is required, then communicating with them clearly should be a priority (see point #4).
For virtual meetings (or hybrid meetings where some attendees will be in person and some online), set aside time to check the speaker phone and/or video connection before starting.
Virtual Help: Read our article on how to look more profressional on video calls with bonus tech troubleshooting tips to help you connect better with remote meeting attendees.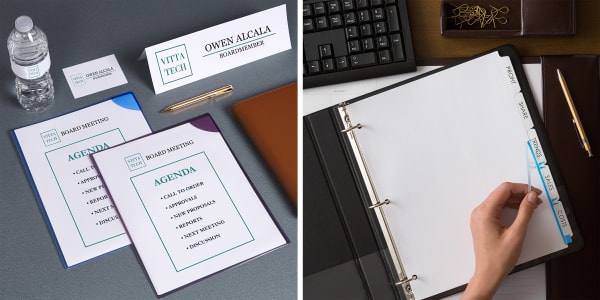 Begin prepping meeting supplies 1-2 weeks ahead of time. Give yourself ample time to ensure agendas and other important documents reach attendees at least one day ahead of your meeting.
6) Provide organized meeting materials for attendees
Organize your meeting materials and send them out ahead of the meeting so that everyone has a chance to prepare for the discussion and review the objective. Remember to account for mailing and shipping times when sending materials to remote attendees.
Time saver: Dividers with printable clear labels that you can apply all at once, are quick and easy to execute for a profressional printed-on look.
7) Start and end your meeting on time
Make an effort to start and end meetings on time to show that you respect the attendees' time. Not only does effective time management make a great impression with clients or investors, but respecting other's time at work results in better performance.
8) Lead the discussion during the meeting
Take charge welcoming everyone to the meeting, recapping the objective and moving from point to point on the agenda, keeping the meeting focused. Of course, brief pauses are natural, but uncomfortable silence can quickly become a vacuum that others may feel the need to fill.
9) Be ready to manage disruptions
Have a few polite phrases for managing interruptions on deck to guide the conversation back to the topic at hand. These ones work really well for keeping the conversation focused:
That's really interesting / I think you're onto something / You have a great point, after the meeting let's schedule time to talk more about it one-on-one.
Hold that thought, let's circle back to it at the end after all the information has been presented.
That's a bit beyond the scope of this project, let me follow up with [insert person with subject authority] after this and we can regroup to discuss.
10) End your meeting with a summary and actionable steps
When you're planning your meeting agenda be sure to allow yourself time for: 1) summarizing points, 2) recapping decisions, 3) reviewing actionable steps and 4) thanking everyone for their time.
Properly ending a meeting is a great way to help you end on time and make sure everyone is on the same page. Sincerely thanking attendees' for the time is a small act of appreciation that adds up to big value when it comes to making an impression and building a good rapport with your team.
11) Distribute a summary and follow up after the meeting
Distribute your notes with the summary of points, decisions and actionable steps to attendees and follow up on individual action items as soon as possible. If you asked others to circle back with you outside the meeting, reach out the next day (at the latest) to schedule time with them.
More resources for organizing a successful meeting
The ability to conduct effective, productive meetings is a highly valuable soft skill to develop, especially for managers and other professionals in leadership roles. Discover more resources for making your next meeting a standout.
Learn how to use Avery templates to elevate your meeting materials with logos and branding. Or explore mailing and shipping tips to help make sure meeting materials arrive on time and looking professional. Try our free online design software for customizing binder covers/spines, business cards, shipping/mailing labels and more.
Shop supplies for organizing and planning meetings: