Video conferencing skills are important for today's office professionals
For many of us, the conference room has been replaced by the kitchen table, home office or bedroom. As more major companies are announcing long-term remote working plans, video conferencing skills are more important than ever.
From interviewing for a position to onboarding remote employees, to pitching to investors, video conferencing is not going anywhere soon. So whether you're hosting or attending a video conference call, it's important to present yourself just as professionally as if you were meeting face-to-face.
This article will help you look like an expert in any video conferencing situation. We'll cover everything from etiquette and better lighting, to getting set up and troubleshooting audio/visual components.
Preparing your space for video conferencing
Check your background for unprofessional items or anything else you wouldn't be comfortable having your colleagues see. Then double check! We've all heard at least one horror story about unintentional items in a Zoom background.
You may also want to consider whether you want family photos and/or kids' artwork with names on them displayed while video conferencing. It's important to ask yourself how private you want your family life to be.
Dress (your space) to impress. Consider adding nice artwork behind you or a smartly decorated bookcase. Keep it simple and professional so it's not distracting during video calls, but more interesting than a blank white wall.
Use digital backgrounds. Try one of these free backgrounds suitable for work meetings, plus get detailed instructions for how to change your Zoom background.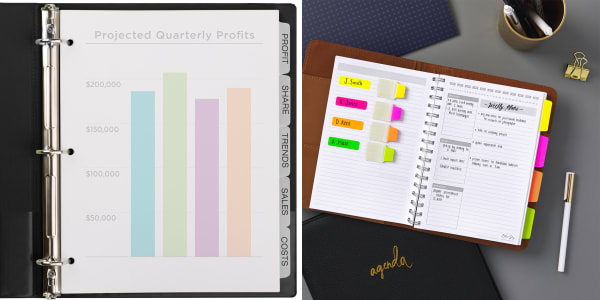 Keep meeting materials organized with hard copies in a binder with dividers. Organize your personal notes and bookmark in your planner with index tabs
Preparing for the video conference call itself
Know your options. Video conference meetings are collaborative and work best when information will be shared back and forth. For example, one-on-ones and team meetings.
If you're setting up a video conference call for one-way information sharing, a webinar is a better format choice. Webinar video conferences are great for training and presentations.
Prepare materials in advance. If you're hosting the video conference you should have all hard copies at hand and all digital references (PowerPoints, website links, videos, etc.) open on your desktop and ready to go.
If you're attending, have ready any information that may be requested of you, such as data reports/results or a resume if interviewing as well as note-taking supplies.
Tips for setting up video conferencing equipment
Check your WI-FI connection to troubleshoot connecting, dropped video calls and/or audio that's distorted or cuts in and out. Moving closer to your router or using WI-FI extenders/signal boosters can help boost weak signals.
Lighting affects image quality, which makes a big difference in how professional you appear during video calls. If you don't have a good light source nearby, consider getting a ring light that clips onto the top of your laptop.
Lighting angle. Make sure your light source for video conferencing is shining the light towards your face, never from the side or back. Side-lighting creates distracting and unflattering shadows, back lighting creates a silhouette.
Camera angle. During video conference calls use a laptop stand (or even a stack of books) so your laptop camera is at eye-level. Just like meeting face-to-face, eye contact is essential.
Sound. Firstly, make sure your speakers are unmuted and set to comfortable level. Then have a friend you can video chat with help you test out the sound on your laptop before attending, but especially before hosting, an important video conference call.
If the built-in microphone on your laptop is not working (or not working very well) and you've already done some troubleshooting, an external mic can make a world of difference.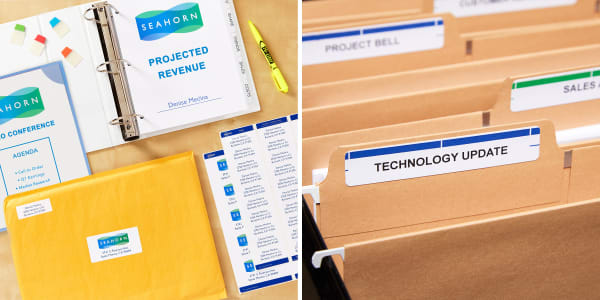 Level up your video conferencing expertise. Ship materials to make a great impression and use file folder labels to keep hard copy reference materials at your fingertips.
Advanced tips for hosting a standout video conference call
Make a great impression. Consider shipping meeting materials to clients, investors or business partners. For example, the meeting agenda, copies of key reports, samples, etc. Include a little swag like a custom sticker with your logo.
Follow up after your video conference call. Share meeting notes and/or the meeting recording with attendees via email. Put together a stand-out appreciation gift to ship out after video conferencing with clients, investors or business partners.
Stay ready, so you don't have to get ready. Set up a filing system to organize hard copies of reference materials for meetings, user manuals for any external devices and blank shipping labels for sending materials.
Video conferencing audio/visual troubleshooting and FAQS
My colleagues can't see and/or hear me, what's up?
Whenever you join a video conference, look for the microphone and camera icons in the video chat app. They're usually the buttons for those features. Make sure that your video is turned on and that you're not muted when speaking.
If you're using external devices (webcam or mic) make sure they're plugged in and that all device software is installed. Then make sure the devices are selected and not defaulting to the built-ins on your laptop. Alternatively, if you sometimes use external devices, but are not using them currently, make sure the internal devices are selected.
Privacy settings can also restrict devices and/or apps on your laptop, tablet or smartphone. If everything else seems to be working, double check your privacy settings to make sure all devices and apps you're using for video conferencing are enabled.
Why can't I hear anything?
The most common reason you can't hear anything on a video conference call is that the volume is muted or your speakers/headphones are not plugged in. Always start with making sure external devices are plugged in. If that doesn't work, follow the same process as above for troubleshooting.
I've heard about "Zoom bombing," how do I prevent unwanted visitors in my video conference call?
For Zoom specifically, you can use unique IDs and enable passwords when you create the meeting as well as use the waiting room feature.
For general video conferencing apps use passwords & waiting rooms if available, disable screen sharing for anyone but yourself and "lock" the session if your app supports it
Do you need a telephone line for video conferencing?
No, you do not need a telephone line for video conferencing. Video conference calls are typically conducted using the internet.
What are the basic requirements for video conferencing?
The basic requirements for video conferencing are:
Laptop, desktop computer, tablet or phone
2 GB of RAM and a quad-core processor
Internet connection
Camera
Microphone
Speaker
What is the etiquette for video conferencing?
Video conferencing etiquette is all about giving virtual meetings the the same level of care and attention as meeting in person. Present yourself as professionally as possible. Brush your hair, wear a nice shirt and apply makeup if it's something you normally wear.
And of course, double check your background for anything inappropriate (we cannot stress this enough).
While video conferencing, give the meeting your full attention. Limit distractions such as TV, podcasts and music. Try to set up the kids in another room if possible. Avoid multi-tasking and follow the meeting agenda.
Keep the focus on the speaker and be considerate to others on the video call. Many video conferencing apps are audio sensitive and will focus on the display of the person making sound. Your background noise can shift the focus to you instead of the speaker and make it harder for others to hear.
If you're attending a video conference webinar or presentation, mute yourself if the host doesn't do so. During team meetings, mute yourself when others are speaking so your background noises don't interrupt them.
Explore more resources for working virtually and supplies for organizing meeting materials
Video conferencing isn't the only challenge those working from home face. Working from home often means working without the structure and professional amenities working in-office can provide.
Sometimes it means trading the conference table for conference calls. At other times it means making yourself a happy workspace at home and creating a healthier work-life balance. Leveling up your video conferencing skills is one stop on the road to achieving your goals while working from home.
Shop the organization supplies we recommend *for video conference hosts, **for hosts & attendees:
*A good heavy-duty binder (79193) that will last
*Binder dividers with printable tab labels (11446) that you can quickly and easily update
*Printable color-coded file folder labels (5266) for long-term organizing
**Assorted primary repositionable UltraTabs® index tabs (74768). Allows you to easily reference anything and organize your notes as you go.