A Small Business Idea Is Literally Born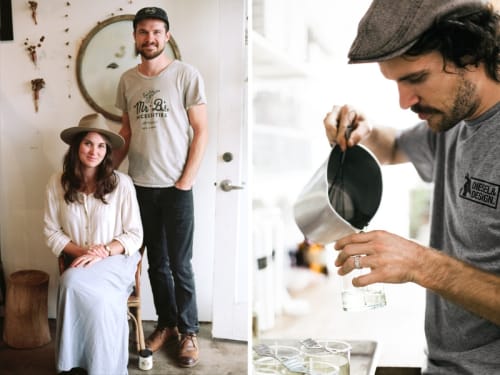 Sometimes, a big milestone lends itself to the beginning of a new business venture. Just ask Shem Gott, the man behind Mr. B's Necessities, a brand born from a collection of baby jars.
"When my son was born, my wife and I started making candles for friends and family using his empty food jars," Shem said. "We had so many; I just wanted to do something with them."
Soon Shem's 100 percent plant-based candles were a hit. With help and encouragement from friends, the Mr. B's brand continued to expand.
"Eventually, I got a storefront together and started building wholesale and online retail," Shem said. "That's when I came to the realization that this could really be something."
Now, Mr. B's product line includes everything from rosemary shampoo to charcoal soaps to aromatherapy roll-ons.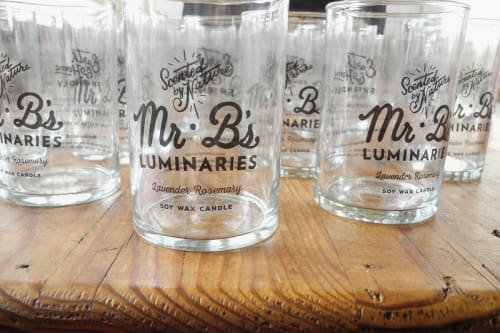 An inspired logo
While Shem has big plans for Mr. B's, he gravitates toward a small business feel.
"Mr. B's is 100 percent family operated," Shem said. "I make every single product. But, I kind of like that—literally touching every product we make in order to make sure that it's really high quality."
It comes as no surprise that the Mr. B's brand image is, as Shem says, "clean, simple, and warm." He relies heavily on Avery WePrint™ to convey that image.
"We wanted our tagline, 'Scented by Nature,' to look hand-drawn, almost like calligraphy," Shem said. "It's a feminine brand, but the label draws a little bit from masculine roots, my son and myself."
The evolution of the Mr. B's brand
Simple and sleek, the Mr. B's brand has come a long way.
"We started with small tags that I'd attach to apothecary-style jars," Shem said. "Placing a label directly on our products has made the look a lot cleaner."
Now, Shem's candles sport Avery WePrint™ Rectangle Labels with a clear film finish for a fresh, printed-on-the-product look. As for his full product line, he attributes a large part of his success to presentation.
"I think the psychology of a shopper is [such] that they simply need to see the product and have an immediate, emotional response to it," he said. "That first initial pop, which comes from the label, is 90 percent of the emotional attachment."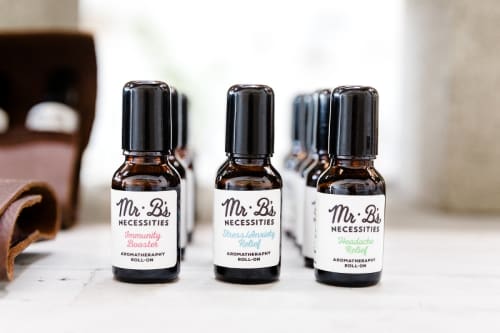 Finding the perfect fit
Presentation isn't the only reason Shem chooses Avery WePrint Labels—especially those with white and clear film finishes. The moisture-resistant material is a huge plus, especially for items like his aromatherapy roll-ons that can have oil run down the side of the container. With Avery WePrint film labels, there is no smearing of ink.
Along with durability, the wide variety of shapes and sizes available from Avery WePrint are also important to Shem.
"I don't have a ton of items, but I have a small army of containers," he said. "Can I get a clear label? How about matte or gloss? Sometimes, I need a round label, other times rectangular. It's all about versatility."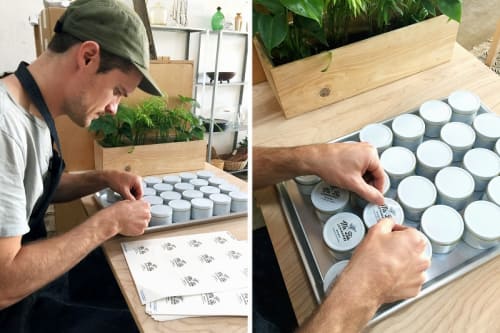 Starting small
When asked if he had any words of wisdom for those new to entrepreneurship, Shem spoke of starting small with a "crawl, walk, run" attitude.
"In the beginning, I would buy big," he said. "I'd buy 10,000 labels, spend a whole lot of money, and then I'd end up throwing half the labels away if I rebranded or changed a sentence."
Now, Shem operates with a greater degree of foresight. He uses Avery WePrint sheet labels so he can order lower quantities and make changes when needed, and Avery WePrint roll labels for larger orders.
"I save my templates directly to Avery Print & Design Online, then have [them] printed and shipped to me."
What's next?
Looking forward, Shem has his eye on the prize including major accounts with Sprouts or Whole Foods and the ability to fulfill large-scale orders.
"That sort of has to be the direction for any craft-based business in order to be sustainable," Shem said.
But true to Mr. B's roots, Shem has other "smaller" aspirations, too.
"It's so important to maintain that heart, that life, that smallness," he said, "which is really at the core of good quality."
Check out Mr. B's Necessities at mrbsnecessities.com and get 20% off your order when you enter "Avery" at checkout.
To start creating your own labels, visit Avery Design & Print Online.