5 Ways to Increase Office Safety with Better Communication
Thinking of office safety training as a one-time seminar or presentation is an easy trap to fall into— but it's a trap that can cost your business time and money. Office safety is an ongoing conversation with your employees about the procedures you need them to follow in order to maintain a safe and healthy workplace.
Clearly communicating office safety standards and practices not only keeps your employees informed, but also shows them that you care about their well-being. Demonstrating safety practices and clearly displaying visual reminders creates trust, encourages responsible behavior and increases overall office safety.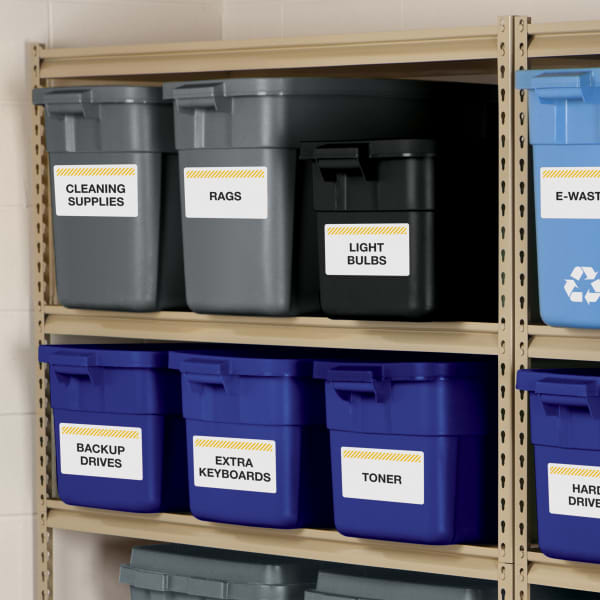 1. Organize Clutter, Decrease Office Safety Hazards
It may seem like a no-brainer, but simply clearing away clutter can increase office safety tremendously. Clutter is a bigger office safety hazard than you might think. Employees navigating cluttered aisles and walkways are at risk for tripping, falling and bruising themselves bumping into jumbled equipment and supplies.
In an emergency situation, clutter can cause even worse problems. Blocked aisles and walkways could prevent employees from safely exiting the building in case of a natural disaster or other emergency. In fact, employers are required by law to "ensure that exit routes are unobstructed by materials, equipment, locked doors, or deadend [sic] corridors"
Increase office safety by clearing aisles and walkways of unnecessary equipment, supplies and materials. Labeling storage bins with plastic-friendly office safety labels to accurately communicate the contents eliminates the need to dump out bins and cause more clutter down the line.
Avery® Surface Safe ID Labels are specially designed to adhere securely to textured and smooth plastic. They stick securely to all major brands of plastic bins and remove cleanly when you need to reorganize.
2. Practice Safe Stacking Practices
The average office employee may not be familiar with safe stacking practices. Even if it is an office safety topic covered in training, it's not reasonable to expect every employee to always know shelf load limits for every unit make and model.
Labeling shelves with load weight limits and maximum stack height information increases office safety by eliminating guesswork for employees. Simple laminated shelf labels and a small surface safe wall sign indicating the maximum stack height are easy ways to improve safe stacking practices in your office.
Durable industrial labels are ideal for high traffic areas around the office. Avery® Self-Laminating ID Labels are easy to use (just print, seal and apply) with no need for a laminating machine. Excellent for shelves and other office safety uses, Avery self-laminating labels stick to plastic, wood, metal, rubber, paper, ceramic and glass.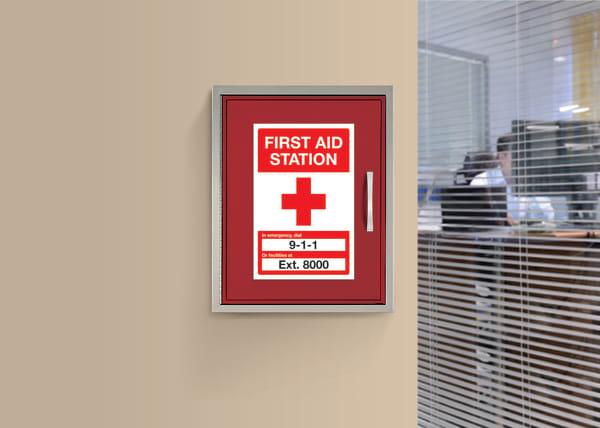 3. Ensure Proper Office Safety Signage
By law, employers must ensure certain supplies and equipment are provided for office safety such as readily available first aid supplies and fire extinguishers. In some cases the law extends further, for example requiring employers to not only provide, but identify fire extinguishers.
Exit signs are a great example of specific legal requirements for certain office safety signs. Updating and maintaining signs directing employees along escape routes to tornado shelters and indicating Automated External Defibrillator (AED) machines are all excellent ways to increase office safety.
Surface Safe Sign Labels from Avery feature removable adhesive that stays put without damaging or leaving residue on drywall, glass, doors, stainless steel and other surfaces. This is ideal for maintaining proper office safety signage in rental properties, or in the case of temporary and/or unexpected hazards.
4. Be Prepared for Unexpected & Temporary Office Safety Issues
When emergency office safety hazards arise, there generally is not time to order specialty safety signs. If floors are slippery from a flooded sink or particularly rainy day is causing entry way issues, it's a problem that needs to be solved right away to protect workers from fall injuries.
Consider temporary construction hazards from office repairs or remodeling. Investing in permanent safety signs for such a situation seems extraneous, yet communicating these hazards with employees is an important office safety matter.
Increase office safety by staying prepared for every situation. Keeping printable office safety sign labels on hand means that you can print caution and information signs on-demand any time you need them.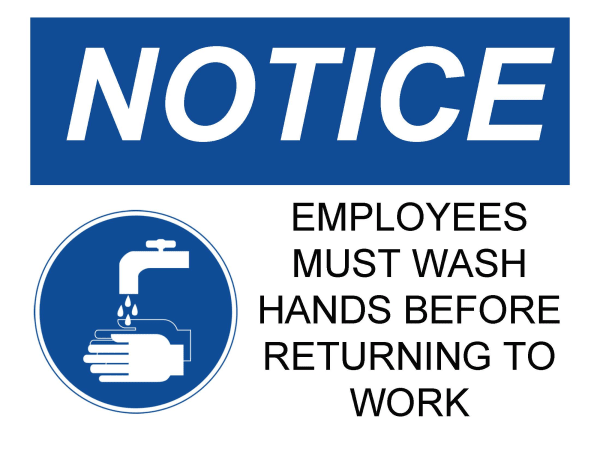 5. Don't Forget: Office Safety Training Includes Cleanliness!
Preventing bodily harm may be the most obvious office safety topic, however, helping your employees remember to practice cleanliness is crucial for maintaining a safe and healthy workplace. Durable water-resistant sign labels are the best way to communicate office safety reminders in bathrooms and break room areas.
Providing hand sanitizer dispensers near elevators and doors is another noteworthy way to increase office safety. Especially during cold and flu season, displaying a reminder to use hand sanitizer after touching these high-traffic public surfaces helps reduce the spread of germs.
Need Help with Office Safety Signs?
With Avery® Industrial, there's no need for special software or additional equipment to get started printing your own office safety signs— all you need is the label and your office printer to print signs any time you need them.
Visit Avery online for hundreds of free office safety templates for industrial products. Simply click "Start Designing" on any product page for free customizable templates or upload your own designs.
No printer? No problem. Avery WePrint™ provides custom printing services with low-minimums, no set up fees, and delivery in as few as three business days.