What are asset tags used for?
Asset tags are labels that are used to identify, record and monitor office equipment and other valuable supplies. Generally, an asset tag will include an ID number to help track your item. This number can be encoded into a barcode or a QR code to help make this record-keeping process more efficient.
Barcodes are the preferred format when creating asset tags since they can contain more information, are more accurate, and leave less room for human error. A simple scan can pull up a comprehensive digital record in seconds and scanning is far more accurate than manual data entry.
Asset tags are often used on expensive equipment to discourage theft and loss but they can also be great for simple record-keeping as well. Here are 3 reasons why you need them so that you can save money and boost efficiency: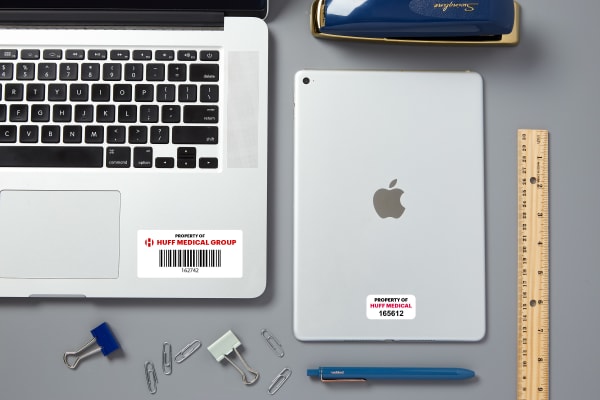 Easily identify and monitor office equipment with
PermaTrack® asset tags
1) Keep better track of equipment loaned to remote workers
The rapid increase in work-from-home employees requires better records that are easier to update and access. If your office still relies on handwritten equipment logs, this will be the perfect time to go digital. Barcode asset tags make digital record-keeping much easier, and more efficient and will save you money on labor costs (and help prevent some potential headaches).
2) Save money on lost and/or stolen office equipment
Unfortunately, the equipment can get lost or stolen in the workplace, but you can help discourage theft by keeping track of your supplies with asset tags. Stolen equipment with asset tags is easier to identify as office property, more difficult to resell, and easier to report to the authorities. Asset tags with security films that are tamper-evident or destructible will make it difficult to switch out the tags for cheaper labels.
3) Make reordering office supplies and equipment easier
It's much easier to check your inventory when you're tracking your supplies with barcode asset tags. Just scan barcodes to instantly update your inventory, check a digital record of warranties, and set reminders for subscription renewals.
You can then analyze the data to identify trends and see how many days a certain amount of supplies will last. This information is fantastic for upgrading frequently used equipment such as laptops, removing unused supplies from your reorder list, creating a better rotation schedule for less-used equipment, and helping you determine what unused equipment to liquidate.
How to create an asset tag
Creating your own asset tags is easier than you think. All you need are printable asset tag labels, a laser printer, and label design software with a barcode generator. Or you can just skip the printing process and have your asset tags printed for you.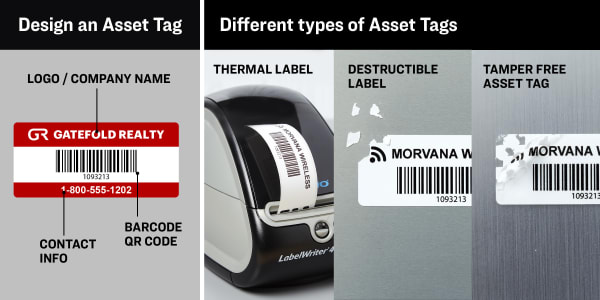 An asset tag will usually include the company name and/or logo, a barcode, an ID number and sometimes some contact information. Avery Design & Print Online label software lets you choose from a variety of free customizable templates that fill these needs, including a barcode generator tool.
The barcode generator in Avery Design & Print Online lets you create barcodes one at a time, in a sequence or by importing a spreadsheet of codes. The mail merge feature lets you easily take a digital list of ID numbers and automatically fill in your asset tags. To learn more, take a look at our video tutorial on how to create asset tracking tags with barcodes.
How to choose the right asset tag material
Make sure you're choosing the right asset tag labels that add an extra layer of security to your equipment and supplies. For example, supplies that need to withstand heavy wear and tear may work better with metallic asset tags while direct thermal labels will be better when printing in high quantities.
Try browsing the options below to quickly navigate to the precise asset tag you need. Almost all of these options can be printed using an office laser printer.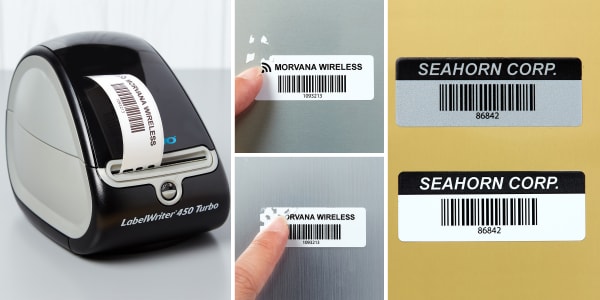 Destructible security film asset tags:

Discourages theft and switching labels | Breaks into fragments at removal | Cannot be reapplied | Waterproof | Chemical resistant

Common Use(s):

– High-value items such as electronics, laptops, tablets, etc.

– Equipment loaned to employees (especially for home use)

Best Asset Tag Sizes:

Tamper-evident security film asset tags:

Discourages theft and switching labels | Removal leaves pattern behind | Cannot be reapplied | Waterproof | Chemical and tear resistant

Common Use(s):

– High-value items such as electronics, laptops, tablets, etc.

– Equipment loaned to employees (especially for home use)

Best Asset Tag Sizes:

Direct thermal labels:

Permanent adhesive | Great for high-volume printing (no ink required) | Label rolls compatible with popular direct thermal printer brands including Zebra®, Seiko Smart Label Printer® and DYMO LabelWriter® (Not compatible with traditional laser printers)

Common Use(s):

– Tracking/managing inventory on high-volume office supplies

– Ideal for light duty and items with high turnover (for example boxes of pens or cases of printer paper)

Best Asset Tag Sizes:

Durable metallic asset tag film:

Highly durable | Strong permanent adhesive | Waterproof | Chemical, tear and scratch resistant

Common Use(s):

– Large stationary printers, copy machines, desks and other heavy furniture

– Frequently handled portable office equipment

– Frequently disinfected shared office equipment

Best Asset Tag Sizes:

Matte white asset tag film:

More durable than paper labels | Strong permanent adhesive | Smooth, bright white surface offers higher contrast for barcode scanning

Common Use(s):

– General office supplies

Best Asset Tag Sizes:
Additional Resources
Now that you have a better idea of what asset tags are, take a look at our asset management resources for extra information to help refine your tracking system. We also have more articles to improve your asset management process including ways PPE asset tags can help keep an eye on your gear, quick wins for your asset management system and much more.