Finding the right gift for someone who is hard to shop for can be tricky. Gift ideas fall under heavy scrutiny as you start rifling through your options—and then you have to decide whether they're too frivolous, too generic, or just not in your price range.
Feeling stumped? We've got some ideas to help you put together practical and personal presents that are sure to please. Here's how a little time, effort, and your thoughtfulness come together so you can create an exceptional, one-of-a-kind gift your person of honor will be thrilled to receive.
1. Host a surprise brunch.
Mom's birthday coming up? Just because she says, "Oh, you don't have to get me anything," doesn't mean she wouldn't enjoy and appreciate the idea of a nice, little celebration brunch surrounded by her friends and family.
Invite guests with personalized invitations. If it's a surprise (and your mom wouldn't mind), include an early enough start time so guests can arrive before mom wakes up.
Organize your brunch buffet. Identify dishes (and the persons who brought them, if it's a potluck), and call out key ingredients for people with food allergies or who hold an extreme dislike for certain foods.
Add a touch of elegance to your dining experience—even if it's just plasticware. Wrap each cutlery set with a napkin and seal with a personalized label that fits the theme, or use the labels to decorate place settings.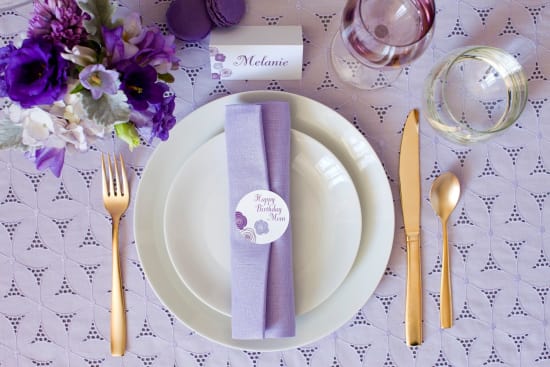 2. Gift cards – how can you go wrong?
Who doesn't like a gift card to one of their favorite places? Here's a way to make it a little more personal—start by creating a customized card using an Avery Note Card, designed to fit the occasion with Avery Design & Print Online. Attach an Avery Adhesive Pocket inside the note card and tuck the gift card safely inside. No need for them to shake the loose card out of the envelope!
3. Offer your time or service
The gift of time can be one of the best gifts of all. Give a busy parent the afternoon off with a "time off" coupon, and offer to take their kids to soccer practice, piano lessons, or even the library so the parent can enjoy a little "me" time.
Another coupon idea is to offer a service. Maybe you know someone who needs help cleaning out their garage or tackling a little yard work. Use the coupon to offer your services to help out for a morning or afternoon. Or, you can offer a much-appreciated skill, such as cooking a meal or doing an oil change.
To create these redeemable little lifesavers, just customize Avery Business Cards with Avery Design & Print Online. It's a gift where the thought really counts!
Gifting with an indirect approach.
When people think of what they need, they might not be thinking of something directly for themselves—it could be a gift that benefits someone in their life. Maybe they've talked about enrolling their child in music lessons or karate classes, or perhaps the family just adopted a new dog and would like to get their pet on the right track with obedience training. These thoughtful ideas can be a different, but still well-appreciated way of gifting.
5. Make their everyday lives easier.
Sometimes it's the little things that can make a big difference. How about delivering a gift of everyday organization? Create a personalized organizer for that special someone with an Avery Mini Binder and fill it with accessories such as dividers and pockets.
Another idea is to stock the binder with an assortment of Avery Greeting Cards printed for them (you'll find design templates for all kinds of events on Avery Design & Print Online), so they'll have just the right card for all those special occasions throughout the year. Include a sheet of pre-addressed return address labels and a book of stamps for the finishing touch.
Tired of playing the "what to get" guessing game for someone hard to shop for? Next time, save yourself the heartache and pressure and try gift ideas such as these. They're thoughtful, handy, and personalized, and just the right gift from your heart to theirs.