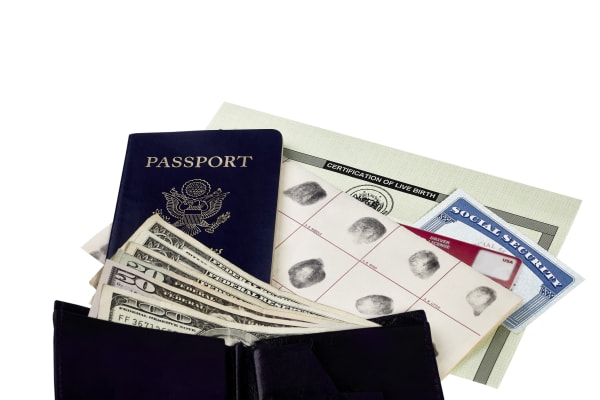 Why Every Family Should Have an Emergency Binder
When you're on the job, you make sure your team is prepared for emergency situations and you wouldn't want any less for the people you love most. Emergency binders are a vital part of any family disaster plan to help everyone be prepared in the most difficult and frightening times.
Your preparedness binder contains all the crucial information you, your spouse and children would need during and after disasters and emergencies. Every family emergency binder should begin with a durable 3-ring binder that can withstand demanding conditions without falling apart.
This article will help you organize the necessary documents, important information and other supplies you will need to create an effective "grab-and-go binder" for your family.
5 Types of Documents Every Family Emergency Binder Should Have
The question of "What to put in an emergency binder?" is imperative. If you are forced to evacuate your home in a fire, flood or earthquake, your family's lives may be at stake. Wallets and/or purses may have to be left behind. What do you do if someone needs medical care or gets separated?
Certain documents are needed to get medical attention, cross borders, access funds and recover after the disaster. Copies of these documents are absolutely necessary for every family emergency binder.
Why copies? Emergency binders should be incredibly easy to access in case you must leave your home quickly. Originals of sensitive documents like social security cards should be kept somewhere secure, preferably with a lock or restricted access.
1) Copies of Identification Papers
Having proper identification can be crucial in an emergency situation. You may need identification to receive medical care, cross borders, withdraw money, buy food or get access to lodging and other necessities. Copies of passports, birth certificates, social security cards and driver licenses should be included in your family emergency binder.
2) Insurance Papers
In the case of property damage, you will need to be able contact your insurance company. Keep contact information for your insurance company and bank, as well as copies of your insurance policy and other documents related to property ownership (such as the deed to your house) in your emergency binder. This will ensure you can begin any claim processes as soon as possible.
3) Medical Information
Health insurance information, immunization records, medical conditions, current prescriptions and known allergies are all incredibly important in case of injury. During a high-stress situation such as experiencing a family member bleeding profusely or losing consciousness, having this information easily accessible in your emergency binder can be the difference between life and death.
4) Emergency Contact List
We are all becoming more reliant on cell phones to store our important contacts— even numbers for family and close friends. Keeping a contact list of close relatives in your emergency binder ensures you have all the numbers you need if your phone is left behind, damaged or the battery dies.
5) Recent ID Photos
Few people consider what would happen if family members were separated in a disaster or emergency. If you were incapacitated and your toddler was rescued by emergency responders, would they know their own last name or what to call you besides Dad or Mom?
Recent portrait-style photos of each family member should be on your emergency binder list. This helps emergency responders and other personnel reunite missing family members more efficiently than descriptions alone. Like your emergency phone number list, hard-copy photos prepare you in case something happens to your phone.
Additional Documents to Consider for Your Emergency Binder
Certain legal documents and other sensitive information should only be included as copies in your family emergency binder simply because it is too easily accessible to be secure. While originals of other irreplaceable documents that don't require such diligent security can be included.
Things like marriage certificates, family history records and treasured photos are priceless in terms of sentimental value. They may not be vital emergency binder information for life-threatening situations, but if you have to evacuate your home, having them with you can save them from destruction.
Family Emergency Binder Checklist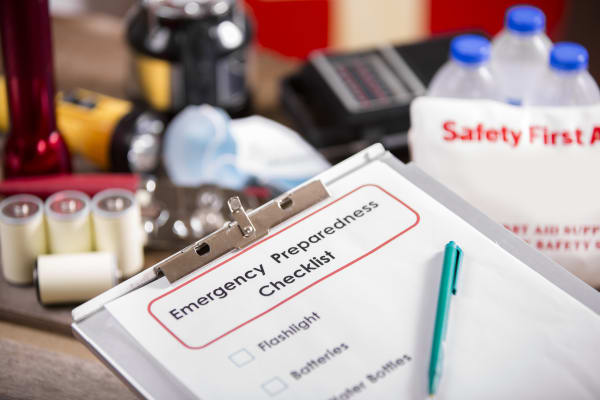 To create a "grab-and-go binder" resilient enough to get your family through tough situations, you need heavy-duty supplies that won't let you down. Avery® Industrial products are designed for use in demanding environments so you can be confident your emergency binder is up to the job.
You only need three key supplies to organize and protect your family's emergency binder contents:
Binder: Avery Heavy-Duty Binders resist tearing and splitting with a stronger hinge designed to last longer yet open easily when needed. This is crucial for having easy access to your emergency binder contents and protecting them.
Sheet Protectors: Paper is simply too susceptible to damage be kept securely in a binder. Heavyweight plastic sheet protectors keep documents secure. Avery Nonglare Heavyweight Sheet Protectors are also acid free and archival safe so you can confidently protect original documents.
Dividers: Ultra-durable, tear-resistant plastic tab dividers from Avery are ideal for emergency binders. Ultralast™ Big Tab™ Plastic Dividers also feature clear plastic windows so you can quickly access information in your binder.
How to Organize Your Emergency Binder
First, gather your emergency binder documents into piles according to the five types of documents listed above, and "Other" for additional nonessential documents. Then put the piles in order according to the information most likely to be needed quickly:
Medical Information
Copies of Identification Papers
Emergency Contact List
Recent ID Photos
Insurance Papers
Once you have your documents sorted, assembling your emergency binder is fairly straightforward. Simply use sheet protectors to secure and protect each document, then use dividers to separate the contents into six sections: Medical Information, Copies of Identification Papers, Emergency Contact List, Recent ID Photos, Insurance Papers, and Other.