There are many different ways to file. Filing can be alphabetical, chronological, numerical, or color-coded. But in order for a filing system to be successful, it also needs to be clear, consistent, and easy to maintain. Using a well thought out and logical system can help you get organized and stay that way. Professional organizer Terry Prince reveals what filing style works best for different files.
Alphabetical Filing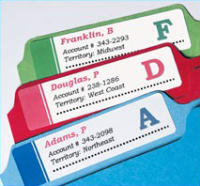 An alphabetical system is the most common method of ordering files. It's often used for client records or subject-driven files. It's the simplest way to file, and it's adaptable to almost any type and size of company. Labeling is straightforward when using the A through Z structure. Use last name, then first for individuals; and for other subjects, alphabetize by the first letter of the first word (disregarding the word "The").
Chronological Filing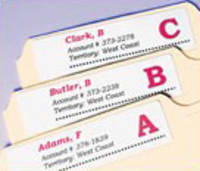 When dates provide the most essential information, use the chronological system of filing. Shipping records, bank statements, accounts payable or receivable, invoices, and purchase orders are some common documents that can use this type of system. Archival files can also be filed this way. For example, an archival file box labeled "2007 Finance" can contain monthly files by subject (accounts receivable, accounts payable, payroll, bank statements, etc.).
QUICK TIP: Use Avery Extra Large White Filing Labels. They have enough space to accommodate up to three lines of text and graphics for multi-dimensional file descriptions.
To label archival boxes, use Avery White Permanent Durable I.D. Labels which are large enough to detail what's in the box, and strong enough to last for years and withstand moisture, tearing, scuffing and smudging.
Filing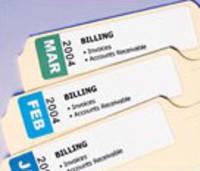 When information needs to be accessed by many different users, often a numerical filing system is used. Some numerical systems can be simple, such as sequential project numbers assigned to each file. Others can be complex, and the numbers may encode specific information. The Dewey Decimal system, typically used in libraries, is an example of an encoded numerical filing system that provides additional information such as the subject and/or author. Many companies who use this system also develop and maintain an internal shared master directory.
QUICK TIP: Keep a master directory of files readily accessible in an Avery Reference Binder. If you make any major changes to the files—such as structure or location—update the master directory.
Color-Coded Filing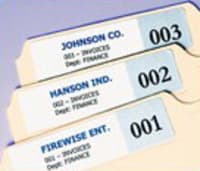 "Color-coding not only keeps files looking neat and professional, it makes finding files and re-filing easier," says Prince. "Color-coding can easily be combined with any of the other filing systems. And color-coding saves time because you can zero in on a colored section of a file drawer quickly." Take the time to assign colors to your categories when setting up your file system.
QUICK TIP: If you're interested in color-coding your files, consider Avery Assorted Extra Large Filing Labels. They come in five different colors so you can maintain the integrity of your color-coding system.
When you spend the time to plan a logical and efficient filing system, you'll discover the system will save you time and effort later on—when you really need it!