Our graphic designer shows how easy custom invitation printing is with WePrint
The day has finally come. You've spent hours designing a product for a client. The client loves it but now what? Now, it's time to send your prized project to the printer and see all your hard work pay off.
The printing process is the most crucial part of any project for me as a graphic designer, but it always comes with fears: How well is it going to print? Will the colors match what I have shown the client? What if the material quality is terrible? These are all important questions that are key to delivering a quality final product to your client.
Before I began working for Avery, I had used Avery WePrint to create small runs of packaging labels for local coffee roasters. But this time was different. I was creating wedding invitations for a client. And for anyone who has ever planned a wedding, you know the wedding invites are one of the most essential items when it comes to the big day. Nobody (and I mean nobody) wants their wedding invitations to look less than perfect.
Invitation materials & printing services
I hadn't used WePrint card products before and truth be told I was a bit nervous. I knew the labels were awesome but I had never used the cards. So I ordered samples of card products from WePrint as well as various companies to compare.
The verdict: WePrint didn't disappoint, boasting far superior quality to the other samples I received.
My next concern was how close in color would my designs print. There is nothing more tedious than color-matching your design to your prints. I've gone back and forth with print shops in the past until they finally got the colors correct. But since I knew how well my WePrint labels turned out, I decided to take the plunge.
Uploading & editing invitations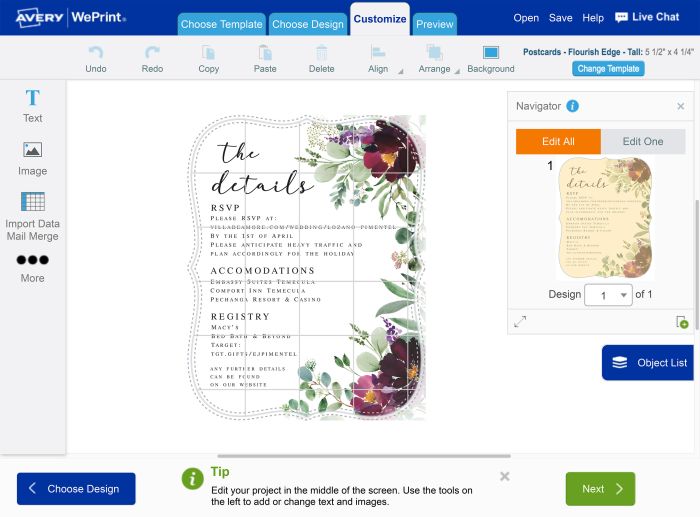 I uploaded my finished design into Avery Design & Print and onto a wedding invitation template, which was probably the easiest process I've ever done with any printing company.
I immediately saw my design. I was able to enlarge and drag my design to make sure everything was even and my bleed marks lined up. And then I was good to go. I simply approved the proof and ordered the cards.
The unboxing
The turnaround time for these wedding invitations was the best part. Only a two-day delivery after I approved the proof, and when I opened the box I couldn't have been happier.
The colors were spot on, as vibrant as they were on my screen when designing them. The material was top quality and the clarity of the printing was professional with a high resolution.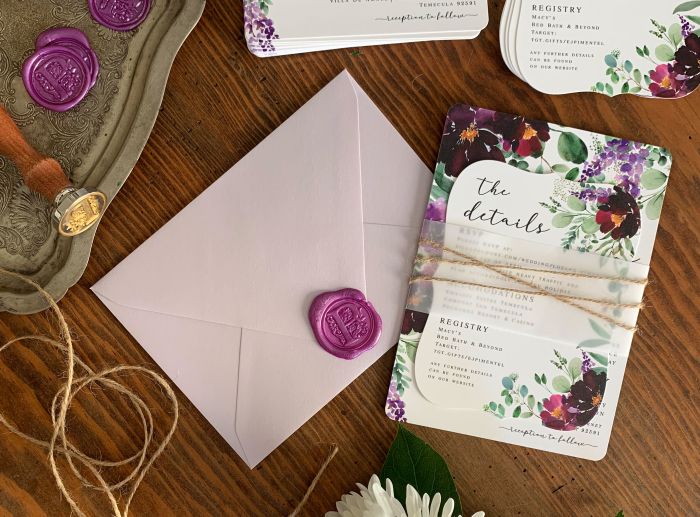 While I assembled the wedding invites, I was still in awe at the quality. No one enjoys receiving a bent wedding invite in the mail due to flimsy card stock. These, however, were just the right weight and I was confident that the invites would be delivered in perfect condition.
I assembled the invitations by creating a belly band around the two cards with a thin sheet of vellum and tied it together with some twine. I sealed all the envelopes with a wax stamp for an extra special touch. Then I packed up my hard work and sent them off to their new homes.
I hoped that whoever received the wedding invitations after their long voyage would open it with a smile just as I did.
Laura Garrahan is currently a graphic designer for Avery who does design work for personal clients in her free time.
If you want to stay up to date on all the latest news, tips, and ideas from our experts at Avery, sign up for our newsletter above.