Want to make your friends and family feel lucky? Surprise everyone this St. Paddy's Day with a charming dessert table. We've thought of everything from the invitations, the table decorations, the party favors and more. Our craftiest minds have put together a creative yet simple recipe for a party that will make everyone green with envy.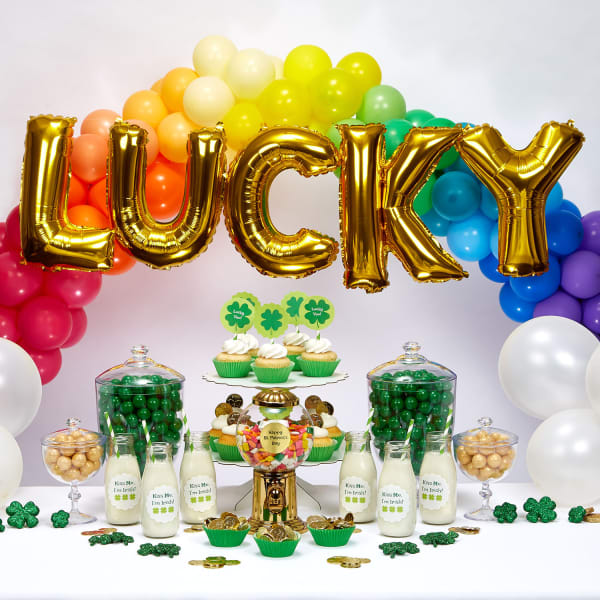 A trail of gold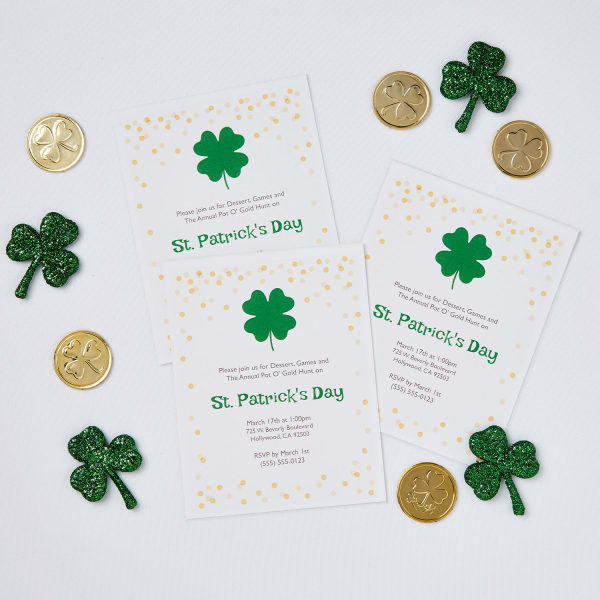 Stir up some pre-party excitement with customized postcards (3380).
Drum up some anticipation before the party even starts with these delightful invitations. Our predesigned St. Patrick's Day template and our printable postcards make it easy to create invites in an instant.
Click here for the postcard template.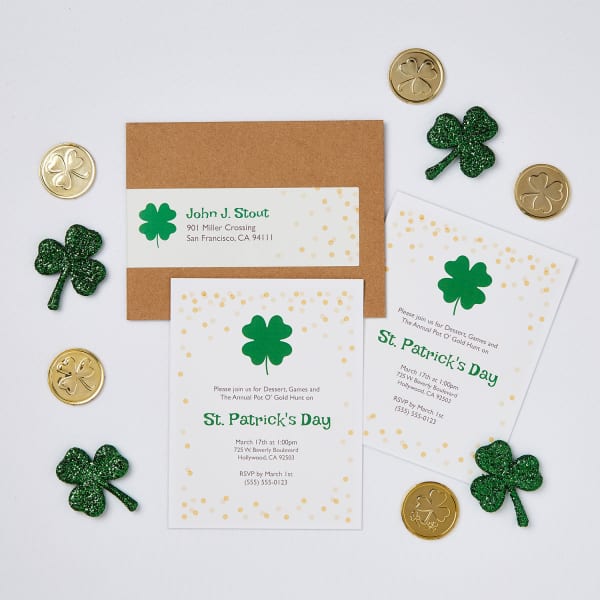 Pair wraparound address labels (22838) and postcards (3380) to create a unified design.
When you're ready to send the invites out, complete the look with one of our bold wraparound labels. Avery Design & Print has everything you need to add names, addresses, images and more. This template is beautiful on its own, but it can also be a springboard for your own creativity. Our gallery has a robust selection of clip art and images for creating a design that is uniquely you.
Click here for the wraparound address label template.
A parade of sweets
Now it's time for the best part of any project: The Food. For our spread we chose to display a mix of gumballs, cupcakes, chocolate coins and milk with a classic St. Patrick's Day color scheme. To create this festive look, we used green and gold gumballs and green cupcake foils. But feel free to play around with food and décor to see what works best for your table.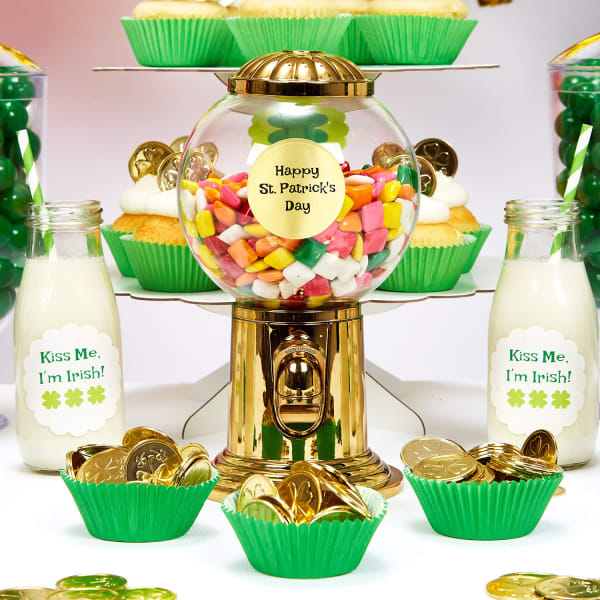 Add an elegant touch with scallop round labels (8218) and matte gold labels (22831)
Also, don't forget to take advantage of Avery's wide variety of label and template colors available to you on Avery.com. Match together different shapes and sizes to create a diverse display. There are endless combinations of templates and fonts you can use in Avery Design & Print.
Click here for the scallop round label template.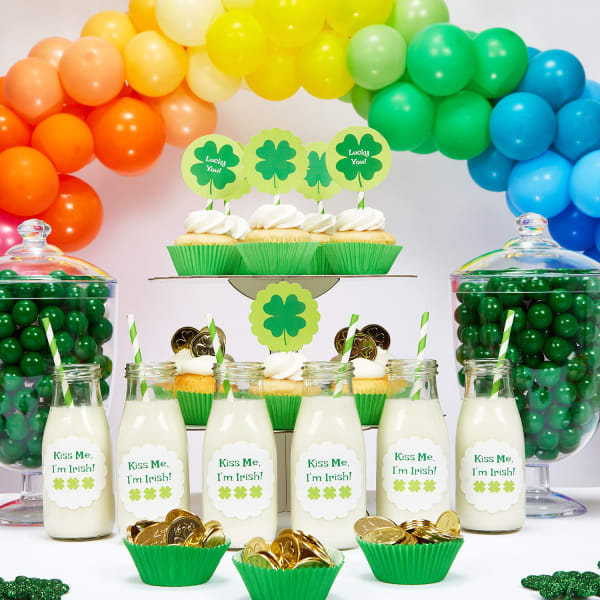 Subtle ways to show your creativity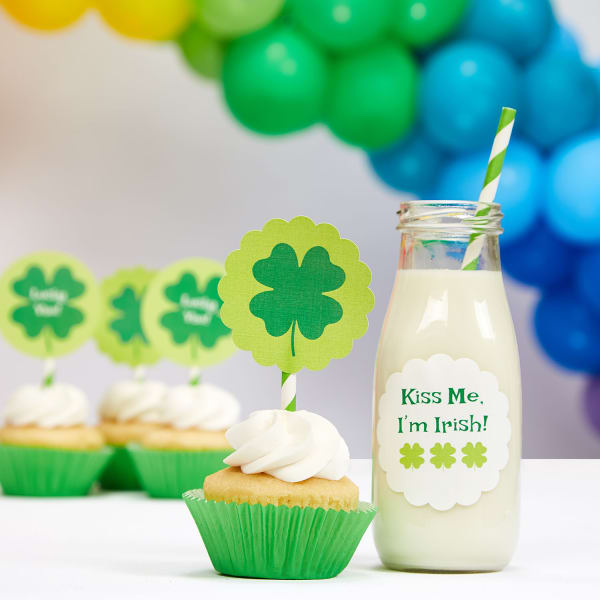 Did you know that, in Irish, "shamrock" means "little plant"? Since cupcakes are basically "little cakes," it feels fitting to pair them together with four-leaf clover cupcake toppers. Another great way to show your creativity is by being resourceful. For example, did you notice that the skewers for the cupcake toppers are the same paper straws used for the milk bottles cut in half?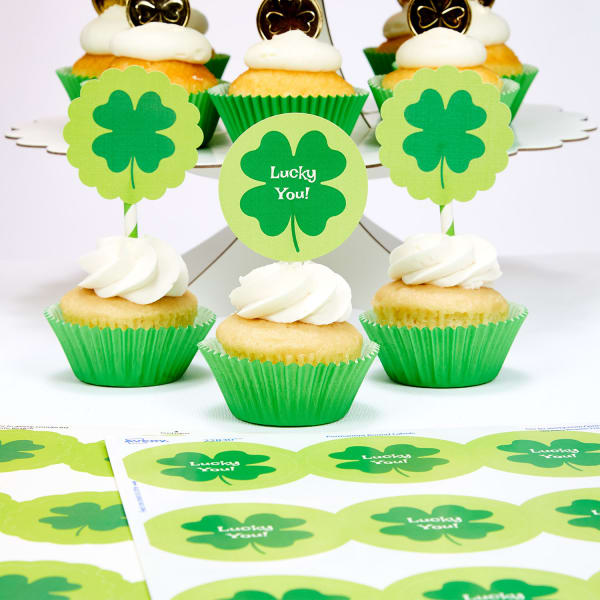 Scallop? Round? Why not both? Scallop labels (8218) and round labels (22830) both make excellent decorations.
There are unlimited ways you can use Avery products and templates to personalize your events. The same labels and designs we used for cupcake toppers can also be used for envelope seals, mason jar lids, popcorn bag décor and more.
Click here for the scallop label template.
Click here for the round label template.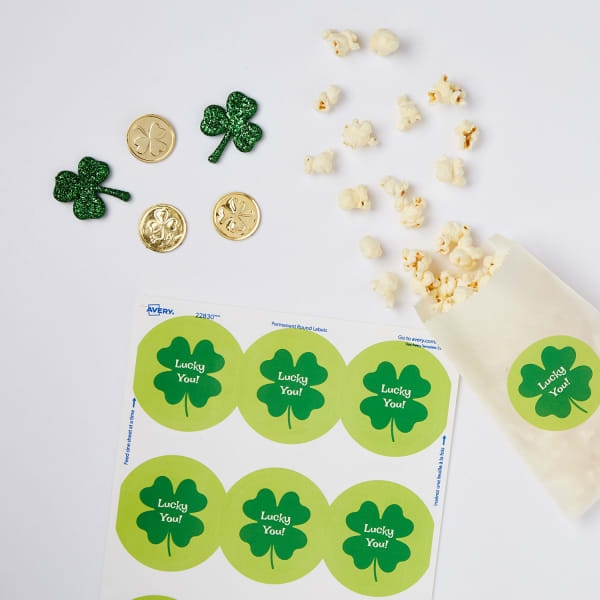 Charming party favors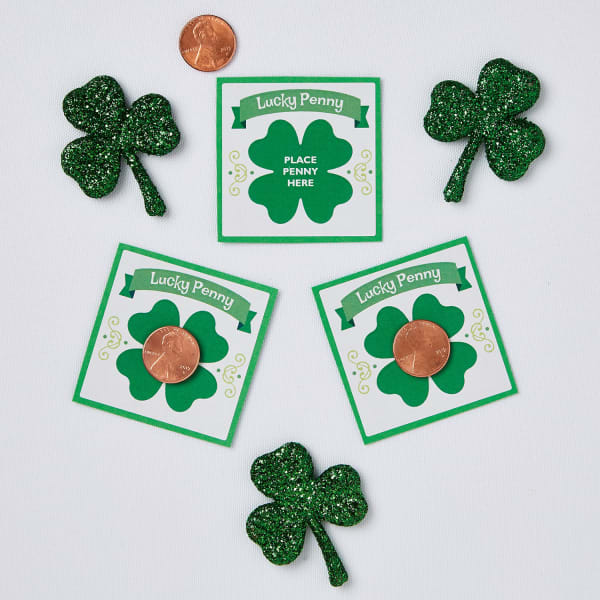 Create lucky penny party favors with square labels (22806)
Create these memorable tokens using the Avery Design & Print template. Print out the design and adhere it to a green cardstock square along with the penny.
Click here for the square label template.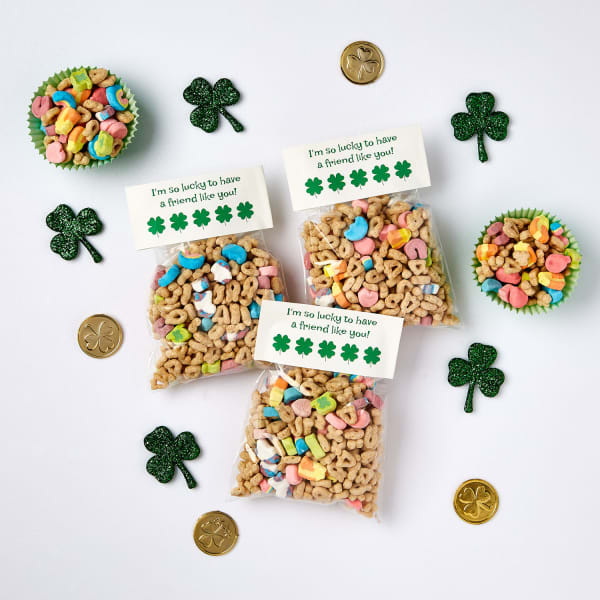 Create goody bags of cereal with wraparound labels (22838)
These cute little bags of Lucky Charms™ are great snacks and fun to customize. Just take a food-safe bag, pour in the cereal, and then seal the label over the top. You can also add a special note, fortune or fun St. Patrick's Day factoid to this template in Design & Print.
Click here for the wraparound label template.
Also, for those of you who aren't able to throw this entire party, try making the party favors on your own. These gifts are perfectly portable and easy to bring to your office, your child's school or your neighbors. A homemade treat with a personal touch is worth its weight in gold.
Products featured in this article:
Invitations
Textured White Postcards (3380)
Textured Wraparound Labels (22838)
Party Decorations
Textured Scallop Labels (8218)
Embossed Gold Labels (22831)
Cupcake Toppers
Textured Scallop Labels (8218)
Glossy White Round Labels (22830)
Lucky Penny Favor
Print-to-the-Edge Square Label (22806)
Goody Bag Topper
Textured Wraparound Labels (22838)
Lucky Charms™ is a trademark of General Mills