Get back to learning this fall with tips to help your teens study better at home
Help your student achieve their absolute best. Whether they're put on a hybrid schedule to ease school crowding, doing full-time distance learning or just working on homework, a few good study tips for learning at home can make a huge difference.
With TV, personal devices, siblings and other distractions, it's important to make sure your student has the tools they need to get the most out of study time. This article will provide you with 5 easy study tips to help your high school student study more effectively at home.
Study Tip #1: Find out what kind of learning style your student prefers
Imagine a toddler that loves green beans and carrots, but detests broccoli. If you wanted them to eat more vegetables, green beans and carrots would be the obvious choice. The same goes for your high school student and study habits.
Knowing how your student likes to learn, will help you be a better support system during remote learning and virtual school situations. Have your student take a quick quiz to discover their preferred style. You can use this information to help them form good study habits, search more specific study tips and help prepare your home for distance learning.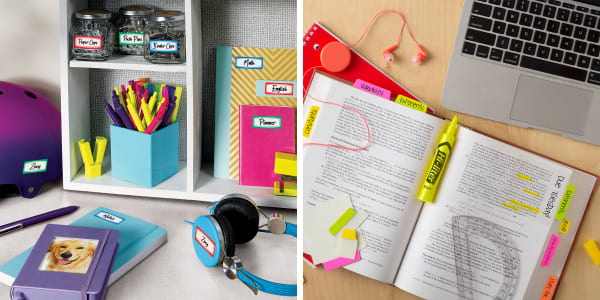 Study Tip #2: Set up a space for remote learning that sets them up for success
The most widely accepted three different learning styles are visual (learning by seeing), auditory (learning by hearing) or tactile/kinesthetic (learning by doing). Getting familiar with the different styles will help you create an at-home learning environment that will help your student feel confident and comfortable.
For example, perhaps your auditory learner needs a distance-learning space where they can have some music on in the background and can repeat things out loud to themselves. Your visual learner may need extra desk space to lay out visual aids like flash cards, highlighters and lots of supplies for sketching out concepts.
Tactile/kinesthetic learners doing online school work or studying at home may need to take frequent short breaks and objects to hold on to while learning. Tactile/kinesthetic learners also need a lot of open space for art projects, acting things out and even moving around while studying.
Study Tip #3: Create a routine with flexibility for hybrid and distance learning
Study tips from the American Psychological Association (APA) include: spacing out study sessions, interweaving subjects and self-testing. The process itself is hard work. However, according to researchers cited by the APA, it pays off in the long run with long-term learning.
Whether learning at home or at school, long-term learning should be the goal, rather than short-term learning just to pass a test. Creating a study routine for your student provides structure for distance learning and makes it easier to stay on track if your student is switching between school and home.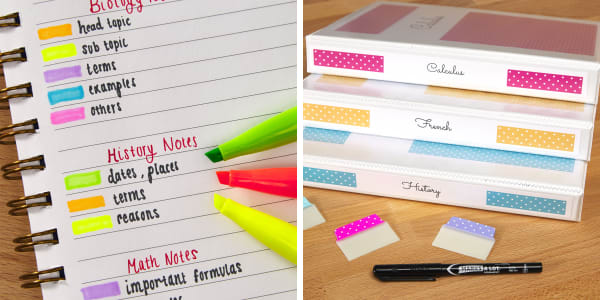 Study Tip #4: Keep your student organized with color-coded study supplies
Great organization is key to maintaining routines and helping combat clutter as students continue to spend more time doing online school work at home. Color coding can help your student organize both mentally and physically.
Color coding study notes with highlighters and repositionable tabs can help students organize their thoughts on any given subject. This makes it easy to review and connect information in a meaningful way. Binders and supplies color coded by subject make it easy to grab the right supplies at a glance.
If your student is on a hybrid schedule (learning remotely some days and at school some days) staying organized can help them feel less overwhelmed. Being able to quickly and easily grab all the materials needed for a specific subject is crucial if your student is on a hybrid schedule.
Study Tip #5: Provide balance— remember that your student needs fun and function
Some subjects will be more exciting for your teen than others. If they're a "math person" they might whiz through calculus assignments and dread history and literature. Distance learning can be the perfect opportunity for you to help them engage more fully with a variety of subjects.
Let your teens have freedom to express themselves with personalized school supplies. Use free online software to let them design their own binder covers, fun labels, custom planner stickers and personalized wall decals to decorate study spaces. Their imagination is the only limit!
Encourage video chat study groups to help your teens stay social while learning from home. Study groups are widely considered to be one of the best tips for studying more effectively. They encourage collaboration and critical thinking and may also help your student feel less lonely during long stretches of remote learning.
Arrange field trips and outside activities if you can. A change of pace can be invigorating for you and your student while they're learning from home. Even if you can't go to traditional field trip destinations, a park, hiking trail or even the backyard can provide a fresh setting to quiz your student about biology and geology subjects.
Try taking your student to view a local historical landmark. Connecting local places to broader historical themes helps personalize history and make it memorable. Wikipedia actually has a pretty decent list of US historical landmarks with a map that allows you to click on your state to narrow down your local area.
Find virtual ways to inspire your student. Try a virtual museum tour, or help your student learn a new skill that isn't on the syllabus. Some of the best ballet schools in the world are offering free ballet classes online. Or try the MasterClass channel on YouTube where your student can take skateboard lessons from Tony Hawk or learn to how to grow tomatoes with expert urban gardener Ron Finley.
More resources for studying at home and online school work
Distance learning, hybrid schedules and online school work are part of the "new normal" as we all prepare to head back to school. Although school may look different, you can still make learning fun, organized and less stressful with the right tools.
Take a deep dive into creating the perfect homeschool schedule to help your kids learn at home or a get a head start on back-to-school shopping with a checklist for all ages.
Products featured in this article:
Hi-Liter® Pack, Assorted Colors (24063)
Pen-Style Hi-Liter® Pack, Assorted Colors (23585)
Durable Clear-Cover Binder, 1″ (17012)
Black Marks-A-Lot® Permanent Markers (29837)
Polka Dot Repositionable Ultra Tabs® (74773)
Neon Repositionable Ultra Tabs® (74753)
Durable Write-On Kids Labels (41441)