Get ready for a successful fall with strategies to enhance your teen's study habits at home
Support your student in reaching their academic peak. Whether they're following a flexible schedule to alleviate crowded classrooms, engaging in full-time in-person learning, or focusing on assignments, a set of effective study tips can significantly elevate their educational experience.
In a world filled with television, personal devices, siblings, and other potential distractions, it's crucial to equip your student with the necessary tools to optimize their study sessions. This article presents five practical study tips to empower your high school student for effective home-based learning.
More articles you might like:
1) Understand your student's learning style
Imagine a toddler that loves green beans and carrots, but detests broccoli. If you wanted them to eat more vegetables, green beans and carrots would be the obvious choice. The same goes for your high school student and study habits.
Knowing how your student likes to learn, will help you be a better support system during remote learning and virtual school situations. Have your student take a quick quiz to discover their preferred style. You can use this information to help them form good study habits, search more specific study tips and help prepare your home for distance learning.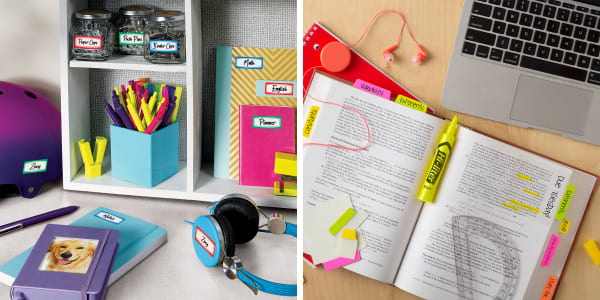 2) Set up the ideal learning space for your kid
Recognizing the three primary learning styles—visual, auditory, and tactile/kinesthetic—enables you to create an optimal learning environment at home. Tailor the study space to your student's needs, such as providing background music for auditory learners or ample desk space for visual learners. Tactile/kinesthetic learners benefit from breaks and objects to manipulate while studying. Creating a customized space ensures your student feels confident and comfortable during their study sessions.
3) Foster a flexible routine for hybrid and remote learning
Implement study tips endorsed by the American Psychological Association, including spaced-out study sessions, interweaving subjects, and self-testing. While the process may be demanding, the long-term benefits in terms of sustained learning are well worth it. Establishing a flexible routine for your student facilitates seamless transitions between school and home, supporting their focus and productivity.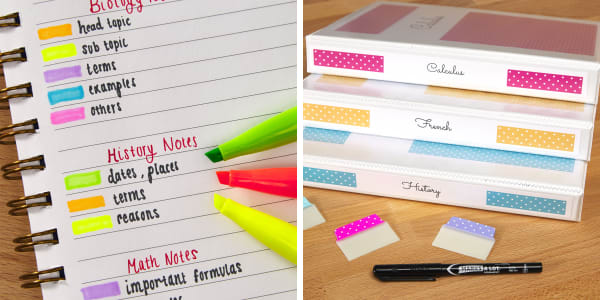 4) Enhance organization with color-coded supplies
Effective organization is paramount for maintaining routines and combating clutter, particularly as students spend more time on online coursework. Introduce color-coded study supplies to help your student organize their thoughts and materials efficiently. Highlighters and repositionable tabs can be used to color-code study notes, making review and connection of information more accessible. Organizing binders and supplies by subject streamlines the process of grabbing the necessary materials, especially for students on hybrid schedules.
5) Strike a balance between fun and function
Recognize that some subjects may captivate your teen more than others. Capitalize on distance learning to encourage broader engagement with various subjects. Allow your teens to personalize their school supplies, fostering self-expression and creativity. Support their social connections through video chat study groups, promoting collaboration and reducing feelings of isolation during remote learning.
Introduce variety by arranging field trips and outdoor activities, providing refreshing breaks from home-based study. Even simple outings to local landmarks or virtual museum tours can enrich their learning experience. Explore virtual resources, from online classes to expert-led tutorials, to inspire your student and broaden their knowledge beyond the standard curriculum.
Discover additional resources for home-based learning and online coursework, ensuring a smooth transition to the evolving landscape of education. Whether through perfecting your homeschooling schedule or preparing for back-to-school with a comprehensive checklist, make learning enjoyable and stress-free with the right tools.