Choose the right label to prevent food tampering & contamination
Nearly 30% of delivery drivers admit to eating customers' food when en route to their destination. As a restaurant or store owner, you are responsible for the quality of the products that leave your establishment. You put heart and soul into your products, so you want to make sure they're sealed and safe when they leave your facility. Even more important, you want to ensure customers that their items haven't been tampered with. Whether you're providing takeout or delivery or both, here are some tips to help you choose the right tamper-evident food label or safety seal.
Tamper-evident vs. food security seals
When you are choosing food safety labels, it's important to pick the right label for your needs. Keep in mind that the label you choose will dictate how the container is opened and how the label reacts to the consumer.
For instance, if you want the label to break into pieces when the container is opened to show the item hasn't been meddled with, then choose tamper-evident labels. If not, choose food security seals.
Tamper-evident labels come with security slits. The cuts on the front face of the label break apart when the label is removed, preventing it from being reapplied and leaving pieces of label and evidence of tampering.
These tamper-proof labels provide an additional layer of security for takeout, delivery, and to-go items. It gives confidence to both the business owner as well as the customer that the delivered food hasn't been tampered with.
Food safety labels feature permanent adhesive and are used to keep boxes, bags, pouches, and other containers closed during delivery. While these labels do not feature security slits, the permanent adhesive lets you seal packages and secure to-go items. They also offer room for your branding and custom messaging.
Choose the right material & adhesive
Once you have decided on the label type you need, now choose your material. You need to decide whether you want paper vs. film labels and permanent or removable adhesive.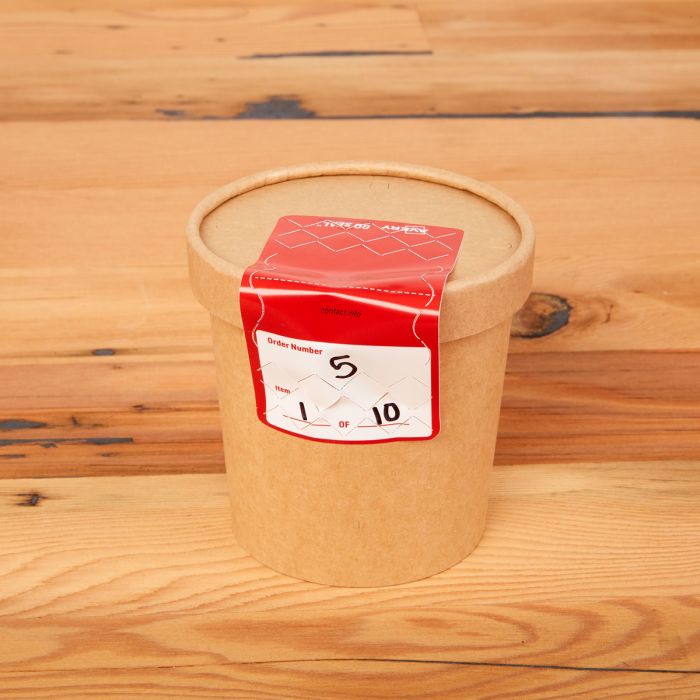 Matte paper labels are your best option if you want to handwrite on your food delivery labels. This material allows you to add the date and time, or special requests such as no pickles or no tomatoes.
Most matte paper labels don't have an end varnish or laminate, so they allow for handwriting. But make sure to confirm with your printer before placing your order. Use a ballpoint pen, permanent marker, or gel pen when handwriting to get the best results.
For a more durable solution, film labels provide water- and oil-resistance and hold up in extreme temperatures. These labels work great as security seals with your logo or branding and hold up under refrigeration.
Choosing the right size label
Now that you have the type of label and the material you want, find the correct label size. This will depend on what kind of container you want to seal.
Do you want a tamper-evident label for the hinge of a pizza box or a sandwich box? Or do you want a food safety label to seal a bag closed? These all require different-size labels. So first, measure your container then consider some of these suggestions we've put together for commonly used containers.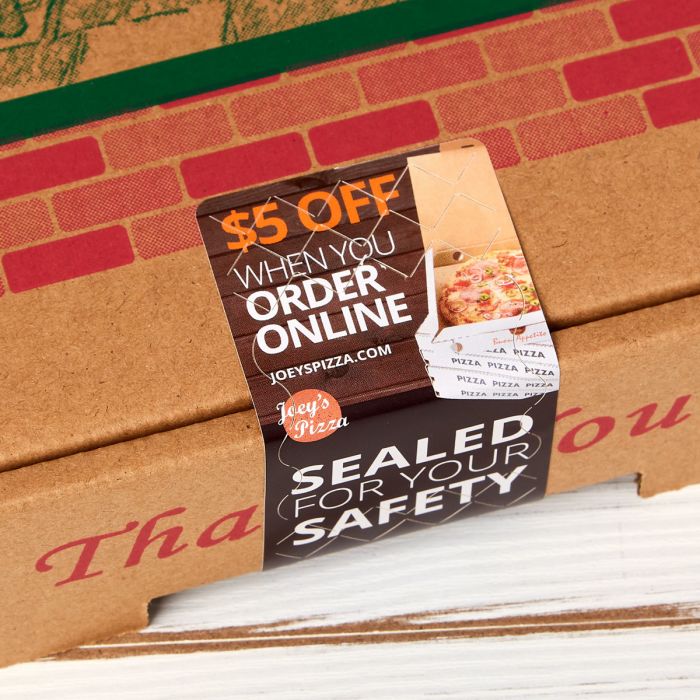 Pizza, sandwich & salad box hinges: Choose a 2″ x 4″ or 2″ x 6″ label. This allows for enough space to close the sides from top to bottom. If you have a wide opening, choose the 2″ x 6″ label versus the 2″ x 4″ which is better for a narrow opening.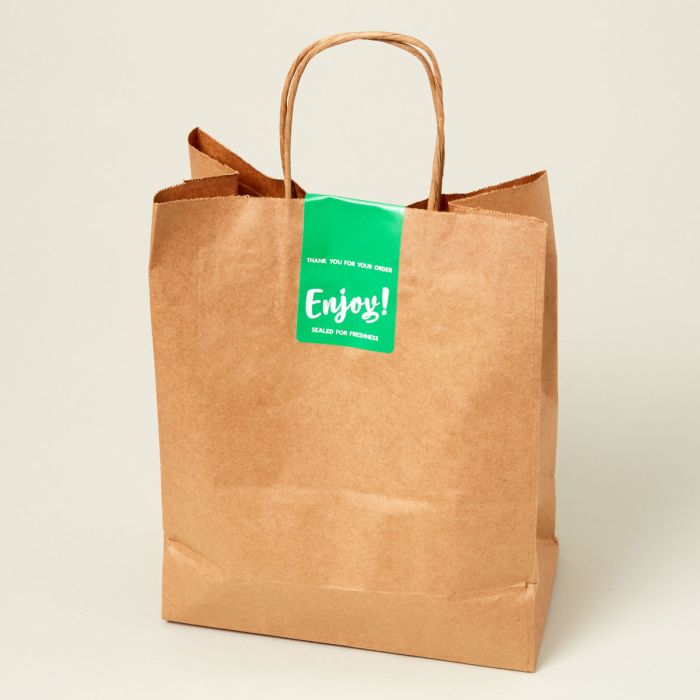 Paper & plastic bag closures: Choose a 2″ x 6″ label so you can seal the bag from front to back. You can add your design to both ends of the label so that your message is visible on both sides of the bag.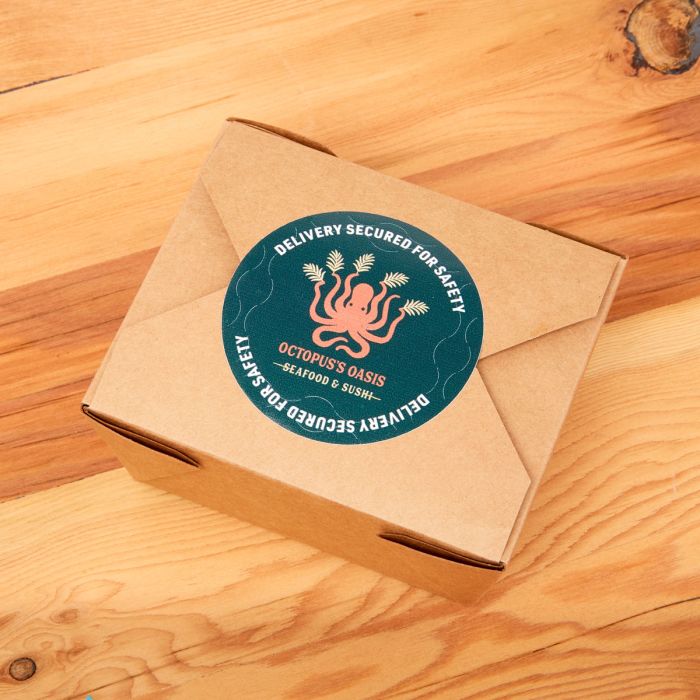 Lids, sandwich bags, cookie bags: Choose a 3" round label for small bags and wrappers. A large round label gives a nice clean look and allows the label adhesive to adhere to all sides.
Designing labels for foodservice
The last step in finalizing your food delivery labels is deciding what you want to communicate. You can add your logo, the description of the contents, and any special instructions that you might need. Additional items you may want to include would be your company tagline, website, phone number, or social media handles. Many label printers come with free designs and templates or you can order preprinted labels that you can run through a thermal printer or handwrite on.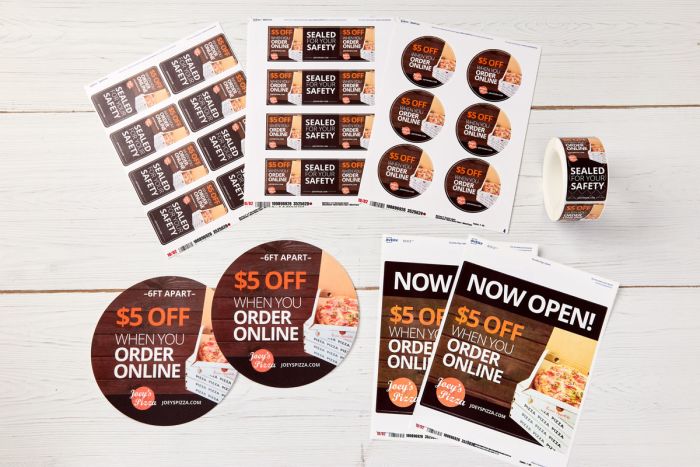 Whether you own a restaurant, bakery, pizzeria, bar, or café, tamper-evident labels and food security seals provide essential food safety measures. Give your customers peace of mind knowing that your business is taking the steps to keep everyone safe.
To offer extra savings that you can pass along to your customers, Avery WePrint has no extra charges for dies or setup of your tamper-evident and food safety seals. No surprises or hidden charges.
Whether you order from Avery or not, feel free to call our Customer Care Center at 800-942-8379 to find out what labels and stickers are best for your business and your food safety needs.
For extra tips and ideas for food service businesses, read How to Open Your Food Business Safely for tips on safety-related labeling. For some organizational tips, check out How to Organize Your Professional Kitchen for great ways to make your restaurant or catering kitchen more efficient.