Team-building activities are good for morale— and business
Not only is socializing crucial for employees' mental and physical well-being, but it can also help keep the business healthy. In fact, encouraging socializing with team-building activities increases employee engagement, which can lead to more profitable teams.
According to a recent Gallup study, highly engaged teams had 81% less absenteeism, 23% higher profitability, 41% higher quality products, and 66% higher well-being than teams that were less engaged.
In addition to employee morale and well-being, team-building provides the opportunity to develop soft skills necessary to succeed in the workplace. For example, communication, planning skills, and collaboration, as well as learning how to develop strengths and address weaknesses.
The skills and bonds developed through effective team building are incredibly valuable to businesses and organizations. Try one of these 27 fun team-building activities to help engage your remote team. Whether you have just 5 minutes for group activities or the resources to go all out, there's something for everyone.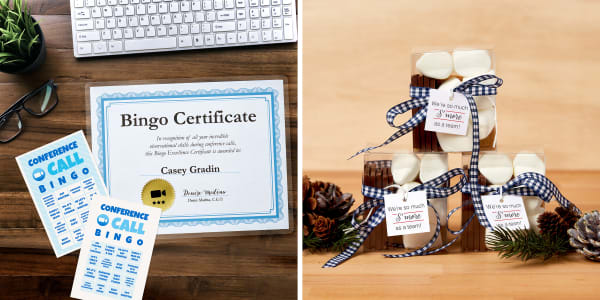 Simple activities to engage your team online
Activities with minimal upfront commitment are a low-risk way to test "proof of concept" for further developing team-building exercises.
1) Video chat bingo. Make a bingo card for video chat snafus. Use self-laminating sheets and notary seal labels to send out game-winner certificates when someone gets bingo
2) Virtual happy hour. Happy hour is a team-building activity that's very easy to move online. Invite everyone to meet in video chat with the beverage of their choice and let the conversation happen naturally.
3) Virtual campfire. Send out personalized s'mores kits. Encourage people in the video chat to share scary stories, play music, and sing along to campfire songs. You can even share a YouTube campfire video for team members to cue up on their TV.
4) Play simple games online. One of our favorite games to play during virtual happy hour is skribbl.io, which is a basic drawing-based guessing game that's easy to pick up quickly.
5-minute activities you can do in group chat
Starting small is a great way to introduce new team-building strategies and techniques in the office. If you're tight on time, try these quick 5-minute team-building activities that are perfect for group chat.
5) Share online puzzles. Send your team a weekly link to an online puzzle. Use a free online puzzle site that lets you upload custom images, such as your company logo, a funny meme, or photos from past company events.
6) Have a GIF battle. Ask participants to submit GIFs on a theme such as (1) type your name in a GIF search and post the first result, 2) describe your day/week/weekend with a GIF, 3) start a sentence that participants must finish with a GIF.
7) Picture of your life. Help people get to know each other better with a photo challenge. For example: (1) share a pic from your weekend, (2) share a photo of your favorite meal, (3) share a pic of a family member that makes you laugh.
8) Meme of the week. Provide topic themes to get everyone started, like jokes about your specific industry, animals, or being a parent. Not only does humor brighten up your day, but research on shared laughter also suggests it's closely tied to social bonding.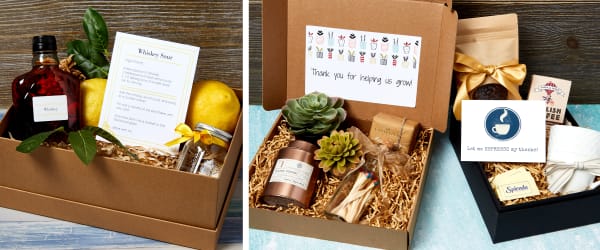 DIY team-building activities with appreciation gifts
Create curated appreciation gifts with personalized packaging to pull it all together. Mix it up from time to time and send gifts that go along with group activities to encourage socializing.
9) Next-level happy hour. Add a virtual bartending session to your happy hour. Send out personalized cocktail kits with ingredients so that everyone can make the cocktail together and enjoy it while catching up.
10) Quarterly happy mail. Surprise your team members with a package in the mail. Add a custom note card or shipping label to turn anything into a personalized gift. Whether it's tech gadgets, chocolate, wine, gift cards, or coffee and tea samplers.
11) Swag bag care kits. Gather together thoughtful items for your team. For example, a kit of relaxing items for during your busy season, or a TLC kit for cold/flu season with tissues, lip balm, sanitizer, tea, etc. Full coverage labels make it easy to print your own branded labels to fully cover existing ones.
12) Simply entertain them. Book tickets for your team to a virtual concert, magic show, or comedy performance. Sometimes the best team-building is done just by bonding over something fun and relaxing.
Promote personal growth with team-building activities
Team-building activities that include learning and growing create both stronger individuals and stronger teams.
13) Keep gratitude journals. Research investigating gratitude and well-being suggests that gratitude is linked to increased determination, attention, enthusiasm, and energy. Show your team how to create their own gratitude journal and encourage sharing reflections on gratitude in your weekly calls.
14) Take a fun virtual class together. From prominent ballet schools offering free ballet lessons online to free drawing classes, it's easier than ever to gather a team for a rewarding team-building experience.
15) Virtual lunch and learn. Send out e-gift cards to cover lunch, then gather the team online for videos from past conferences, an interesting webinar, or a LinkedIn Learning Course.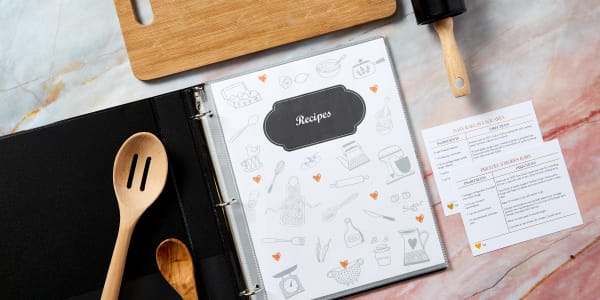 Remote activities that encourage sharing
Group activities that encourage sharing personal stories help your team form lasting relationships for better collaboration.
16) Recipe round up. Have your team submit a recipe on a theme like "rad cookie recipes" or "grandma's specialty" to assemble into a keepsake recipe book for the team. Gather together for a virtual potluck where everyone has tried making someone else's recipe.
17) Create a birthplace map. Ask participants to share their birthplace and add a "pin" to a virtual map to create a visual of everyone's "origin story."
18) 2 truths and a lie. Each day (or week) have a different team member share two truths and a lie about themselves. Have everyone guess which one is the lie.
19) Icebreaker questions. Grab a deck of icebreaker cards to start a conversation and help the team get to know each other. Draw one card per person, or draw one card and have everyone answer.
Cooperative online activities for groups
Cooperative games have a built-in teamwork dynamic that can act as a training session for real-life collaborative work.
20) Virtual escape room. A virtual escape room is an exciting team-building activity that requires cooperation to complete a range of clues, puzzles, and challenges before time runs out.
21) Virtual improv activity. Improv comedy is all about collaboration, communication, and teamwork. Why not sign the team up for a team-building improv class online? While they're busy laughing and bonding, your team is secretly learning how to follow each other's lead and bounce ideas back and forth.
22) WFH scavenger hunt. Create a list of photo ops your team can accomplish at home and divide the team into pairs or small groups to take pictures of themselves completing each task. The first group to submit photos of all the tasks wins!
23) Organize a Dungeons & Dragons game. If your team favors comic-con over fantasy football league, D&D is the perfect team-building game. D&D features a group of characters with specialized skills and a common goal. Much like the real world, no one can successfully play alone.
Pro Tip: Create name badges to help players remember to use each other's character names during a D&D game or virtual escape room with aliases.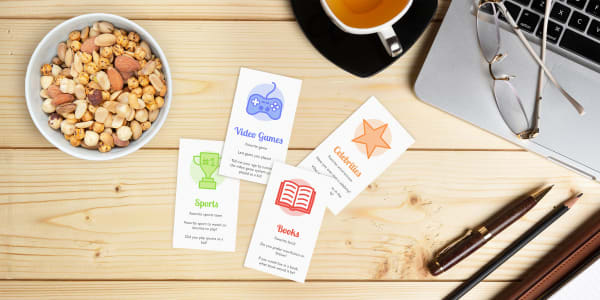 Activities that tap into your company's culture
Incorporate your company culture and branding with personalized team-building activities that foster team spirit.
24) Virtual Card Games. Create custom "expansion packs" for traditional board games that feature fun twists specific to your company or industry. Send the packs to your team and have players mix in their company cards to play on video chat.
25) Creative product challenges. Gather all those product samples lying around and challenge your team to use them to create works of art. Or give your team a product sample and challenge them to find at least three unexpected ways to use it.
26) "Hidden Talent" contest. Shake things up and get fresh perspectives by hosting in-house contests for artwork, slogans, product ideas, blog posts, etc.
27) Inter-departmental competition. Encourage team leaders and managers to coordinate small team-building activities (picture of the week, GIF challenges, etc.) and award "points" for participation. Award the department with the most points "bragging rights" and announce the champion in a company email.
More resources for team-building activities
We make it easy to find all the tools you need to create custom supplies for team-building activities, including fast, easy professional printing solutions.
Just want to send your team some appreciation gifts for all their hard work? Check out our gallery for personalized gifting templates.
What activities does your team do to keep the social capital flowing? Connect with us on LinkedIn or Facebook and share your thoughts.