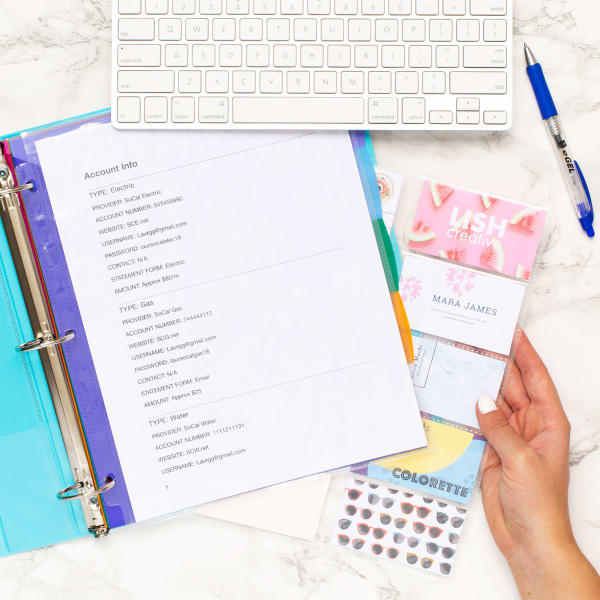 No need to hunt down loose bits of information when all your account information is together in one place.
Ever had to hunt down your last bank account password, or locate notes from your conversation with the insurance company? Save time—and the headache—by keeping all your important information together in one safe place, such as a binder. Here are five simple steps to put together your account organizer.
1. List out account details that are easy to forget and time consuming to look up, such as:
Account numbers
Websites
Log-in information, such as the username and password

Pro tip: Write your password down in code so that you and your family can figure it out but a stranger couldn't. For example, if your password is the first name of your oldest child followed by their date of birth and a question mark, write 'First born + DOB + confused.'

Contact numbers (and who you spoke with, if applicable)
How you receive your statements (mail, email or app)
Date of statement, and the amount (or an estimated average, if variable)—or a copy of that statement
Additional notes, such as a sequence of events if there was an issue you're trying to resolve
2. Do this for all your accounts, such as:
Mortgage/rent
Utilities such as electric, gas, water, trash
Cable/internet/streaming services
Cars
Insurance for your home, rental property, valuables and vehicles
Health insurance information, including doctors, dentists and specialists
Credit cards and banks
Investments and retirement accounts
3. Print these pages and place them into sheet protectors that are acid-free and archival-safe, so they won't lift print from your paperwork and will keep the contents inside secure.
4. Put those sheet protectors into a sturdy binder and use dividers to separate into categories for easy reference.
Pro tip: Organize business cards using business card pages to keep track of your service providers and quickly locate their contact information. The pockets make sure cards won't slip out, and they're acid-free and archival-safe so they won't lift the print off the cards.
5. Keep this binder in a safe place and make sure someone you trust knows where it is in case of emergency.
It may seem like a lot of work upfront, but you'll appreciate how much an organized binder of your account information will make life easier in the long run.
Build your own:
Durable Binder
Dividers for categories
Sheet protectors
Business Card Pages