Friends don't let friends leave the wedding empty handed. Be sure to thank wedding guests for sharing your special day with a token of your appreciation. These tasty takeaways are easy to put together, thoughtfully personalized and sure to be remembered.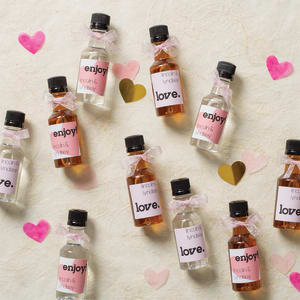 Cake-in-a-jar
Fill canning jars or other glass little containers with a scrumptious serving of your wedding cake your guests can take home and enjoy later. Add a personalized label around the jar to match the occasion, a wraparound label across the top of the jar as a seal and don't forget the spoon!
Bottles of cheer
What's up, party people? Let's be real. Nothing against those traditional Jordan almonds *snooze* but what about booze? Personalize mini bottles of liqueur, wine or champagne with labels or attach printable tags around the neck.
Sweet snacks
There's a wait for the couple to arrive, for the meal, for the toast. And with all that waiting, a little sugar boost can come in handy. Take care of your guests' snack attacks with decorated cookies, macarons, or other snackable goodies wrapped up with cellophane, all bundled up with a ribbon and printable tag.
Candy cravings
From full-size candy bars to individual chocolate bites, personalized labels can deck out your delectables for any occasion. Create your own custom candy wrappers with free printables—simply personalize and print.