Kids room, toy storage, lunchtime, oh my! We're covering it all.
Getting kid clutter under control can feel like a never-ending battle, but it's easier to do if you have a plan. Whether you're starting fresh for a new year, a new season or just need to press pause for a refresh, it's never too early (or too late) to start organizing kids' stuff.
Put your plan into action with these five mom-approved organization ideas for taming the kids' clutter— and help kids practice good "helper habits."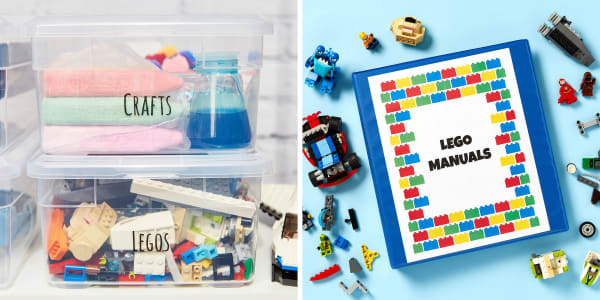 Give everything a place and get specific if you need to. Plastic bins with
tidy labels
are a classic for a reason, but consider less conventional toy storage ideas like organizing Lego® manuals in
a durable binder
.
1) Take the guess work out of organizing: give everything its own place
"A place for everything and everything in its place" is a classic organization mantra for a reason. Clearly labeled storage bins make it easier for kids to practice helping to put away things because they don't have to figure out where items go each time.
There are a few other great reasons for organizing with labeled bins— aside from giving you break from an endless refrain of "mom, where does this go?" Firstly, bin storage keeps toys "out of sight, out of mind," which removes distractions during distance learning hours and helps kids fully enjoy the toys one at a time.
Secondly, defined space limits can help tame your kids' toy collection. If you follow the "one in, one out" rule (when a new toy comes in, one that's no longer age appropriate, broken or otherwise unused must be discarded) limited space helps you stick to it. Otherwise, if the bin can't be closed, it's time to purge.
2) Must-do organization idea for toys: get really specific if you need to
Most times you can get away organizing toys by broad categories like "dolls & stuffed animals," "board games" etc., but there are some toys parents know are just beasts. For example, Lego® and other building block toys or model kits of any kind.
Sometimes your kids also have a very specific interest or hobby that might need to be broken down into several containers. For example, a budding artist might have a bin for just painting supplies and one for just coloring supplies.
Don't feel pressured to cram everything into big storage containers. Getting specific will make it easier for kids to find what they need and put stuff back where it belongs.
Do get creative and think outside of the storage bin. Try a binder to keep track of Lego® instruction manuals or using file folders to organize coloring books.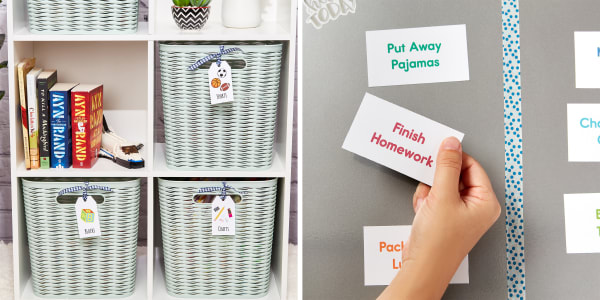 Organize toys in the family room using printable basket tags that are easy to switch out as kids outgrow certain toys. Create fun magnetic chore charts on the fridge or in their rooms with printable magnetic cards.
3) Help littles learn to organize and clean up after themselves
Teaching good habits early can set your kids up for being organized their whole life. Instead of a catch-all toy bin in the family room, try designated baskets for different types of toys. Not only does it help clear up kid clutter, but sorting and classifying is actually good for cognitive development.
Using pictures to designate the baskets helps makes it easy for preschoolers to practice being good helpers by matching the toy with the right basket. As a bonus, picture tags on toy baskets are like a practical, everyday flashcard for little kids learning to read.
Pro Tip: Picture-tagged baskets are great for the closet too. Especially for items that aren't hung up like socks, underwear and accessories.
Another way to help teach kids to be good helpers is to help them take ownership of keeping their own stuff in order and keeping their own space clean. Putting kids' chores on magnets makes helping and keeping their stuff tidy seem more fun, while in reality it's just very practical.
For our magnet project pictured above, we covered printable magnetic business cards with a self-laminating sheet to instantly make our magnets easy to clean and disinfect— a must have for little hands!
Categorize lunch and snack foods with simple instructions to help kids build their own lunches. Separate seldom-worn clothing from every day clothing so it's easier for kids to keep their clothes tidy.
4) Stop the lunchtime madness with kitchen organization for kids
"Is it lunch yet?" So many parents are overwhelmed working from home and having to be in constant "chef mode." Whether your student is returning to the classroom or distance learning, set them up to be more independent in 2021, starting with helping to prepare their own lunches and snacks.
Organize lunch and snack items to help your kids learn to build a balanced lunch on their own. Putting kids in charge of choosing their own lunch and snacks each day gives them a confidence boost and saves you from the daily lunchtime rush.
Start by organizing lunch and snack items by food group (drinks, veggies, fruits, protein, dairy/calcium rich, etc.). Set up bins for each food group in the fridge and for the pantry or countertops. Use small containers or zip-top bags to portion any items that aren't individually packaged into individual servings.
Add durable kid-friendly labels with instructions to help kids pick the right serving of each item. For example, veggies and fruits might have a label indicating "Pick 2" while a drink might have a label indicating "Pick 1." Let the kids build their own lunch by picking the indicated servings from each bin.
5) Closet organization ideas for kids clothes
Kids grow out of clothes incredibly fast. The best way to help them keep their closets tidy is to regularly purge and make sure that wearable everyday items are easy to access. Here's a simple plan for better kids closet organization:
Start with sorting the kids clothes into three containers or piles: toss, donate, seasonal/special occasion. Toss anything that is severely damaged or stained. Donate clothing they've outgrown, refuse to wear or has minor damage and/or stains.
For seasonal and special occasion outfits, use simple garment bags and printable tags to separate formal wear, costumes and items that are currently out of season. Then start adding clothes back to the closet based on use.
Formal wear & costumes all the way in the back
Next, out of season items like heavy rain coats in summer, bathing suits in winter, etc.
Current and transitional clothing like light sweaters or jackets at the front
This closet organization idea is perfect for getting seldom-used items out of the way so kids can easily see and access viable choices. No more pulling everything out of their closet looking for something to wear or wearing the same hoodie every day because they don't want to dig through the closet.
Explore more organization ideas to start 2021 fresh, or refresh any time
Getting organized isn't a one-time activity that's a magical fix forever. It's a process that good planning and clever ideas can help make achievable on a day-to-day basis. If things get messy, that's okay. Life is messy. You can always pause, take a deep breath and organize your space.
From organizing kids' stuff to getting your pantry in order or decluttering after the holidays, explore all these home organization ideas (and more) any time you need a refresh.
Supplies to recreate our featured organization ideas