Clear, concise communication not only helps a facility run more smoothly, but also helps reduce workplace accidents and injuries. Using safety labels can help standardize practices so your employees can easily communicate dangers, protective measures, and first aid information as well as cover routine inspections and avoid hazards.
OSHA & Safety Labels
In October 2018, Occupational Health & Safety Magazine reported on a live announcement from Patrick Kapust, Deputy Director of the Occupational Safety and Health Administration (OSHA). As of Kapust's speaking engagement, OSHA had cited four thousand five hundred and fifty two Hazard Communication (HazCom) violations. Fall Protection violations (General Requirements, regulation 1926.501) had reached nearly eight thousand cases.
In fact, these two types of violations were the two most common types of all OSHA violations in 2018. GHS safety labels for chemicals played a significant role in the high number of HazCom violations. Using safety labels to effectively communicate hazards and restrictions can also help prevent fall injuries.
Do you know if you need to be worried about GHS chemical labels?
GHS chemical safety labels are a specific type of safety label needed for hazardous chemicals in the workplace, but there are exceptions. Of course, GHS chemical safety labels are crucial for chemical manufacturers, importers and distributors, but there are certain situations where other types of employers must consider them as well.
If you keep cleaning solutions on hand for occasional tidying up around the office, there is no need for safety labels that fall under the OSHA HazCom standards (although, you should always be aware of the hazards related to those cleaning supplies even if GHS chemical label standards do not apply). On the other hand, if you have a dedicated employee and/or team for cleaning the office, the cleaning supplies they use must have safety labels that meet the OSHA HazCom/GHS label standards.
What Makes Industrial Safety Labels Different?
Industrial safety labels differ from standard labels in three key ways: durability, adhesive power and print preservation. GHS chemical safety labels must fulfill very specific requirements in these categories. When looking for safety labels for your facility, it's important to consider the wear and tear of industrial use as well as the types of surfaces on which you will be using the safety labels.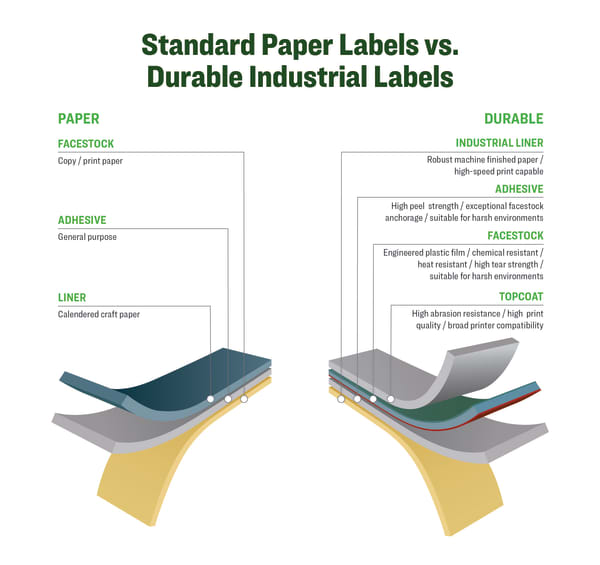 Industrial Safety Labels Must Be Durable
In general, industrial safety labels should be able to withstand daily wear and tear in a heavy-duty workspace. At the very least, industrial safety labels should resist moisture, scuffing, tearing and smudging and should stick to a variety of materials.
(H3) OSHA Compliance is a Must for HazCom Safety Labels
Safety labels for chemicals must stand up to even tougher demands. These types of safety labels need to stick to metal, plastic, painted surfaces, fiber, polycarbonate and glass, plus they should be waterproof, resistant to chemicals, abrasion, UV and extreme temperatures.
In order to ship hazardous chemicals overseas, GHS chemical safety labels also have to pass strict tests for International Maritime Dangerous Goods (IMDG) certification, specifically BS5609 Section 2 and 3 tests. BS5609 Section 2 and 3 certification includes ninety days submerged in sea water and artificial weather tests with salt spray and UV rays (for both the label and adhesive material as well as the print added to the label).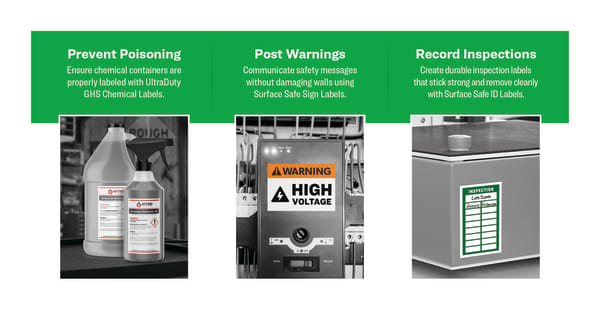 How Can I Use Safety Labels to Make My Facility Safer?
Prevent Poisoning with Chemical Safety Labels
Whether you're shipping hazardous chemicals overseas or keep cleaning solution on hand for break room spills, hazardous chemicals should always be clearly labeled. In 2017, the National Capital Poison Center (Poison Control) reported 109,563 cases of cleaning substance poisoning in the U.S.
According to Poison Control, these types of poison exposures are "nearly always unintentional." Help your workers avoid accidental poisoning by ensuring proper safety labels on all hazardous chemicals in your facility.
UltraDuty® GHS Chemical labels from Avery are waterproof, resistant to chemicals, abrasions, UV rays and extreme temperatures. Not only do these chemical safety labels stay put on metal, plastic, painted surfaces, fiber, polycarbonate and glass surfaces, but they're also BS5609 Section 2 certified, and Section 3 certified with approved printers.
Post Warnings with Safety Labels for Industrial Surfaces
Under OSHA regulation 1910.145 (General Environmental Controls), employers are responsible for the use of signs or symbols to communicate specific hazards that could harm workers, harm the public, or damage property.
Effectively communicate hazards, safety instructions and restrictions to your employees with that work in an industrial setting. For example, restricting access to areas under construction and/or being remodeled can keep untrained employees from encountering a wide range of hazards including falling.
For standard industrial use, Avery Surface Safe® Sign Labels are designed to stick to drywall, doors, glass, and stainless steel and made of durable polyester that resists water chemical and abrasion damage. Available in a variety of sizes, these safety labels are the right tool for the job when it comes to intense industrial use and other heavy-duty workspaces.
Use Custom Safety Labels to Record Inspections
Regularly inspecting equipment, supplies and work areas is the best way to make sure your facility is running smoothly and safely. Maintaining an inspection routine that runs like clockwork can be daunting in the face of daily business challenges.
Recording inspection information on safety labels makes it quick and easy to visually assess needs. Visible updated inspection records also communicates to workers that you value the safety of your employees and your facility.
Safety labels that remove cleanly are a practical and efficient way to display inspection records directly on equipment. Avery Surface Safe® Durable ID labels are water and chemical resistant, adhere securely to metal, plastic and glass, yet remove clean with no residue.
Make Custom Safety Labels Work for You
Avery® Industrial supplies custom safety labels specifically designed to work for industrial users. Durable, with adhesives that stick to a variety of industrial surfaces, you can use Avery safety labels in warehouses, manufacturing facilities and construction sites with confidence.
Custom Safety Labels Whenever (and Wherever) You Need Them
When you need to address a safety issue, Avery delivers reliable, convenient on-site printable safety labels. There's no need for special equipment, you can print on-demand from your own printer any time.
Free Safety Label Resources & Software
Not a design expert? Not a problem. With free industrial templates and the Avery GHS Wizard, all you need is the label. Choose from hundreds of industrial safety label designs with no need for additional software or professional graphic design skills.
Custom Safety Label Printing, Low-Minimum
If you choose not to print yourself, Avery WePrint™ can print your safety labels for you. Order as little as one sheet and get your safety labels in as little as three business days. Exceptional print quality and no setup fees.
How to Reduce OSHA Violations in Your Workplace— The Easy Way
Quick & Dirty Guide to GHS Chemical Labels: Everything You Need to Know Right Now