Create Custom Name Badges Online
Hosting a business meeting or school event? Or looking for an icebreaker for your next social gathering? Avery Adhesive Name Badges are the fastest way to make a great first impression. Customize yours for school with a picture of the school mascot, for business with your company logo and/or tagline, and for social events with personal photos. Our soft, flexible name badges are designed to move with clothing so they stick firmly—without falling off, lifting or curling. And the unique Peel-Away Design makes badges easy to separate from the label sheet and distribute, while keeping the backing intact until ready to use. Follow these steps to create your own name badges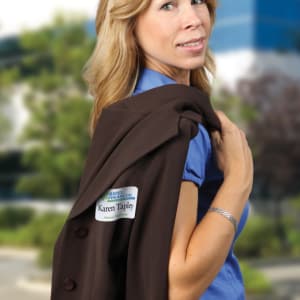 Step 1: Start a New Project
Go to Avery Design & Print Online, and click "Start Now."
Step 2: Choose Your Avery Product
Select the category, "Name Badges" from the list on the left. Select your specific product from the right. For this project, you'll select one of the "Self Adhesive Name Badges" from the list. Then click "Next."
Step 3: Choose a Design
With Avery Design & Print Online, you can choose from several pre-designed templates, or create your own. Choose a design now. For a basic template, you'll find one under "Most Popular."
Step 4: Customize the Appearance
There are three ways to design your name badges:
1. Choose the "Quick and Simple" option if you're just entering text and/or replacing the graphic with another image.
2. Choose "Enhanced Editing" for more advanced design tools: add and resize images, text boxes and shapes, and customize each name badge or apply the design to the entire sheet.
3. Choose "Mail Merge" if you're looking to make several name badges quickly by merging the data from a spreadsheet. You also have access to the "Enhanced Editing" design tools. At the bottom of the page, Avery Design & Print Online will tell you how many product sheets you'll need for your print job.
Step 5: View Instructions and Print
You've now completed all your edits. But before you print, we recommend that you click "View Instructions" first. When you're done, click "Print Your Project." For guaranteed results, use only Avery brand products.
Step 6: Save
After you print, click "Next" and click the "Save Your Project" button. Your project will be saved in the Avery Design & Print Online format. This allows you to open and edit the project in the future using Avery Design & Print Online.