5 Easy Tips to Avoid the Most Common OSHA Violations

What are the most common OSHA violations?
Would it surprise you if we told you that the most common OSHA violations don't actually change much year to year? In fact, the top-cited violations tend to remain the same, merely changing positions in the top ten lineup. However, above all the others, there are three OSHA violations that tend to hover at the top of the list: Fall Protection (general), HazCom, and Respiratory. In fact, general Fall Protection violations have held the top spot for the past 12 years.
Of course, each year OSHA releases new data for workplace safety in the previous fiscal year. From this data, a yearly top ten list of violations is compiled. To begin with, OSHA releases the list annually in September or October, at the National Safety Congress (NSC) Safety Conference & Expo. Then full reports are released the following April.
Shop workplace safety supplies
Fall Protection is by far the most common OSHA violation. Make sure you're fall protection plan includes adequate signage to help alert employees.
What were the most common OSHA violations for the past year?
The 2022 fiscal year includes from October 1, 2021 to September 30, 2022. At the NSC Safety Conference & Expo (September 19 through September 21) OSHA released a preliminary report for the 2022 fiscal year. Notably, general Fall Protection for construction has taken the number one spot for the 12th year running. Here are the top ten most common OSHA violations for the 2022 fiscal year so far:
Why should you care about them
Obviously, keeping employees safe and healthy is always the top priority. However, the reality is that avoiding common OSHA violations (and compliance in general) is also crucial for your business. Indeed penalties for OSHA violations are no joke. They range from $14,502 per violation to $14,502 per day beyond the abatement date up to $145,027 for repeated or willful violations.
Understanding the top three most common OSHA violations
Fall Protection, construction
Employers failed to protect workers from falling off platforms, elevated workstations and/or into holes in the floor and walls.
HazCom, general industry
Failure to communicate to employees the risks posed by exposure to hazardous chemicals in the workplace. Either by not having an adequate hazard communications program or not having a HazCom program in place at all. Includes regulations regarding GHS labels and SDS.
Respiratory Protection, general industry
Failure to protect workers from breathing contaminated air. For example, failing to prevent contaminated atmosphere or failure to provide, maintain, and require fit-tested air-purifying respirators for each employee.
Regular inspection is critical any safety program and can help you avoid OSHA violations. Make sure you have durable inspection tags readily available for your team.
What you can do about potential issues right now
Creating a successful safety program relies on top-down leadership and employee training, as well as identifying and resolving potential hazard issues. Likewise, you can apply the same approach to help avoid common OSHA violations long term. In the meantime here is what you can do right now to help resolve potential issues quickly.
First, conduct a facility-wide inspection by management or trained employees. During the inspection, prioritize potential hazards. Set aside concerns about efficiency and workflow, which you can address at a later time. Communicate any discovered hazards and how to avoid them. For example, post signage to keep unauthorized personnel out of areas that require fall protection gear or areas where hazardous chemicals are stored.
Next, create a plan to address the hazards. Some may have easy fixes like providing more PPE, others may require more long-term controls. For instance, installing guardrails on an elevated surface. Then review your current safety program and make updates if necessary.
Easy tips to help you avoid the most common OSHA violations (and more)
Of course, it's a great idea to update your facility to avoid the several common OSHA violations that remain in the lead year after year. However, it's worth the time to look for easy fixes across all of the violations that make the OSHA top ten list. Here are 5 easy tips that you can implement immediately, even if more long-term solutions are required.

Learn about Avery Industrial solutions for quickly creating temporary safety signage.
1) Quickly alert workers to fall hazards
Installing engineering controls such as guardrails take time to plan and execute. In the meantime, if you want to avoid common OSHA violations it's important to quickly alert workers to potential safety hazards.
Luckily, quick safety signage is easy to achieve using Avery Industrial products and tools. With our printable adhesive safety signs for standard desktop and office printers you can have a sign in place in just a few minutes. Or, have us print safety signs for you. The turnaround is quick (ships in about three days) and either way, installation is way faster than mounting a sign with screws, etc.
2) Organize fall training records for inspection
Make sure hard copies of training and inspection certification records are intact and legible. Store them in a neatly organized in binder with dividers, or keep them super accessible with hanging magnetic binder rings. Keeping records neat and easy to find will help you avoid getting dinged for a common OSHA violation because the inspector couldn't find the right records.
You may also consider backing up hard copies with digital files. A simple QR code label will allow OSHA inspectors to access digital records with a smartphone.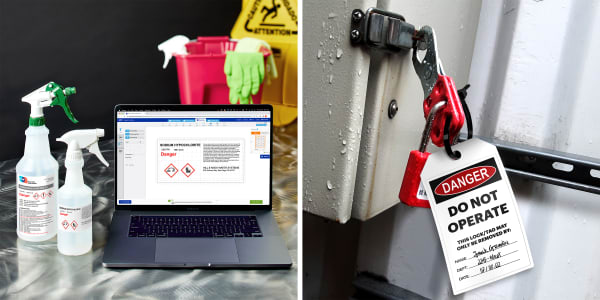 Quickly create safety labels and tags onsite and print them on standard desktop or office laser printers. Avery online design software such as the GHS Wizard make it easy!
3) Update GHS & chemical safety labels
Creating your own OSHA-compliant GHS labels is a relatively quick win if you have the right tools. Our GHS Wizard® label design software features a huge database of chemicals and substances powered by Chemwatch™. You can autofill predesigned GHS label templates in under five minutes. Since HazCom is usually the second most common OSHA violation, it's really worth making sure your secondary chemical containers are properly labeled.
If you manufacture or ship chemicals, it's also good to know that our UltraDuty® GHS labels are certified for BS5609 Section 2 and Section 3 with recommended printers. In fact, we wrote a whole article about BS5609 Section 3 compliance and printer compatibility for Avery GHS labels.
4) Inspect, sort, and mark ladders
The standard for ladder safety is clear, yet still remains a very common OSHA violation. According to OSHA, a trained person should inspect ladders at a minimum of once before initial use at the start of every shift. If a ladder does not pass inspection they must immediately mark it "Dangerous Do Not Use" in accordance with 1910.145. Then, they must remove the ladder from service until repaired. OSHA-compliant ladder inspection tags and other safety tags (i.e. Do Not Use, Repair, Out of Service, etc.) are essential supplies for proper ladder inspection and maintenance.
5) Review and update lockout/tagout tags
Review safety labels and tags, facility-wide. If a label or tag is required by OSHA (for example, LOTO tags) you must ensure that the label or tag is not only present, but intact and legible. Replace old, damaged labels and tags with durable industrial-grade labels and minimum 50lb pull-strength tags that meet OSHA requirements.
The most common OSHA violations and your next steps
In summary, OSHA provides a list of the top ten most common violations each fiscal year. A preliminary list is released in early fourth quarter and then a full report is released in April the following year. The top ten most common OSHA violations for the 2022 fiscal year were:
Fall Protection
HazCom
Respiratory Protection
Ladders
Scaffolding
Lock Out/Tag Out
Powered Industrial Trucks
Fall Protection Training
Eye and Face Protection
Machinery and Machine Guarding
It's important to avoid common OSHA violations because the fines are hefty, and of course, it's your first duty to protect the health and safety of your employees. A successful safety program can help you stay compliant, however, there are things you can do right now to get on the right track if you're concerned.
Firstly, conduct a facility-wide inspection that prioritizes potential hazards. Then, communicate any hazards that have been identified during inspection, and do this as quickly as possible. Next, create a plan to address the hazards. Finally, review your safety program and make updates as necessary.
Additionally we have five tips that can help you pick off low-hanging compliance fruit, so to speak. One, stock up on durable adhesive signs that you can print from your desktop to make safety signs as needed. Quickly alerting workers to fall hazards helps prevent needless injury and/or incidents. Two, neatly organize your fall training and inspection certification records with binders or hanging magnetic binder rings. You'll kick yourself if you get a violation simply because you couldn't find the right paperwork for an OSHA inspector to view.
Three, quickly update your chemical labels in house with durable GHS labels and GHS Wizard software. Four, inspect ladders at the start of every shift, immediately mark unworthy ladders with durable "Dangerous Do Not Use" tags and remove them from service. Five, review and update safety labels and tags. Replace old or damaged ones with durable industrial-grade labels or tags.
Fortunately, Avery Industrial products and tools make it easy to get started on your next steps for OSHA compliance. Especially with our five tips for knocking off the "low-hanging fruit." Why not get started now?
Shop Avery Industrial safety supplies
Please note, the contents of this article and related articles on avery.com/industrial are for informational purposes only, are general in nature, and are not intended to and should not be relied upon or construed as a legal opinion or legal advice regarding any specific issue or factual circumstance.