4 Quick Tips to Help You Ace OSHA Secondary Container Labeling

What you need to know to get started
Generally speaking, labeling secondary containers for chemicals is often confusing. This is because it usually doesn't involve manufacturing or distributing hazardous chemicals. If it did, the GHS label requirements (which we wrote about here) would be more straightforward. Instead, since you only need secondary containers for chemicals used within the workplace, there is a bit of a gray area. For this reason, it's quite important to review a few key terms related to secondary container labeling.
More articles you might like: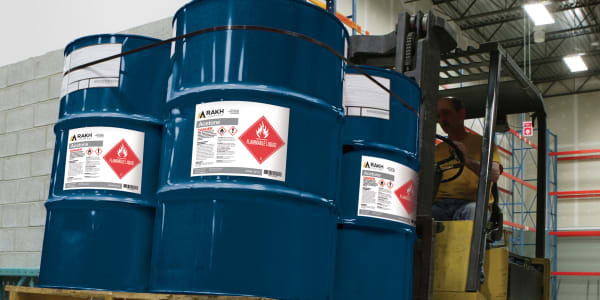 Primary containers are the containers that the chemicals arrive in. These are often large containers such as drums, tanks, barrels, or cylinders.
Primary container definition
To begin with, OSHA considers the original container in which a chemical arrives from the supplier to be the primary container. In other words, the primary container is the container that the manufacturer puts a hazardous chemical in for shipping. In order to be OSHA-compliant, the primary container label must always be a GHS chemical label.
Secondary container definition
Once you have transferred a chemical from its original container (the one it came in from the manufacturer) to a new one, OSHA considers that to be a secondary container. In general, secondary chemical containers must follow the same GHS chemical container label guidelines as primary containers, however, there are a few exceptions.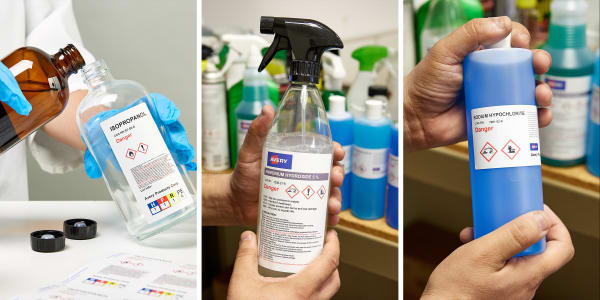 A variety of small bottles like the ones we use in the Avery office are all great examples of secondary containers.
Secondary container examples
Secondary containers are usually smaller containers, for example, chemical transfer containers such as a beaker or test tube in a lab. Or containers for cleaning solutions such as spray bottles and jugs. However, secondary containers may also be quite large. For instance, workers may combine chemicals from multiple primary containers into large drums and stationary tanks for a manufacturing process.
Immediate Use Definition
According to OSHA HazCom Standard 1910.1200(c) Immediate Use, "the hazardous chemical will be under the control of and used only by the person who transfers it from a labeled container and only within the work shift in which it is transferred." In other words, this means when a single person pours chemicals from a primary container into something else and uses them right away rather than storing them or sharing them with other workers.
Work Area Definition
Section 1910.1200(c) defines a Work Area as a room or defined space in a workplace where hazardous chemicals are produced or used and where employees are present. For example, a bathroom where workers use bleach or ammonia to disinfect and clean surfaces is a work area, according to OSHA.
OSHA secondary container requirements
OSHA outlines the labeling requirements for secondary containers (that do not qualify for exemption) in HazCom standard 1910.1200(f)(6)(ii). We've summarized these requirements in plain language below.
Required information when chemicals are stored in a secondary containers
Product Name/Identifier: How the chemicals are identified on the SDS (i.e., chemical name, code number, or batch number)
General Hazard Statement: The general physical and health hazards associated with the chemical (communicated by pictures, symbols, or any combination thereof)
Secondary container exemptions
As previously mentioned, secondary containers can be exempt from GHS labels if they meet specific conditions. Firstly, the chemicals transferred to the secondary container must be intended for immediate use. Secondly, the employee who transferred the contents from the primary container must use them.
One example of an exempt secondary container would be a bucket or tub used to dilute solvents for cleaning during the same shift. But what happens if you have extra mixture left over at the end of the shift? Of course, you can store the leftover cleaning solution that you originally intended for immediate use. However, you must be careful to label them properly with a GHS chemical label.
Differences between primary and secondary container labels
Secondary Container Labels
Should withstand chemicals and heavy-duty environments
Product Name/Identifier
Signal Word
General Hazard Statement
Pictograms
Supplier Identification
Precautionary Statements

Product Name/Identifier
General Hazard Statement
Secondary container labeling tips
1) Start with OSHA-compliant SDS
Unquestionably, every primary container containing hazardous chemicals should arrive from the supplier with an OSHA-compliant Safety Data Sheet (SDS). And both the label and the SDS should follow GHS standards. The information on the SDS, especially, is necessary to create GHS chemical labels that are OSHA-compliant.
Before attempting to label any secondary container for chemicals, double-check that you have received updated SDS from all upstream suppliers. This ensures you have all the required information for creating secondary container labels that are compliant.
2) Play it safe with GHS labels for all chemicals
OSHA HazCom standards allow for some limited flexibility when labeling secondary containers. For example, primary containers require six well-defined elements, while secondary containers have less strict, more nuanced specifications. It's important to note that the less stringent requirements for secondary containers must be accompanied by ancillary information (such as safety data sheets) that is readily available to employees. This ensures employees always have access to specific information regarding hazardous chemicals in the workplace.
Legal benefits of following GHS for secondary container labeling
Additionally, OSHA directive CPL 02-02-079 reiterates that OSHA still holds employers accountable regardless. For example, when they choose to use alternative labeling methods for secondary containers, employers are still responsible for employee hazard awareness. Employers who are facing enforcement actions must show that they told their employees about the dangers of the chemicals they use in a way that is at least as good as the way the GHS labeling system would have told them.
It's easy to see how these minute and specialized distinctions provide opportunities for error. Which is a problem since enforcement actions can range from citations to civil suits and criminal charges. The best way to ensure your secondary containers pass OSHA inspection is to play it safe and use the full GHS label on all chemical containers. This means following the GHS standards for labeling primary hazardous chemical containers, regardless of the transference of contents or intended use.
3) Choose durable secondary container labels
You've consulted the SDS from the supplier. Your secondary container label contains all six required elements. Your chemical safety labels are compliant, right? Wrong.
Even if you follow all OSHA guidelines, if you fail to properly label secondary containers, OSHA can still cite you for a HazCom violation. In other words, a proper GHS label doesn't count if it falls off the container or is illegible from damage. For this reason, we recommend choosing durable, waterproof labels designed for use on chemical containers so that you can avoid this common OSHA violation.
As a matter of fact, our 3-1/2" x 5" UltraDuty® GHS chemical labels (60503) are a great, versatile option for secondary labeling. Firstly, these labels are a good size for a variety of containers, such as spray bottles, tubs, and jugs. Secondly, all our UltraDuty GHS labels are made from durable film that's waterproof and resistant to chemicals, abrasion, UV, and extreme temperatures, combined with a strong permanent adhesive. Thirdly, these are designed to work with standard laser printers, and doing so ensures the ink on the label won't smudge or bleed. Of course, we've written before about using the right printer with your labels, but for compliant safety labels, it's extra important. Altogether, the material's durability means your labels will stay intact and legible.
Shop all printable UltraDuty GHS labels.
4) Make it easy to update secondary container labels: print them onsite
Instead of putting in a custom order every time you need to update secondary container labels, you can create and print your own onsite quickly and with very little setup. In fact, you likely already have most of the items you need to get started, i.e., a laptop or computer, a laser or pigment inkjet printer, and an internet connection. Our printable GHS labels and a free Avery account are all you really need to add to your existing setup; however, our subscription-based GHS Wizard software® amps up your efficiency even further.
For example, you can create your own GHS labels using free tools in Avery Design and Print Online, and typing in all information from the SDS manually. However, when you use the GHS Wizard, you can actually create compliant GHS labels in just minutes. This is because the GHS Wizard automatically fills in the following information for over 30,000 different chemicals and substances:
Product Identifier
Signal Word
Hazard Statements
Precautionary Statements
Pictograms
When it's so easy and fast to create full GHS labels, why not use them for secondary containers so that you know you're covered? If you've never used our online software before, you can read this step-by-step tutorial for how to create GHS labels using the Avery GHS wizard to quickly get an idea of how it works.
How to successfully label secondary containers
In summary, we've discussed the labeling requirements for secondary containers that hold hazardous chemicals. Secondary containers are those that are not the original containers that the chemical came in from the manufacturer. They can be smaller containers, such as spray bottles and buckets, or larger containers, such as drums and tanks.
The most important thing to remember about OSHA secondary containment requirements is that the following elements are required: 1) The product name or identifier, and 2) the general hazard statement. Additionally, if an employer chooses to use alternative labeling methods for secondary containers, they're still responsible for employee hazard awareness regardless.
Fortunately, there are four things you can do to help you ace the OSHA secondary labeling requirements:
Start with an OSHA-compliant SDS. The information on the SDS will be necessary to create GHS chemical labels that are compliant.
Play it safe with GHS labels for all chemicals. Even if a secondary container is exempt from the GHS labeling requirements, using a GHS label anyway is the best way to warn employees of the dangers of the chemicals they are using.
Choose durable labeling products. For example, Avery UltraDuty GHS labels are waterproof and resistant to chemicals, abrasion, UV, and extreme temperatures.
Make it easy to update secondary container labels. With the Avery GHS Wizard, you can create compliant labels in just minutes.
Explore more ways to create GHS and chemical labels and join the safety conversation on LinkedIn.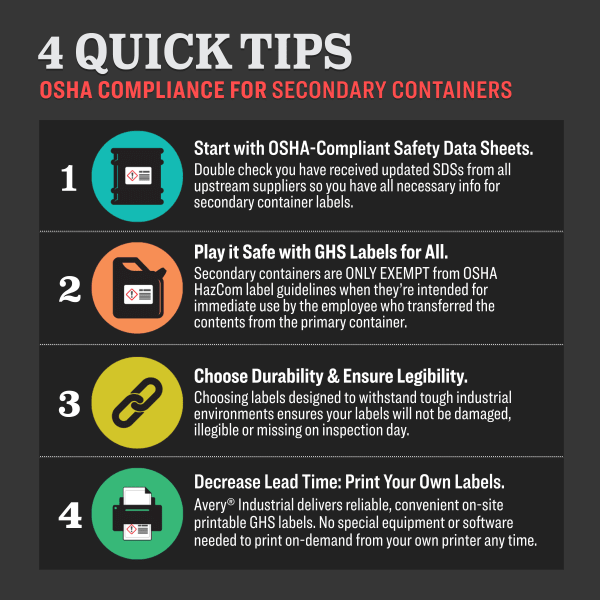 Please note, the contents of this article and related articles on avery.com/industrial are for informational purposes only, are general in nature, and are not intended to and should not be relied upon or construed as a legal opinion or legal advice regarding any specific issue or factual circumstance.