4 Quick Tips to Help You Ace OSHA Secondary Container Labeling
What Does Secondary Container Mean? And Other Terms to Know Before Starting
Labeling secondary containers for chemicals is often confusing because it generally doesn't involve manufacturing or distributing hazardous chemicals, but rather using them in the workplace. In order to be sure your secondary chemical labels are OSHA-compliant it's important understand a few key terms.
Primary Container Definition
The original container in which a chemical arrives from the supplier is considered the primary container. The primary container label for a hazardous chemical should always be an OSHA-compliant GHS chemical label and contain all information needed to create a compliant secondary container label.
Secondary Container Definition
Once you have transferred a chemical from its original container (in which it arrived from the supplier) to a new one, that container is considered secondary. Ideally secondary chemical containers should follow the same GHS chemical container label guidelines as primary containers with a few exceptions.
Some examples of secondary containers include, chemical transfer containers (such as a beaker or test tube in a lab), spray bottles, large stationary tanks and smaller containers used to store chemicals that arrived larger primary containers.
Immediate Use Definition
In relation to the use of hazardous chemicals, OSHA HazCom Standard 1910.1200(c) defines Immediate Use as "the hazardous chemical will be under the control of and used only by the person who transfers it from a labeled container and only within the work shift in which it is transferred."
Work Area Definition
Section 1910.1200(c) also provides a clear definition for Work Area as "a room or defined space in a workplace where hazardous chemicals are produced or used, and where employees are present."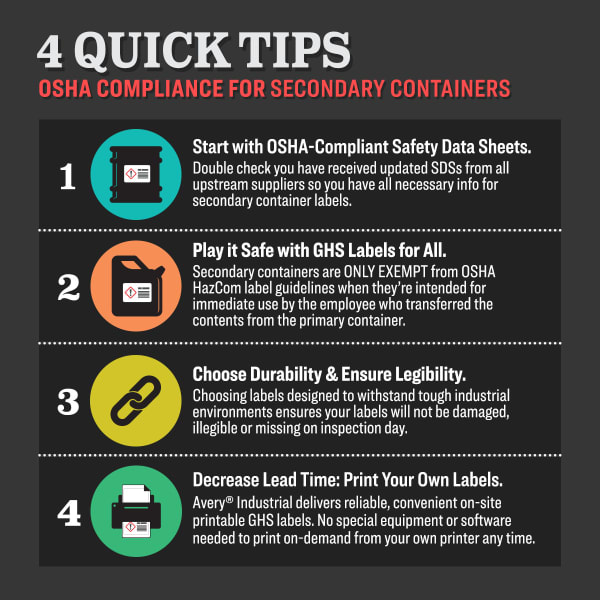 Tip #1: Start with OSHA-Compliant Safety Data Sheets
Every primary container containing hazardous chemicals should arrive from the supplier with an OSHA-compliant Safety Data Sheet (SDS) that follows GHS standards. The information on the SDS is necessary to create GHS chemical labels that are OSHA-compliant.
Before attempting to label any secondary container for chemicals, double-check you have received updated SDSs from all upstream suppliers. This ensures you have all the required information for creating secondary container labels that pass on inspection day.
Tip #2: Play it Safe with GHS Labels for All Chemical Containers
OSHA HazCom standards allow for some limited flexibility when labeling secondary containers. For example, there are six clear elements required for primary containers but less strict, more nuanced specifications for secondary containers.
It's important to note that the less stringent requirements for secondary containers must be accompanied by axillary information (such as safety data sheets) that is readily available to employees. This ensures employees always have access to specific information regarding any hazardous chemical in the workplace.
Information Secondary Container Labels Must Contain
OSHA labeling requirements for secondary containers (that do not qualify for exemption) are outlined in HazCom standard 1910.1200(f)(6)(ii) and summarized listed below.
Product Name/Identifier. This should match the product identifier on the safety data sheet.
General Hazard Statement. This can be communicated with words, pictures symbols or any combination thereof" that provides at least general physical and health hazards associated with the chemical.
Secondary Container Exemptions
Secondary containers can be exempt from GHS labels if specific conditions are met. Firstly, the chemicals transferred to the secondary container must be intended for immediate use. Secondly, they must be used by the employee who transferred the contents from the primary container.
One example of an exempt secondary container would be a bucket or tub used to dilute solvents for cleaning during the same shift. However, you must be careful that leftover cleaning solutions and other chemicals originally intended for immediate use are not stored without a proper GHS chemical label.
How to Protect Your Company
Additionally, OSHA directive CPL 02-02-079 reiterates that the employers who choose to use alternative labeling methods for secondary containers are still held accountable for ensuring employee hazard awareness. Employers facing enforcement actions (ranging from citations to civil suits and criminal charges) must prove the hazards were communicated to employees at a level equal to or exceeding what would have been accomplished using full GHS labeling methods.
It's easy to see how these minute and specialized distinctions provide opportunities for error. The best way to ensure your secondary containers pass OSHA inspection is to play it safe and use the full GHS label on all chemical containers. This means following the GHS standards for labeling primary hazardous chemical containers regardless of transference of contents or intended use.
Tip #3: Choose Durable Secondary Container Labels to Ensure Legibility
You've consulted the SDS from the supplier. Your secondary container label contains all six required elements. You're all set for inspection day, right? Wrong.
Regardless of whether you've followed all OSHA guidelines when labeling secondary containers, if the label is damaged or falls off, you can still be cited for a HazCom violation. Choosing secondary container labels designed to withstand tough industrial environments ensures your labels will not be damaged, illegible or missing on inspection day.
Secondary containers are often the containers most often used regularly (if not daily). That means they are subjected to the most wear and tear— heavy-duty use that paper labels simply cannot withstand. Avery® Industrial GHS Chemical Labels are made from durable polyester material, are waterproof and specifically designed to resist damage from chemicals, abrasions, UV rays and extreme temperatures.
Tip #4: Decrease Lead Time: Print Your Own Secondary Container Labels
Avery Industrial gives you the tools to effectively and efficiently handle OSHA chemical labeling in your facility. When you have control of creating your own secondary container labels, you're always prepared for inspection day (even if that day is today).
Create your own custom secondary container labels with free online design templates that don't require any downloads or installation. No need to waste money on expensive specialty printers, Avery gives you the power to print on-demand from your own laser or inkjet printer.
Print secondary container labels on your own schedule with reliable, convenient on-site printable labels designed to work hard for you.