11 Ways You Can Help Prevent Slips, Trips and Falls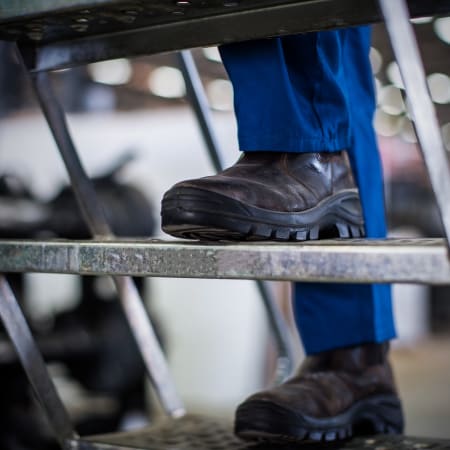 Creating a safety-first culture helps protect your employees, increase efficiency and save money spent on workers' comp claims. But where to start? Consider these key slips, trips and falls statistics from a report by the National Safety Council using data from the Bureau of Labor Statistics, U.S. Department of Labor.
In 2017 alone, 151 workers died and 142,770 were injured from slips, trips and falls. These specific workplace hazards caused 16.17% of all nonfatal injuries resulting in days away from work. All other types of injuries combined, accounted for eight median days away from work, while slips, trips and falls resulted in 10 median days away from work.
Even when you only consider days away from work, it's easy to see how accidents from slips, trips and falls can have a major impact on your business. Every day away means one less person on your crew, time lost on jobs and/or additional money spent replacing labor.
Is your facility optimized for slip, trip and fall prevention? Enhance your fall protection safety program with 11 proven methods for making walking-working surfaces safer for your employees.
6S Practices That Help Prevent Slips, Trips and Falls
The 6S methodology for lean warehousing and manufacturing is aimed at creating a safer, more efficient workplace. In fact, four out of six of the 6S principles (Sort, Set in Order, Shine and Safety) play a key role in preventing slips, trips and falls.
1) Keep Aisles & Passageways Clear
Practice Sort and Set in Order principles to keep aisles and passageways clear of obstructions that can cause slips, trips and falls. Sorting activities help remove unnecessary objects from the workspace. Setting your workspace in order ensures necessary items can be easily returned to designated storage spaces.
2) Promptly Clean Up Spills
Conscientiously practicing the Shine principle helps minimize slipping hazards. Regularly cleaning floors helps prevent residue buildup that can make walkways and workways hazardous. Promptly and thoroughly cleaning spills reduces an immediate slip, trip and fall hazard.
3) OSHA/ANSI Safety Signs & Labels
The 6S Safety principle calls for keeping safety at the forefront of every process and action. Part of that is identifying hazards in the workplace. Creating effective OSHA/ANSI safety signs and labels ensures employees are more aware of (and better prepared to avoid) hazards that can cause slips, trips and falls.
4) Ladder Safety Training
Safety training is naturally an important part of 6S Safety practices. Slips, trips and falls safety training should always include how to safely use ladders. The Three-Points-of-Contact climb and other basic ladder safety rules should always be required training before any employee is cleared to work with a ladder.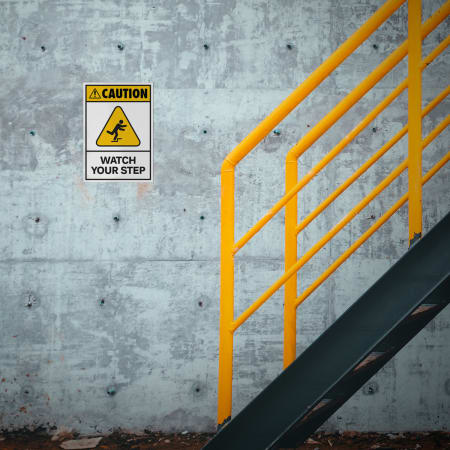 Prevent Slips, Trips and Falls with PPE & Other Supplies
Personal Protection Equipment (PPE) and other types of supplies are essential for slip, trip and fall prevention. Employee training, regular inspection and use of signs, labels and tags that ensure proper use and maintenance of equipment all contribute to increased worker safety.
5) Require Slip-Resistant PPE
This may seem like a no-brainer, but requiring employees to wear slip-resistant footwear is perhaps the most basic step to you can take to help prevent slips, trips and falls. Wet areas that require the use of ladders or guardrails may also require non-slip gloves. Post PPE notice signs to ensure the use of non-slip gear.
6) Provide Provisional Non-Slip Surfaces
Wet areas, of course, require the use of non-slip surfaces. For example, non-slip drainage mats in professional kitchens. What about areas that may unexpectedly become wet? Say an entryway during a rainstorm. You can help prevent slips, trips and falls by keeping provisional non-slip surfaces readily available in your facility.
7) Properly Maintained Ladders
Ladders should be in good condition, free from defects such as missing rungs, cleats or steps, broken or split rails and other faulty, defective or corroded components. You can instantly reduce slip, trip and fall hazards by immediately tagging and removing defective ladders until repaired. Frequent and consistent ladder inspection should be part of your guidelines.
Reduce Structural Slip, Trips and Fall Hazards
Just because a building has an existing stairway or elevated surface, such areas cannot be assumed safe, compliant or free from hazards. It's important to audit any building in which your business operates and check for the following ways to improve slip, trip and fall safety.
8) Cover Drains
Floor drains should always be covered by grates in order to reduce risk of slips, trips and falls. Grate covers and supports for floor drains on walking-working surfaces must meet standard strength and construction requirements and be regularly inspected.
9) Proper Aisle Width
Aisles must be wide enough for intended use, which includes providing safe clearance for any mechanical equipment or material-handling equipment such as forklifts. Aisles that are too narrow can easily become obstructed or overcrowded increasing the risk of slips, trips and falls.
10) Safer Stairs
Slips, trips and falls on stairs are especially dangerous, thus stairs should always be kept in pristine condition. Well-maintained treads and risers, treads with a slip-resistant surface and proper handrails are all necessary for compliance and safety.
11) Safeguard Elevated Surfaces
Similarly, slips, trips and falls on elevated surfaces can result in some of the most serious workplace injuries. Elevated storage and work surfaces must have a permanent means of access as well as physical controls including guardrails and toe boards.